Azur Air flight passengers were given food, refreshments and hotel accommodation before being flown home to Moscow on Sunday as technical experts looked at the Boeing jetliner which had 'malfunctioned' as it took off from Phuket on Saturday afternoon with 321 passengers aboard bound for Moscow. The aircraft's captain was lucky to be alerted to the engine fire by the traffic controller at the airport.
Russia has denied that its aircraft ferrying tourists between the motherland and Thailand are anything but safe after a scare on Saturday when a Boeing jetliner developed a fire in its right engine as it took off from Phuket International Airport. The incident left the damaged aircraft, a 26-year-old Boeing 767-300ER, blocking traffic on the runway for over 40 minutes disrupting 47 flights at the international airport, some of which had to be diverted to Suvarnabhumi Airport and local airports in Hua Hin and Ko Samui.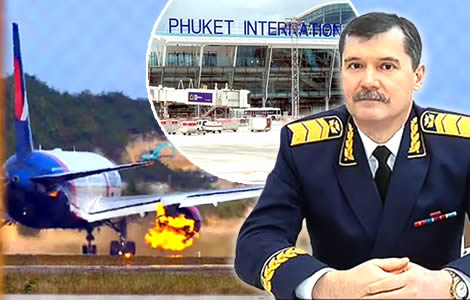 A top official in Russia has denied that a shortage of parts and lack of maintenance of Russian aircraft may have been one of the reasons for a passenger jet engine catching fire on a Russian flight that attempted to take off from Phuket Airport on Saturday afternoon but which had to be aborted in a dramatic fashion.
The Captain of the Azur Air flight, it is reported, had to activate a shutdown mechanism on the plane as it began to take off, killing a fire that had exploded in its right engine while also braking hard, in a manoeuvre that left the aircraft with a number of broken tyres, with some also in flames.
Aborted Russian flight and damaged aircraft on the runway caused 47 flights to be disrupted before it was shunted off the runway by airport personnel
Such was the damage to the aircraft that it was unable to taxi properly from where it came to a halt on the airport runway and became a hazard to flights both taking off and landing at the busy island airport causing no less than 47 flights to be disrupted until it was eventually moved on Sunday morning.
Some of the flights disrupted were incoming and ended up being diverted to other airports including Suvarnabhumi Airport, Hua Hin Airport and Ko Samui.
The drama began on Saturday at 4.20 pm as the Boeing 767-300ER took off and air traffic control at Phuket International Airport noticed smoke coming from the right-hand engine. They alerted the aircraft and the Captain took prompt action.
The flight had 12 crew members aboard and 309 passengers.
Initially, the flight came to a standstill in the middle of the runway of the airport. It was eventually removed from there by airport staff in an operation that took approximately 40 minutes.
Circling aircraft, some were diverted to Suvarnabhumi Airport as well as Hua Hin and Ko Samui Airports after the pilot dramatically aborted take off
While this was happening, other aircraft were left circling the airport with some being diverted, according to management at Phuket International Airport, to other facilities.
Afterwards, relieved passengers who were later catered for by another flight on Sunday by their charter airline, told reporters that there was a loud bang while the flight was taking off.
In the middle of the manoeuvre engaged upon by the pilot, some of the tyres as well as the aircraft's brakes caught fire making the experience a terrifying one for the passengers on board who could see the flames coming from the right engine.
The Azur Air aircraft was reported as being 26 years old and was en route to Moscow.
Formerly a Russian domestic airline known as Katekavia, Azur Air is the subject of international sanctions and orders imposed by the United States 
Azur Air was formerly known as Katekavia, a domestic Russian airline that transformed its business model over the last decade into becoming a leisure charter flight provider.
On August 3rd 2010, a Katekavia Russian-made Antonov airliner crashed while landing at Igarka Airport in the Krasnoyarsk Krai region of Russia.
12 passengers aboard Flight 9357 lost their lives while a handful of crew members were hospitalised.
The airline was involved in two other recorded aviation incidents in November and December 2014 linked with Tupolev T134 aircraft, the first of which involved takeoff from Igarka Airport while the other occurred at Perm International Airport in Bolshoye Savino.
Air Azur is currently the subject of international sanctions imposed by the United States after the Russian invasion of Ukraine in February 2022 imposed in July 2022.
It faces separate sanctions in respect of its use of US-made Boeing aircraft from April 2022.
Strange flight in December circled islands
The airline was also the subject of some controversy on December 9th last when a flight scheduled from Phuket to Novosibirsk in Siberia was delayed for over 5 hours that day.
The delayed flight was eventually forced to return to Phuket airport two and a half hours later.
The incident regarding Flight ZF3750 scheduled to depart at 3.50 pm on Friday, December 9th 2022 was reported by flight watchers although the airline and the airport never offered a full and detailed explanation.
It is reported that when the flight eventually left Phuket International Airport at 9.20 pm, it proceeded to circle over the Ko Yao islands located in Phang Nga Bay for hours before landing again at Phuket International Airport just after midnight.
Drastically reorganised its business and flight plans in 2022, made Thailand a key focus for its charter airline business focused on leisure and tourism
In July 2022, Air Azure was forced to significantly scale back its business operations including a drastically curtailed flight schedule due to US and international sanctions.
This has made Thailand and its foreign tourism market a strategically important one for the carrier as the kingdom maintains a neutral stance on the war while being sympathetic towards Russia which is an important market for Thailand's foreign tourism recovery.
The flight on Saturday contained many Russian women returning from Thailand having left boyfriends or husbands behind in the holiday resort. 
This has become a pattern for many young couples who can afford it as they desperately seek to avoid escalating conscription orders in the Russian Federation which is engaged in a spiralling war with Ukraine which has seen it pushed back over the last six months resulting in the Kremlin's determination to field a larger force in 2023 and to launch an offensive.
Many Russian holidaymakers to Thailand are flying to evade conscription for Putin's army in Ukraine, 500,000 enlisted in January 2023, offensive planned
Intelligence sources in Kyiv suggest that Russia mobilised a further 500,000 civilians in January 2023 following a similar move in October which saw 300,000 conscripts thrown into a war against Ukrainian forces that President Vladimir Putin must win if his regime is to survive.
The flight also included Russian men who have been forced to return to their home country, despite the consequences, as they have run out of money in Thailand.
The kingdom has tightened up its immigration controls leaving overstayers liable to arrest and payments of up to ฿300,000 in fees, fines and airfare costs to secure eventual release and deportation back home.
Air Azure moved swiftly on Saturday to accommodate its passengers in Phuket. It provided them with refreshments and overnight hotel accommodation as it organised Sunday's flight to bring them home to Russia.
Air Azur took care of its passengers in Phuket and flew them back home on Sunday, for some unfazed travellers, it was seen as an extra day's holiday
It said that technical experts were looking at the Boeing plane involved in the takeoff scare and appeared confident that the problem could be fixed.
'Hotel accommodations, hot meals, and soft drinks will be made available to passengers of flight ZF-3604 while they wait to board their flight to Moscow,' the airline said in its statement. 'Airline technical specialists have already started working to eliminate the malfunctions.'
Many of the Russians aboard the flight on Saturday were unfazed by the incident and were simply happy to have an extra night's stay in Thailand.
'The vacation continues,' one happy holidaymaker wrote afterwards on social media.
Passengers told of a crackling noise and a loud bang as the plane gained momentum for takeoff on Saturday afternoon in Phuket at 120 km per hour
Another passenger, speaking with Russian news outlet Izvestia, said that there was a crackling noise as the plane gained momentum for takeoff.
'At first, the takeoff seemed normal,' the passenger told the newspaper but when it picked up speed towards 120 km per hour, the problem became known and the passengers were thankful that the captain was able to abort the flight.
She said she was shocked at the sight of the damaged landing gear when they emerged from the damaged plane.
Russian official dismisses reports of sanctions impacting the safety of Russian planes, says American aircraft safe until 2030. Attacks media reports
In Russia, the Head of the Russian Federal Agency for Air Transport, Alexander Neradko, was anxious to play down reports that the incident was linked to possible sanctions imposed by the United States and other countries.
He said western-manufactured aircraft in use by Russian fleets were operationally safe and sound until at least 2030.
He insisted there was no problem with the lack of availability of original spare parts from Boeing or a lack of Boeing-certified maintenance which would be a normal requirement for the American-made aircraft in use throughout the world.
He also warned that media reports describing the use of parts of other aircraft in the ongoing maintenance of its aircraft fleets as 'cannibalisation' were misplaced and unacceptable.
'I am confident that flying has not grown more dangerous to fly, and it has nothing to do with the presence or absence of original spare parts,' Mr Neradko assured the media.
Further reading:
Stranded Russians offered free food in Phuket as Aeroflot begins to airlift over 21,000 stranded home to safety
Minister received body of Russian tourist recovered at sea on Wednesday off Phuket
Police still probing 'booze fest' party at which Russian woman died in Phuket – 3 to be charged
Fears for Russian tourist, a top business executive, gone missing from Naithon Beach in Phuket
Police probe cause of death of Russian whose skeletal body was found in a forest on Ko Phangan by a dog
Intimidated Russian couple ask Royal Thai police to join Thailand's Witness Protection Programme in Ko Samui