Great sadness over the untimely death of the 17-year-old who was following his dream at a prestigious UK football academy when his life was cut tragically short by some sort of accident resulting in a serious head injury.
The tragic death last weekend of Duangphet Phromthep, one of 12 members of the Wild Boar soccer team at a prestigious British football academy, has left Thailand, his friends and family stunned bringing an abrupt end to what appeared like a fairytale story for the soccer-loving teenager. The exact circumstances of his death have yet to be explained but it is understood to have been a tragic accident resulting in a head injury which will be adjudicated on by a UK coroners court.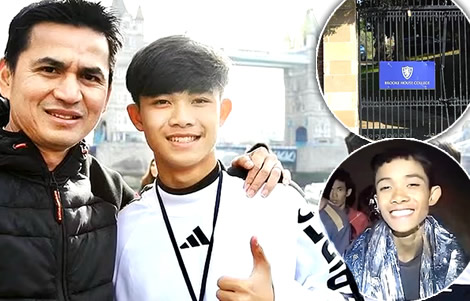 Leicestershire Police in a statement on the death of 17-year-old Wild Boar soccer team captain Duangphet 'Dom' Phromthep has confirmed that his death last week at an exclusive boarding school in the town of Market Harborough was not suspicious and that a file on it is being prepared for the coroner.
The shocking news that a young Thai soccer player who only late last year fulfilled his dream by travelling to the United Kingdom to study football on a scholarship, has cast a cloud over the uplifting story of the rescue of the 12 boys aged from 11 to 17 years and their coach, then 25-year-old Ekkaphong Kanthawong which has since become the stuff of legend in Thailand and throughout the world.
Fatal incident occurred last Sunday at boy's boarding school on Leicester Road in Market Harborough
The death of Duangphet or Dom is understood to have occurred on Sunday afternoon last, just before an ambulance was requested at his boarding school on Leicester Road in the ancient market town together with the police.
It is reported that the Thai student may have suffered from a blow to the cranium resulting in a head wound before he was removed from the school by the East Midlands Ambulance Service.
The local police force responded to press inquiries by stating that they had received a call from Brooke House College, the renowned football academy where Duangphet was a boarder, requesting their attendance at the scene. 
'The call concerned the welfare of a pupil. The pupil, a 17-year-old boy, was taken to hospital. He has since died. The boy's death is not being treated as suspicious and a file will be prepared for the coroner.'
Family in Chiang Rai Thailand quickly notified of the news. Dom was placed on a respirator by medics
It is understood that the family of the young student in Thailand's northern province of Chiang Rai were informed early last Sunday morning of the situation by the Ministry of Foreign Affairs in Bangkok.
The family have been promised further information in due course but have revealed that Dom was placed on a respirator before being admitted to Kettering General Hospital where he subsequently died.
Ian Smith, the principal of the school, last week made a statement urging respect for the privacy of the deceased student's family. 
'This event has left our college community deeply saddened and shaken. We unite in grief with all of Dom's family, friends, former teammates and those involved in all parts of his life, as well as everyone affected in any way by this loss in Thailand and throughout the college's global family,' he said. 'The college is liaising with statutory authorities and the Royal Thai embassy in London, and dedicating all resources to assist our student body, as they as young people process Dom's passing. Beyond that, we are unable to comment further at this time and would ask for privacy and compassion as we continue to support the students in our care at this time, drawing on the kindness and assistance of the Market Harborough community.'
Thursday saw a Buddhist religious rites ceremony in Chiang Rai for the return of the footballer's soul to Thailand. Friends, family and teammates attended
Dunagphet's mother, Thanaporn Phromthep, was instrumental in organising a memorial for Dom, as his teammates knew him, at a revered Buddhist temple in Chiang Rai, the Wat Phra That Doi Wao.
The event took place last Thursday.
It featured a favourite t-shirt as well as Nike trainers which were displayed close to the photograph of the 17-year-old whose body has yet to be repatriated from the United Kingdom just six months after he travelled to Britain on a scholarship awarded to him by the Zico Foundation.
The monks at the ceremony prayed for Dom's spirit to be sent back home to Thailand. His mother had earlier expressed concern that Dom's spirit could be trapped in Britain and wanted to have Buddhist monks there conduct rites for her son.
A former coach of Duangphet, Mr Nopparat Kanthawong, attended the poignant ceremony as well as friends, family and teammates in Thailand.
Revered abbott tells family that Duangphet was gone to a better place after his life could not be saved
Earlier in the week, Phra Khu Prayut Jetiyanukarn, the revered abbot of Wat Phra That Doi Wao in Chiang Rai, told the media that Dom had been involved in an accident last Sunday at his school and fell, hitting his head.
He said the family had been told that his life could not be saved by medics.
He assured them that Dom was now gone to a better place.
The miraculous story of the Wild Boar soccer team began on June 23rd 2018 when the 12 boys and their coach Ekkaphon Kanthawong entered the already mysterious Tham Luang cave complex after soccer training.
Miraculous story electrified the world on July 2nd 2018 when news came that the young football team and their coach were alive in the Tham Luang caves
The group went missing sparking a search which proved ultimately unfruitful until July 2nd 2018 at which point it was generally thought they had perished.
Then came dramatic news, flashed by the media worldwide, that the young boys and their soccer mentor had been located but that they were stranded within the cave complex and their lives were in imminent danger from rising water levels.
A massive rescue operation unfolded involving volunteers from all over the world in which local British expat Vern Unsworth, a seasoned cave explorer, played an active role along with two other British cave divers Rick Stanton and Johan Volanthen.
The Thai armed forces also played a critical role in a technically complex mission which saw the boys emerge in a rescue watched and cheered on by the world's media from July 8th to 10th 2018.
The heroic story of the race against time as the cave where the boys and their coach were sheltering began to fill up with water, gripped the world and led on July 5th to the tragic death of Thai Navy seal, Saman Gunan who has since been immortalised for his role in the rescue.
Legal case in LA between Elon Musk and cave rescue hero Vern Unsworth, a UK expat living in Thailand
Among those who rushed to Chiang Rai in July 2018 was Elon Musk of Tesla, SpaceX and now Twitter who wanted to use a submersible craft in the rescue which was subsequently not utilised.
This led afterwards to a disparaging comment by Mr Vern Unsworth about Mr Musk causing the tech billionaire to refer to the British cave explorer as a 'pedo' which resulted in a defamation trial in Los Angeles in which Mr Musk prevailed.
Boys received ฿3 million each from a movie brokered between the Thai Ministry of Culture and Netflix
The story of the Wild Board soccer team and the Tham Luang Cave rescue has since led to a tourist centre being established in Chiang Rai and several high-profile films.
The first was a Thai production orchestrated by the Thai Ministry of Culture and Netflix which netted each of the 12 boys and the coach ฿3 million.
As part of that deal the boys and their coach, who was granted Thai citizenship after the ordeal having been stateless on entering the cave network, were signed up to a non-disclosure agreement which means that they are precluded from talking openly about their experience to the press or media, something that resulted, this week, in some terse responses to media outlets seeking commentary from his former teammates on Dom's tragic demise in the United Kingdom.
Latest movie on Tham Luang released last July was 'Thirteen Lives' starring acclaimed Irish star Colin Farrell as one of the UK divers, Johan Volanthen
The latest film to tell the story of the Tham Luang rescue of the Wild Boars soccer team is 'Thirteen Lives' starring acclaimed Irish actor and Academy Award nominee, Colin Farrell as British expert cave diver or caver Johan Volanthen who played such a key role in the rescue.
Volanthen, an IT consultant, received the George Medal in the UK Honours list in 2019 for his role in the rescue along with his colleague Rick Stanton 
The film, produced by Ron Howard, began filming in Australia in March 2021 and also in Thailand for some of the scenes.
It was released in movie theatres in July 2022 and received positive reviews.
Just this week, it won an award for stunning visual effects while Colin Farrell was nominated for his role in the movie by the London Film Critics Circle earlier this month with Sayombhu Mukdeeprom nominated by the San Diego Film Critics Society in January for cinematography on 'Thirteen Lives'.
Unfortunately, after last weekend's devastating news from Britain, the thirteen has now become twelve as Duangphet Phromthep's family in Chiang Rai awaits the repatriation of his remains and more clarification on just how he died.
Further reading:
Elon Musk in court bid to have the case against him filed by UK man Vern Unsworth thrown out
Vern Unsworth sues Elon Musk in Los Angeles court while UK proceedings are also pending and being prepared
Wild Boar soccer team become millionaires after signing deal with Netflix for Tham Luang story
Tham Luang cave was the place where the miracle happened. Now it is going to become a tourist attraction
News that the Thai boys were alive started a world media news quake