Lingering concern for the activist who was shot in the capital of Laos last Saturday as his family still fears for his life. They are reported to be facing difficulty in having him transferred to Thailand for treatment.
Amnesty International has called on authorities in Laos to investigate the shooting last Saturday of 25-year-old activist Anousa Luangsouphom or 'Jack' amid reports that his family are trying to have him moved from a hospital in the Laos capital Vientiane to Thailand where they believe he would be safer while receiving treatment after being shot by an attacker at a coffee shop in his home capital.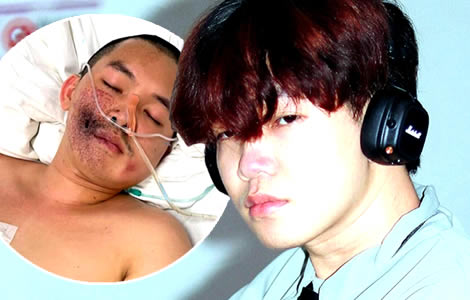 'Lao authorities must urgently launch a prompt, thorough, independent and impartial investigation into the brazen shooting of a young activist who dared to speak out about human rights issues in the country. No human rights defenders should be violently targeted for their work,' stated Joe Freeman, the Interim Deputy Regional Director for Communications for Amnesty.
The family of the prominent Laotian democracy activist who was reported dead last weekend after a gun attack on Saturday evening, the 29th of April 2023, at a coffee shop in a suburb of Vientiane, the capital of Laos, early last week admitted that he was alive and being treated at a hospital in the city.
Family revealed the subterfuge deployed after Saturday's shooting in the Laotian capital Vientiane by declaring him dead to ward off a second strike
The family explained the subterfuge as a means of protecting the life of the young man after the initial attack.
They still fear for his life.
A French-based activist and friend of 25-year-old Mr Anousa Luangsuphom also revealed later that the man's family wish to see him removed altogether from the country for treatment to Thailand as they fear for his life as a target of the government in the communist-ruled one party state between Thailand and China.
'Now Jack is still alive and his condition has improved accordingly, but he is worried about his safety, afraid that someone will attack him again if he is still treated in Laos,' revealed Joseph Akaravong, a friend of Jack's after he spoke with news agency AFP. 'I spoke directly to his family, who took care of him at the hospital. His family would like to bring Jack to Thailand for treatment, but the process is very difficult. We are trying now.'
Mr Anousa is the founder of a popular Facebook page in Laos with 7,500 followers interested in democratic activism and efforts to address chronic social problems in the poor country.
Facebook page provides a forum to discuss social issues in Laos where free speech is repressed including its rising problem of poor mental health
The page Kub KluenDuay Keyboard (Driven By Keyboard) provides coverage for people in Laos, especially concerning rights abuses by authorities in the small country including intimidation and bullying of its critics.
The Facebook page is also a social centre which discusses rising levels of mental health problems in Laos and social issues in the underdeveloped country which is also, increasingly, the target of criminal activities such as human and drug trafficking with criminal links to Thailand, China and Myanmar.
Laos is currently facing a crippling debt crisis due to its outstanding debt to China, part of which was used to build an advanced rail network which passes through the country and which Chinese planners are proposing to connect with a similar scheme in Thailand being funded by the Thai government but reportedly making extremely slow progress.
Laos is a country with a marginal level of foreign reserves at just over $1 billion while Thailand's current foreign reserves stand at $223 billion.
Impoverished country sinking in debt to China where GDP output is falling despite an expensive hi-speed rail connection costing billions of dollars
The country with a population of 7.4 million is one of the poorest in Asia after the Communist Lao People's Revolutionary Party seized government control in the midst of a crisis at the end of 1975 and has since ruled what was up to that point a kingdom, with an iron fist.
Its projected GDP is only $14.09 billion for 2023, a fall since the new railway opened in 2019 compared to a projected figure for Thailand of $512 billion with a GDP per capita which is falling despite its capital expenditure programme with a GDP per capita reducing from $2,500 per capita in 2021 to only $1,900 projected for 2023.
Laos is facing crippling debt repayments of $1.2 billion to $1.4 billion per annum over the next five years, half of which is due to China.
Activist shot at a coffee bar by a gunman. Family reported that he had been pronounced dead at the local hospital in Vientiane fearing for his life
The activist was reportedly shot by a gunman at the After School Chocolate & Bar shop in the Chanthabury area of the Laotian capital city.
His friends in pro-democracy activist circles and non-governmental organisations (NGOs) strongly suspect that the attempt on the young man's life may have come at the behest of government agencies.
'His activism frightened the government, so they wanted to kill him,' one fellow activist told the media.
After the killing, his family put out a statement saying Jack had been pronounced dead in the hospital at 4 am on Sunday.
The reason they announced Mr Anousa's death was out of fear that his life may have again been threatened by the attacker.
The news was picked up by a government-regulated news outlet in Laos, the Laotian Times and subsequently carried on international networks such as the BBC.
Police in Laos only visited the Vientiane hospital to investigate the gun attack last Wednesday after it became known that the young activist was alive
'Friends and family basically told people he was dead because they were worried that if the gunman knew they had not succeeded in killing him, they would return to finish the job,' Phil Robertson, a spokesman for the NGO Human Rights Watch, confirmed to the BBC which is widely followed in Laos.
Reports in Laos suggest that police visited the hospital in Vientiane where Jack is being treated and where a picture of him unconscious and with a bruised face was taken and distributed to news sources online by his family when they announced that he was still alive.
There are reports that the Facebook page founder and manager was also being harassed and stalked by an individual who had befriended him online last year.
The delay by police in responding to the attack on the well-known activist and the reticence of his family to trust the authorities are, according to sources in Laos, signals of a lack of confidence in Laotian authorities and the rule of law in the country.
Concerns over activist disappearances in both Laos and Thailand raised this week by non-governmental organisations (NGOs) as well as concerned parties
Authorities there are suspected of being involved in the disappearance of several activists over the last decade and a half.
One name mentioned was that of 60-year-old Mr Sombath Somphone, a respected community development volunteer who was picked off the streets of Vientiane in 2012 and has not been seen since.
Another is that of Od Sayavong, a well-known pro-democracy activist in Laos who went missing in Bangkok in August 2019 and also has never again been heard from.
Further reading:
China's Belt and Road now knocks on Thailand's door to the north but is the kingdom on board?
Rice price spike but drought conditions to recede – security concern for the Mekong river
Thai police offer reward to fellow officers in Laos for the arrest of two gold shop armed robbers
Broken-hearted Swede fears history will repeat itself as shock parting left him stranded in Laos for 4 months
Freak death of Kyrgyz woman in Pattaya linked to Chinese gang who forced her into prostitution