The crackdown involves targeting firms licensed in the foreign tourism sector run by foreigners that are not on a pre-approved list while police in tourist hotspots such as Phuket are also reining in the illegal involvement of foreigners here, staying on extended visas, in commercial activities related to the industry especially residents from China, Russian and Eastern Europe.
Thai authorities last week announced the closure of a Thai registered tourism business which ran up ฿14 million in unpaid debt and the withdrawal of the firm's licence by the Ministry of Tourism. The news comes as a nationwide crackdown by police forces and government inspectors has also been launched into abuses within the foreign tourism industry particularly in tourism hotspots such as Phuket where foreigners, notably Russian nationals, on extended stays on the island, have begun to undertake unregulated and illegal commercial activities linked with the tourism industry. The moves are also being accompanied by a renewed crackdown and tightening of regulations in the visa regime.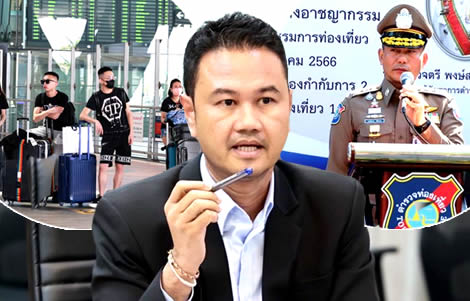 Authorities in Thailand have begun a crackdown on rogue traders and corruption within the tourism industry seen as responsible for tarnishing the country's perception in key tourism markets and also responsible for undermining the benefit of the industry to local operators.
The Director-general of the Department of Tourism, Mr Chaturon Phakdiwanich, on Thursday, announced that a large company operating tours to Thailand has been shuttered by officials after leaving a loss of ฿14 million to smaller tour firms and visitors.
The firm ran into difficulties in February 2023.
Ministry inspectors visited the firm and examined its books and accounts before making a decision to withdraw its licence to operate as a tour business
Officials acting for the department, which is the registrar for all tourism-related concerns licensed in Thailand, inspected the offices of the firm and reviewed its records and business documentation leading to the order to suspend its operations and to revoke the licence of the firm.
The news follows reports that Ministry of Tourism and Sports officials are currently liaising with counterparts in China to put a stop to a resurgence of 'zero dollar tours' from the key market.
These operations are seen as a threat to Thailand's critical and foreign exchange earning industry.
They have already led to extensive negative coverage of Thailand on Chinese social media networks.
'Zero dollar tour' schemes, operated by large Chinese operators, lure Chinese holidaymakers to Thailand with tour prices including flights and accommodation, which are sold below cost while the visitors are later forced to follow a set itinerary including shopping tours at designated locations designed to recoup the loss and leave the tour firms with an even greater profit than normal tours through inflated pricing and heavy-handed pressure on visitors during the trip.
Zero-dollar tours have returned and its not just tourists from China that are being abused by this commercial scam that damages Thailand's reputation
Returning home to China, many visitors blame Thailand for the experience through deflection by the tour operators who blame Thai authorities and the nature of tourism in the country for their poor experience.
Often the retail outlets and service providers used by these tours in Thailand are, in fact, managed and owned by Chinese firms meaning the foreign tourism activities generate little or no benefit to the Thai economy.
This has been accepted by industry leaders such as Tourism Authority of Thailand (TAT) Governor Yuthasak Supasorn.
Despite new laws and regulations introduced in 2016, the scale of the Chinese operators and the establishment of Thai companies in the kingdom allows such tours to be operated with virtual immunity.
Up until now.
Thai officials are reported to be ready to ringfence or control the operation of incoming tours to Thailand by ensuring that only vetted or approved firms are allowed to operate while strong inspection and examination of non-approved firms is to be used to deter bad operators.
Firm's Managing Director barred for 5 years
After this week's closure announced by Mr Chaturon, it has been confirmed that the Managing Director of the firm will be barred from operating a similar venture for 5 years in accordance with the Tourism Business and Guide Act 2011 as amended in 2016.
The law and amendments in 2016 were designed to protect the interests of incoming tourists to Thailand including their personal safety from such below-cost activities which often lead to foreign tourists being left stranded in Thailand if they fail to pay their way according to the tour's unwritten but implied demands on those who sign up for the scam holidays.
The senior Department of Tourism official is calling on foreign tourists in other countries to only use firms approved by the Ministry of Tourism and Sports which are listed on the website of the Department of Tourism.
He has warned that booking holidays in Thailand that are too good to be true or below cost is effectively buying into a scam which inevitably leads to the incoming visitor being ripped off.
Crackdown into criminal activities in Thailand targeted Chinese nationals or linked to Chinese and lately Russian mafia gangs active in the kingdom
It comes as Thailand has also launched a crackdown on crime and underhand activities that are seen as a danger to foreign tourists particularly those coming from China in key tourism hotspots such as Bangkok, Pattaya and Phuket.
Such a campaign was launched last week in Phuket by Police Major General Phongsiam Meekhanthong, the deputy commander of the tourist police force on a visit to the island.
The senior police officer launched a similar crackdown in March targeting rogue operators in Pattaya and renewed scrutiny of foreigners living in the popular holiday city on extended visas.
Phuket, like Bali in Indonesia, since the outbreak of the Russian invasion of Ukraine, has become the focus of efforts by Russian nationals taking flight from Russia to avoid conscription and involvement in the ongoing war.
This has seen tens of thousands of Russians extending their visas in the province with growing reports of them also becoming involved in the foreign tourism industry on a casual or illegal basis.
The current campaign launched in Phuket is also supported by the Immigration Bureau on the island which is targeting individuals who may be impacting the foreign tourism industry and undercutting Thai operators.
Phuket Tourist Police Force launched a campaign at the end of April with a renewed interest in the visa status of all foreigners working on the island
The Tourist Police in Phuket last week confirmed that these activities were the target of its campaign especially with tourists or foreigners acting as tour guides and promoting tourism-related business activities which are legal or unlicensed.
This follows reports from tourist hotspots that the zero-dollar tour concept is now also being used by criminal gangs in Eastern Europe and South America targeting Thailand.
The Tourist Police in Phuket are tasked with being on the lookout for foreigners with irregular or out-of-date visas or permission to stay in the kingdom, acting as illegal tour guides or business operators as well as activities which are seen to undermine the foreign tourism industry.
Officers were briefed on 10 different potential offences as the basis for charges that can be brought against such people under both the Tourism Business and Guide Act and the Immigration Act according to a briefing given to all officers at an assembly held in Phuket on Thursday, April 27th and addressed by the Tourist Police deputy chief on his visit.
Further reading:
Crackdown on crime wave against Chinese tourists in Bangkok as concerns also raised on cannabis
Incoming tourism growth slows amid visas, airfares and attacks on Chinese nationals which have caused jitters
Economic recovery shaky despite strong foreign tourism as global economic outlook deteriorates
Chinese kidnapping victim held by Immigration police and facing extradition over fraud case
Thailand's financials are sound but the economy is exposed if another world banking crisis emerges
Even as the baht surges, Thailand faces economic recession in mid-2023 with lower earnings
Soaring baht as the Thai economic spirit rises with one of the world's lowest levels of inflation