Mr Panya rose to fame in a classic movie, based on a bestselling book, about the hard time spent in some of Thailand's most notorious prisons by UK man Billy Moore who turned to Muay Thai fighting to save his life and ultimately earn his freedom when he was arrested and convicted of drug offences in Thailand after coming to the country in 2015 in an effort to turn his life around.
A colourful Thai businessman, well-known film star and celebrity who rose to fame in 2017 by starring in the critically acclaimed film 'A Prayer Before Dawn' telling the story of UK man Billy Moore, who spent years in hardcore Thai prisons, has been charged with promoting illegal online gambling by the Technology Crime Suppression Division (TCSD). KengLai Prang or Mr Panya Yimumphai caused consternation in Thailand in 2017 among more conservative circles of Thai society when he was seen as an ex-prison convict on the red carpet at the Cannes Film Festival representing the kingdom's place in the international movie industry. Last week, he apologised for his behaviour and blamed his latest legal difficulties on the economic downturn caused by the pandemic and its impact on the financial performance of the chain of fried squid restaurants he owns in Thailand.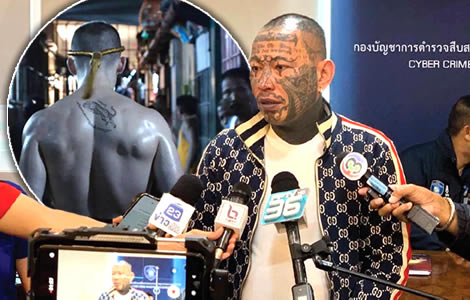 Thai police, on Sunday, May 7th raided three properties connected with a Thai celebrity who police believe to be involved in the promotion of online gambling in the kingdom.
KengLai Prang or Mr Panya Yimumphai became an unlikely star in Thailand six years ago after appearing in a movie based on the true life story of a UK boxer, Billy Moore, who served time in two of the kingdom's most notorious prisons and who had to learn and practice Muay Thai martial arts to win his freedom and keep himself apart from lethal gang violence in the prisons while serving time here over a decade and a half ago.
Panya became famous after his unlikely starring role in the movie 'A Prayer before Dawn' based on the true life story of a UK man jailed in Thailand
Mr Panya won acclaim in May 2017 when he appeared at the Cannes Film Festival to promote the movie 'A Prayer Before Dawn' together with the film's director Mr Jean-Stéphane Sauvaire.
However, on Tuesday last week, as he appeared at a press briefing given by senior Royal Thai Police officers including Police Lieutenant General Wat Nakornbancha, it was an entirely different story.
Mr Panya, who has since starred in Thai movies including some of the biggest box office successes and who has grown in popularity through online skits, is also the proprietor of a chain of food outlets in Thailand retailing fried squid.
He told reporters that the money in the squid business declined substantially since the pandemic era and that he had taken up an offer to use his celebrity status to promote online gambling websites.
Arrest came after three raids by police in Bangkok, Pathum Thani and Mae Sot in which property and financial details linked to the suspect were seized
The arrest of the media personality came after a police investigation identified his activities online allowing police to obtain arrest and search warrants in respect of properties in the Huai Khwang area of Bangkok, Pathum Thani and Mae Sot in Tak province.
Police seized computers, smartphones and bank account details in the raids and are preparing to prosecute the 41-year-old for the promotion of online gambling.
Police Lieutenant General Wat told reporters that the Royal Thai Police and Technology Crime Suppression Division (TCSD) boss General Torsak Sukwimol were determined to root out online gambling in the kingdom which is the source of untold misery for the population causing people to lose assets while also exposing a large swathe of the population to potential fraud or identity theft online.
He said that delivering justice to the public was an important part of the mission of the police and technology crimes were a key target.
Served time in Thai prisons for drug offences
The 41-year-old Mr Panya has previously served time within Thailand's prison system for drug-related offences.
His appearance in the 2017 cult film brought him international and national acclaim. 
However, many ordinary Thais expressed disapproval at the time of the rise to fame of an ex-prison convict, in particular one adorned with elaborate tattoos which are frowned upon by more conservative and traditional Thais being associated with prisons and criminality.
His moment of fame came about after the director of the movie decided to film much of the footage in a notorious Thai prison in Nakhon Pathom to effectively recreate the environment of the Thai hardcore prisons where British boxer Billy Moore served time and which was the basis for his subsequent best selling book.
Acclaimed director decided to shoot the film inside a real Thai prison using inmates as extras in the gritty story of Billy Moore's life in Thailand
Jean-Stéphane Sauvaire also decided to use real prison inmates in the movie and Mr Panya's inherent acting abilities came to the fore.
This led to the unlikely appearance of the former prisoner on the Cannes Red Carpet in 2017 following which, the film, at a Midnight Screening before a critical audience, won a standing ovation.
The book 'A Prayer Before Dawn' was published in 2011 and told the story of British boxer Billy Moore who arrived in Thailand in 2005 to turn his life around with plans to work as a teacher.
Moore found a dead body in his cell on the first night spent at Bangkok's Klong Prem Central Prison 
Before this, Billy, the son of an alcoholic father, had been involved in crime in Liverpool in the United Kingdom since he was 16 years of age.
Initially, things went well and Moore even worked as a stunt double on the Sylvester Stallone movie Rambo IV, filmed in Thailand, but then he got involved in Muay Thai fighting and martial arts.
This culture and environment led Billy to get involved with Thailand's underworld and drug scene.
It was not long before he was arrested by police in Chiang Mai, imprisoned and later transferred to Klong Prem Central Prison in Bangkok where he spent his first night in a cell with a dead body.
Further reading:
Iconic 70s Bangkok comes to life again as the dark story of The Serpent wows world Netflix audiences
Calls for murdered Norwegian woman's Japanese killer to be brought to justice if found in Thailand
Thai prison nightmare helped American copywriter Jesse Moskel put his life on a firm path
Sean Connery, the sexiest man alive, who played James Bond, has passed away at 90 years of age in Bahamas
Filming of Fast and Furious movie begins in Krabi in what will be a big boost to the local economy
US actor and Thai son struggling to survive virus ordeal in India as they wait to fly home to life in Thailand
Thai PM may yet change the culture in Thailand and last month emerged as a JPop fan of Japanese band AKB48
Convicted serial killer's story ends over sixty years after his 1959 execution in Bang Kwang Prison
Bangkok murder pond searched as police may have arrested an evil serial killer just like his father in 1983
Killer sentenced to death for the 2nd time for the murder of a woman 7 months after being paroled