Killer is believed to have been lying low in a Southeast Asian country since he was last seen at the Norwegian Embassy in Hanoi. His return on Saturday using a false name and passport and thus evading an Interpol arrest notice is bound to raise questions about international security as well as the operations of the international police body.
Fugitive killer Roger Bullman who has been in hiding since skipping bail in Phuket in September 2019, on Saturday, touched down in Oslo on a flight from Paris with a false name and passport thereby evading an Interpol arrest warrant. It brings to an end his long flight from the clutches of Thai authorities after he feared being imprisoned in the kingdom over a week after strangling a UK IT engineer at a 5-star Phuket hotel and later being granted bail by local police pending an investigation into the circumstances of what was a violently lethal confrontation between two men, next door neighbours on holidays with their families on the famed holiday island.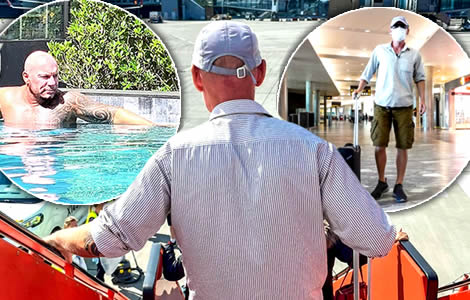 57-year-old Roger Bullman, looking gaunt and frail compared to how he appeared when last seen, returned home to Oslo in Norway on Saturday just under three years after he killed 34-year-old IT engineer Amital Bajaj at a five-star hotel in the Karon area of Phuket on August 21st 2019.
It is understood that the Norwegian completed his long return from Southeast Asia where he was seen most recently in Vietnam in a surprise visit to the Norwegian Embassy in Hanoi by taking a flight from Paris to Oslo travelling under a false name and passport.
Plane touched down in Oslo at 11 am on a bright and sunny Saturday morning bringing Bullman who left as a getaway tourist in August 2019 finally home safely
His plane touched down on a bright sunny day in Norway's capital at 11 am where he was later greeted by a handful of friends and family.
The former security guard and nurse has been on the run since then after escaping from Thailand when a court on the resort island of Phuket granted him bail just days after the incident.
It is thought that the Norwegian decided to take a flight from the kingdom just hours before the Phuket Provincial Court was due to reconsider his bail status.
The Scandinavian feared he would find himself incarcerated in a Thai prison and failed to show up on Monday the 2nd of September 2019 when a warrant was issued for his arrest.
Bullman had already left Phuket and Thailand at that point.
Police in Phuket filed murder charges against Roger Bullman after he skipped bail with a review of the case evidence file and a crime reenactment
Police in Thailand later filed murder charges against the Norwegian after they conducted their investigation into what happened at the five-star Grand Centara Hotel on the night in question when two neighbouring hotel guests became embroiled in a heated discussion that quickly turn into physical acts and ultimately, lethal violence after one of the men believed to be Mr Bullman, stomped into the room of his hotel neighbour through a balcony entrance and was met with a knife.
There are conflicting reports about what exactly led to the death of the UK national Mr Bajaj who, it is understood, lived in Singapore.
Mr Bullman claimed the IT engineer attacked him with a knife and entered his apartment first while Mr Baja's wife, then 34-year-old Ms Bandhna Kaur Bajaj, claimed that Mr Bullman had threatened the UK man's family to such an extent that her husband before he lost his life, had sent her and the couple's newborn baby from the room for protection before Mr Bullman finally broke through.
A later reenactment of the events at the scene in both hotel adjoining apartments was conducted by Karon Police in Phuket leading to the murder charge being filed.
Norwegian recalled the night was idyllic up until he encountered Mr Bajaj while serenading his partner on the balcony of his hotel in Karon, Phuket
Bullman later claimed that he had been having an idyllic night in Phuket with his partner on holiday and singing a song on his balcony when he was disrupted by the UK man and told to keep quiet in a less-than-friendly manner.
Bullman said he had been serenading his partner.
This appears to have set off a series of events that ended minutes later with the British man lying dead on the floor of his hotel room as police arrived at the scene after the alarm was raised by Mr Baja's distraught wife.
On Saturday, asked how he felt about being back home, the Norwegian man did not appear to be too overjoyed and told reporters that he was not feeling well physically after his ordeal and his immediate concerns were to see his daughter, find a place to live and report to authorities.
During his intervening years on the run, it was reported that Bullman's partner had sold the family's residence in Oslo with speculation that the funds were used ultimately to assist the Norwegian's continued efforts to avoid arrest and prosecution by Thai authorities while finding his way home.
Red Interpol notice issued in 2019 for Bullman
In 2019, it was reported that Interpol had issued a red notice for the arrest of Bullman who remains a fugitive from justice.
The use by the fugitive of a false name and passport to return home by plane also raises disturbing questions about international security at airports and the operations of Interpol.
On Saturday, he was more concerned about seeing his young daughter who he has not yet met since the nightmare began on what was supposed to be a dream holiday to Thailand.
'I'm in bad shape, but I don't want to elaborate on it. I'm going to see the emergency room. I don't have anywhere to live either, so maybe they can help me,' he told reporters. 'I just want to be with my daughter. I haven't seen her in four years, so I want to hear how she is.'
Mr Bullman has always admitted to physically strangling the British man in the melee that developed in August 2019 between the two men.
He had locked Mr Bajaj in a chokehold but has consistently claimed that he acted because the man he was restraining was attacking him with a knife.
Norwegian man is thought to have been in Vietnam and had expert assistance in facilitating his return to Norway on Saturday bypassing security
After Bullman had fled Thailand and based on the evidence of Mr Bajaj's wife as well as an extensive review of the crime scene, Thai police raised their charge from one of assault causing death to murder in the case, a charge still facing the Norwegian.
It is not known where Mr Bullman has been over the intervening period but it is thought he may have been lying low in Vietnam or some other country in Southeast Asia.
It is also thought that he must have had professional assistance in executing his return this week.
Bullman has promised to report to Norwegian authorities and has accepted that he may have to face justice in his home country for what happened that night but did not want to find himself as an inmate in one of Thailand's notorious prisons where Europeans serving long sentences can often face severe health issued or even death because of the harsh conditions including a lack of food and overcrowding.
Bullman's parting words on Saturday: 'It has been tiring and challenging. I will sign up. But I'm going to the doctor first.'
Further reading:
Bullman still on the run now to be charged by Thai police with murder after crime case review in Phuket
Bullman escapes Thailand, applies to the Norwegian embassy in Hanoi for a new passport – Interpol notice
Fugitive Bullman still on the run – Phuket police request additional manpower to arrest him
Norwegian killer Bullman hunted by police in Phuket, failed to turn up in court and disappeared
Norwegian killer accepts he's going to Thai prison after violent killing of UK man at Phuket hotel
UK man's wife says her husband died protecting his family in Phuket: 'He will always be our hero'
Norwegian claims he was attacked by UK man in his room with a knife as he is charged by police with his death