New Prime Minister, Srettha Thavisin, is promising to move swiftly to lower energy costs when the new cabinet is sworn in over the coming days with controversies already developing over key Pheu Thai appointments. Mr Srettha is scheduled to visit the United Nations General Assembly in New York on September 19th.
Thailand's new Prime Minister Srettha Thavisin was invited by China's President Xi Jinping this week to visit Beijing as he prepares to finalise his cabinet which is expected to be sworn in by September 11th. Thursday was the last day at Government House for outgoing Prime Minister Prayut Chan Ocha with Mr Srettha now taking up the reins ahead of his government being officially sworn in before an audience with His Majesty King Maha Vajiralongkorn.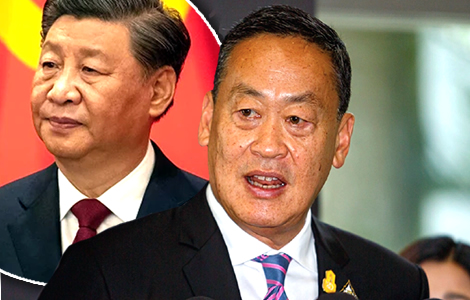 On Friday, Mr Srettha Thavisin begins his tenure at Government House as Thailand's 30th Prime Minister and is expected to unveil his new cabinet line-up.
The cabinet is expected to be sworn in and have its first meeting on Monday, September 11th as the screening and vetting of ministers is being finalised and subjected to royal endorsement.
Mr Srettha is also scheduled to visit New York on September 19th to attend the UN General Assembly which opens on September 5th.
Courtesy call to Srettha by Chinese Ambassador in Bangkok on Tuesday, an invitation from President Xi Jinping to visit Beijing to discuss economic ties
On Tuesday, Mr Srettha received a courtesy visit from the Chinese Ambassador to Thailand, Han Zhiqiang and the Minister at the Chinese Embassy, Wu Zhiwu during which the embassy officials extended the congratulations of Chinese President Xi Jinping to Mr Srettha on his elevation as Thailand's 30th Prime Minister.
The diplomatic delegation invited the new Thai Premier to China on behalf of President Xi to discuss closer economic ties between the kingdom and the Communist country.
China is currently in the midst of economic turmoil sparked by a liquidity crisis in the local authority sector and regional banking system as well as a threatened collapse of the country's property market. 
China says Thailand is a key strategic partner as it promises to work with the Pheu Thai-led government
The Chinese delegation told reporters after the meeting with the new Prime Minister that Thailand remains a key partner favoured by China which is looking forward to working with the Pheu Thai-led government to implement its policies to bring about prosperity in the kingdom. 
For his part, Mr Srettha said his government was also anxious to pursue closer ties with China and was looking forward to improving relations between the two countries, including economic and cultural links. 
On Thursday, Mr Srettha promised that his new government starting with the first cabinet meeting would initially work towards reducing the country's energy costs which emerged during the General Election campaign before May 14th this year as a key issue after the government of General Prayut Chan ocha left electricity costs surge after the withdrawal of key pandemic era subsidies.
'The cabinet will cut energy prices soon after it gets down to work. People will not have long to wait after our first meeting,' the incoming Prime Minister promised.
Promise to cut energy costs, no mention of plans for a new constitution being raised at first cabinet 
The incoming PM made no mention of a previous pledge, made after Pheu Thai announced the cross-polar government which has not been popularly received by the public, to use the first cabinet meeting to initiate plans to develop a new constitution which was to be followed by a referendum and General Election as soon as it could be brought to fruition.
During the week, the election-winning Move Forward Party has been urging Mr Srettha to keep to this commitment which was made when the cross-polar government with parties associated with outgoing military leaders was announced in the run-up to Mr Srettha's election as Prime Minister on August 22nd.
The leader of the conservative United Thai Nation (Ruam Thai Sang Chart) Party associated with outgoing PM General Prayut Chan ocha, Mr Pirapan Salirathavibhaga, is tipped to become the country's new Energy Minister while Mr Supattanapong Punmeechaow, the outgoing deputy prime minister who Mr Srettha met on Wednesday to discuss the energy situation in the kingdom as the outgoing minister, will also be in the new cabinet.
Mr Supattanapong is reported to be ready to take on a new role as Industry Minister.
Controversies surrounding Pheu Thai ministerial appointments to Defence and Prime Minister's Office 
Controversies have arisen on senior appointments to the cabinet including the reported intention of the Prime Minister to appoint veteran Pheu Thai MP and politician Sutin Klangsaeng as Defence Minister, something that has raised eyebrows among conservatives who favoured a former military officer for the role, in particular, General Nattapol Nakpanit, a trusted figure in the outgoing government of General Prayut whose last day at Government House was Thursday. 
Controversy has also arisen over the planned appointment of Mr Pichit Chuenban as a minister at the Prime Minister's Office. 
Mr Pichit served time in prison for contempt of court in 2008 linked to alleged attempts to bribe court officials.
He is a former legal advisor and lawyer for the Pheu Thai figurehead and former Prime Minister Thaksin Shinawatra and his wife Khunying Potjaman na Pombejra. 
He acted for Mr Thaksin in a 2008 case over the purchase of land on the Ratchadapisek Road, which became the first case in which Mr Thaksin was convicted while abroad. 
Former Thaksin lawyer raises eyebrows
Mr Thaksin returned to Thailand on August 22nd, hours before Mr Srettha was elected Prime Minister.
He is currently serving an eight-year sentence for three subsequent convictions, as the statute of limitations had expired on the 2008 case amid controversy over the conditions of his incarceration. 
The plan to appoint Mr Pichit as Minister at the Prime Minister's Office has been criticised by legal and political analysts, including former Election Commissioner Mr Somchai Srisutthiyakorn, who acknowledged a clarification this week from outgoing Deputy Prime Minister and Legal Advisor Wissanu Krea-ngam that because Mr Pichet was not jailed as the result of a criminal offence, he was not precluded from serving as a minister. 
Nevertheless, Mr Somchai this week insisted that Mr Pichit may not be a suitable candidate for ministerial office under the terms of the 2017 Constitution in particular Section 160 (7) which specifies that a minister may not be a 'person sentenced by a judgement to imprisonment, irrespective of the finality of the case or a suspension of the punishment, except for an offence committed through negligence, a petty offence or a defamation offence.'
Further reading:
New cabinet and government by mid-September as Srettha meets Prayut at Government House in Bangkok
Srettha Royally endorsed after being elected as Prime Minister and now moves to form a cabinet
Thaksin helicoptered to Police Hospital at 3am after feeling ill says Department of Corrections
Police concerned for Thaksin's safety on Tuesday after he lands at Don Mueang and is arrested
Move Forward Party's good election result leaves uncertainty as to who will form the government