Young Thai man from respectable background carried out appalling murder driven by the need to repay a gambling debt
A young man from what has been reported to be a well-respected family in Thailand was arrested and charged by Thai police earlier this year for a chilling and brutal murder within the confines of a disability toilet at a local shopping centre. It was a crime which indicates the casual attitude to murder among some Thai people driven by greed and financial pressure as well as the danger of gambling in Thailand which Thai police have long warned fuels crime in the country. Needing money to pay a gambling debt, a young man from a seemingly respectable background was desperate enough to kill a wealthy, disabled woman while attempting to rob her gold necklace at the daylight precincts of a shopping centre.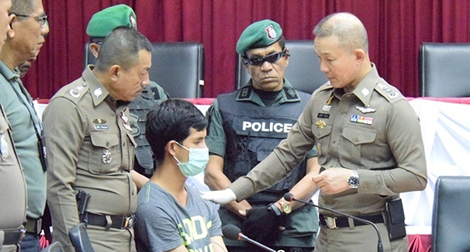 Tesco Lotus is a famous chain of hypermarkets in Thailand and extremely popular with the local consumers.
And yet its store in Chumphon province has been associated this year with a notorious incident that shocked local people and the police. The store precincts became the site of the brutal murder of Tassanee Chaisri, a 56-year-old handicapped woman, who was also reported by the Thai press to be a well known and like a millionaire in her locality.
Thai man surrenders to police after brutal murder
The young man responsible for the outrageous crime, Ranakorn Suphamongkhonlert, surrendered himself to the police days after the incident after police launched a manhunt for him following his escape from the scene. He voluntarily surrendered himself into their custody bringing with him evidence of the crime and a Honda motorbike. He was also accompanied by his relatives.
Thai police reveal young man had killed before
The case of this 25-year-old man from an influential and well-respected family highlights growing concern in Thailand about the outrageous antics of a small number of young people from well to do backgrounds who often can find themselves on the wrong side of the law in Thailand. Thailand is often reported as a benign patriarchal society where respect is shown to families of good standing but it is also a very free laissez-faire, free society where those with money can live a very exciting but perhaps dangerous lifestyle.
Finally, it is a country governed by law, Thai law and those that contravene must ultimately face justice. The western of biblical expression: 'The devil finds work for idle hands' may be apt. In this case, the young Thai man who committed the murder appeared to be driven by a gambling addiction but Thai police in the aftermath of his arrest described the young man as an experienced criminal who, they revealed, had a previous criminal history with convictions for crimes including violence and loss of life. While some foreigners voice criticism of the Thai legal system, they often fail to appreciate that it ultimately disposes of all matters in due course according to its own custom and practice.
Gold chain led suspect to attack disabled woman
According to Pol Lt Gen Sorasak Yenprem, who interrogated the Ranakorn, the suspect was visiting the Tesco Lotus store when he spotted the victim wearing a heavy gold chain that was valued at 40,000 baht.
After deciding to rob her of the necklace, he followed her to the handicapped toilet where he turned off the lights and locked the door. Then he threatened her with a knife and attempted to take the necklace away from her by force.
Tassanee resisted violently so Ranakorn ended up madly stabbing her in the side and in the chest.
Chilling words from the young man who callously killed a handicapped woman in the dark
'I noticed Ms. Tasanee immediately because she wore a gold necklace and several gold bracelets. I took the opportunity and followed her when she entered the bathroom. Then I closed the door behind her to rob her. But she struggled and fought against me, shouting for help,' he told the Thai police.
He said that in the struggle he was forced to stab her with his knife. Ms Tassanee was stabbed twice in the chest with an Eastern knife. This was confirmed by the forensic experts later. She is reported to have had several deep cuts on her left fingers.
Shopping centre cleaner responded to shouts of alarm
A cleaner heard the sound of the fight and called for help, prompting the robber to flee.
He had torn a piece of clothing from the victim's pants to cover his face and rushed for the exit. Despite being pursued by some shoppers, who were alerted by his suspicious behaviour, he managed to steal a motorbike to escape to a gas station where he had parked his own motorbike.
From there, he drove back to his relatives' house where he had been staying. There the suspect remained until he later voluntarily turned himself into the police.
Murdered was on a holiday in Chumphon thinking about how to pay his gambling debts
According to Thai media reports, the 26-year-old Ranakorn was resident in Ratchaburi province.
During the popular Songkran holidays in Thailand, he went to Chumphon to visit his mother.
He was already planning a robbery to find money in order to repay his online gambling debts.
Mr Ranakorn had lost a large amount of money at numerous baccarat games and was under considerable pressure and duress to pay it back.
It appears the Thai man had a gambling addiction problem.
On the Wednesday afternoon on which the brutal murder occurred, he drove two kilometres from his mother's home to the Tesco Lotus branch to look for a wealthy victim.
Here he identified his Tasanee Chaisri as his prey.
He was drawn to the thick gold necklace that the woman was wearing. Gold can be bought and sold easily in Thailand at numerous gold shops and is seen by many Thai people as a good saving and investment device while also serving a purpose as jewellery and an indicator of wealth.
Man charged with brutal murder linked in the media to a local family reputedly of high standing
It has been reported that Ranakorn is linked to a well-known family in the locality.
In Thailand, however, this can be misleading as many people claim to have 'influence' which is seen by many in Thai society as a sign of increased status and 'face'.
It is reported that he is in some way related to a former Mayor of Chumphon and a famous entrepreneur who runs a significant business operating both within Thailand and abroad. Press reports also indicate that the young man is related to board members of several prominent companies in the Chumphon area. The young man eventually surrendered himself to police escorted by relatives after the shocking incident came to light in the media.
The young man's reported links to a well-respected family draw media attention and further scrutiny
Ranakorn's story is another story of a recurring theme in Thailand reports on Thai media.
There is some public concern and shock when members of what are known to be respected families are found to be caught up in crime or acts which shock the community.
There is an expectation in Thailand that those from good, upstanding families or those who have received education should conduct themselves appropriately.
Public scrutiny for the media in Thailand and public opinion means anything less than the perception full and fair application of the law is no longer acceptable.
Thai government is committed to rooting out corruption in the administration of justice
The current Thai government is engaged in a vigorous to clean up the administration of justice in Thailand and to root out corruption.
In recent times this has seen police officers being suspended from their duties and even charged. Thai authorities have assured the public that corruption is no longer tolerated.
Authorities have even invited the public to report such cases where possible. Public acceptance or belief in the rule and application of the law is a key theme of the current Thai government since it came to power.
Man accused of a brutal murder has a long criminal history according to the Thai Police
The young man is believed to have a long record of law violations.
Thai police officer Lt General Sorasak commented to the media that the mode in which the man executed his attack and in particular his successful escape marked him out as an experienced and inveterate criminal type.
He was convicted and jailed for 2 years in Thailand's western Ratchaburi province for killing a fellow student due to a feud when he was 16.
This time, he robbed and killed the handicapped woman as he was ridden with a gambling debt.
Thailand has many gambling networks that are linked to criminal activity
Gambling-driven crime is also a serious issue in Thai society.
Though most forms of gambling, except for betting on horse races and the state-sponsored lottery, are illegal by law, there still exists a robust gambling network in the kingdom. Many people are known to lose their fortunes to obsessive gambling, and many successive administrations have condemned and tried to rein in the habit.
Buddhism, Thailand's dominant religion, even has a proper name for it: abaiyamuk, loosely translated as the 'portals of hell'.
Surrender of the young man to police – only redeeming aspect of the horrendous crime
The callous and despicable act has shocked many people in Thailand.
The woman Tassanee Chaisri who was murdered was well known in the area, handicapped and reported to be a millionaire by some media outlets.
Ranakorn Suphamongkhonlert is facing the most serious charges including premeditated murder before the Thai courts.
Young man may face the death penalty which has emerged again as a deterrent after June's execution
Thailand retains the death penalty and if convicted of the crime, the young Thai man may face the full rigour of Thai law.
In June Thailand executed its first inmate since 2009, another young Thai man convicted for murder.
The crime in that instance was also a robbery gone wrong this time over the theft of a mobile phone. The only redeeming aspect is that the man surrendered to Thai police bringing with him all the evidence including his motorbike, the clothes he was wearing and the proceeds of the crime.
Police reveal that the Tesco store site in Chumphon had been the scene of three other murders
The man was interviewed by Thai police under an armed guard and later visited the scene of the crime to reenact events. The leading police officer in the case Pol Lt Gen Sorasak Yenprem also used the occasion to point out that security at the Tesco Lotus store needed to be reviewed and upgraded. He pointed out that there had been three other cases of murder at the store which police had investigated.
Further reading:
PM plays clips to parliament to defend himself against media 'distortion' of gambling claims
Rayong gambling boss is arrested as fact-finding panel finds police and officials acted corruptly
Gamblers and hosts at illegal gambling dens are being jailed as massive crackdown proceeds apace
Activist: more gambling dens in Rayong, 45-year-old security man tested on Sunday dies on Monday
Entry for privileged groups tightened up as flack swirls over Egyptian military's flying visit to Rayong
Mystery Egyptian military flight revealed as exposing Thailand to the Covid 19 virus in Rayong
Raids on online gambling websites by 'Big Joke' highlights the scale of Thailand's illegal gambling market
Diamond heist thief was a failed Chanthaburi businessman with a chronic gambling habit and debts