Two elderly foreigners arrested in Thailand this week. Two strange cases. A Dutch man with a five year visa over stay and ฿22 million in cash and bank deposits wanted in the Netherlands for tax fraud and his involvement in international prostitution rackets. A second man, a German, killed his young 17 year old Thai wife, a friend of his daughter by his former Thai wife whom he took up with in 2007 after his wife died. He has lived in Thailand for nearly 30 years, 9 of them one step ahead of the Royal Thai Police in the northern region of Thailand.
On Sunday, a 68 year old Dutchman, formerly a pimp and enjoying his retirement in Thailand with over ฿20 million in the bank, received a nasty shock. Thai Immigration police swooped and arrested him at his condominium in the beautiful Sattahip area of Chonburi. He is wanted in the Netherlands on tax fraud charges but authorities there want to question him on his links to forced prostitution and international human trafficking. On Tuesday, Thai CSD police caught up with another foreigner, this time a 74 year old German man who had eluded them in northern Thailand for nearly nine years. The old man, Heinz Jurgen Theil, had killed his 17 year old Thai wife in 2010. The German has lived in Thailand for nearly 30 years and had previously led a contented life with his first wife before she died leaving him with one daughter.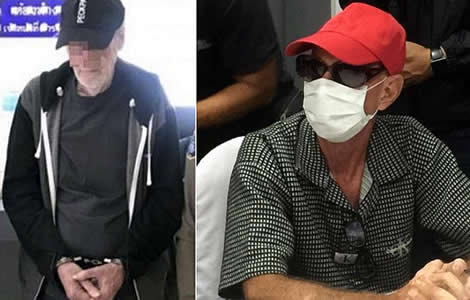 A Dutch pimp and fraudster, wanted in his own country for alleged human trafficking was arrested in Chon Buri on foot of an Interpol request from authorities in the Netherlands last Sunday. 68 year old Jacob Jan Schipper is wanted by authorities in the Netherlands, his home country, on a range of serious charges. These include forcing women into prostitution, international human trafficking and tax evasion.
It is understood that the Dutch man has been living in Thailand for the last 10 years or so.
Head of Immigration Police reveals that Thai police seized over ฿22 million from from Dutch pimp
On Tuesday, the Head of Thailand's Immigration police, Lieutenant General Surachate Hapkarn introduced the latest foreign national arrested by Thai Immigration police to the media at a briefing.
He revealed that Thai police swooped on Schipper's condominium in the Sattahip area of Chonburi on Sunday last. Sattahip is a beautiful spot at the southern tip of the province with lovely beaches and coastal views. At the condo, the Thai police located a large amount of cash in a variety of currencies. This included ฿1.5 million, €13,800 ( approx ฿490,000) and $8,030 (approx ฿250,000). Thai police also revealed that they had frozen bank accounts with balances of €579,237 or approximately ฿20,800,000.
Dutch man charged with making fraudulent and false tax returns in the Netherlands
In the Netherlands, the former pimp is charged with submitting fraudulent tax returns to authorities from January 1997 to March 2000. Thai police also received intelligence through Interpol that the elderly Dutch man was involved in range of criminal activities linked to prostitution in his home country. He had used threats and force, along with others, to pressurize 11 women into the prostitution trade. He was involved in a conspiracy to smuggle 11 Brazilian women out of the Netherlands to a third country to be enslaved in vice rackets.
Charged with 5 year visa overstay in Thailand
For now, Thai police have charged him with overstaying his visa for five years. Officers have also called in the Anti Money Laundering Agency to investigate Mr Schipper whose financial affairs are suspicious and given his background, bound to be of further interest to both Thai and international authorities. Thai police have revealed that transactions in relation to the man's accounts show a movement of ฿20 million. The source of these funds and their application will now be examined forensically by money laundering experts attached to the agency.
Law catches up with 74 year old German who killed his 17 year old Thai wife in 2010
Meanwhile on Tuesday, Thai police in Chiang Rai revealed that the Thai law had caught up with a 74 year old German who had been on the run in the northern region of Thailand for nearly nine years. The German man was apprehended outside a clinic on the same day.
Heinz Jurgen Theil has been living in Thailand for nearly 30 years. The first seventeen of those years appeared to have been spent without a problem. However it appears that the German man's loyal Thai wife, with whom he had a daughter, died. In 2007, he began a disastrous relationship with a 14 year old Thai girl, Janjira Jantapool. The young girl was a friend of his daughter by his first wife. 3 years after this, the relationship between the German and his new 17 year old wife had become constantly fraught with difficulty and outbursts of violence. The young Thai girl had felt compelled to take in her disabled father into their home and this added to the tension.
Frenzied attack by the German in the couple's bedroom saw her fatally stabbed 20 times
On April 4th 2010, matters came to head. The then 65 year old Heinz Jurgen Theil lashed out at his wife in an explosion of rage, stabbing her twenty times and fatally injuring her. The couple had been living in a rented house in the Mae Chan area of Chiang Rai. The older man had dealt injuries and wounds to his young wife on her face, neck, chest, arms and hands. The frenzied attack occurred in the couple's bedroom while the German man's daughter and Janjira's father were also in the house.
Older German and young Thai wife argued often
The German later told Thai police that he frequently got into arguments with his new young wife. After he had killed her, he told his daughter and her father exactly what had happened. They accompanied the man to the local police station where he admitted the crime to Mae Chan police. He was charged with stabbing his young wife to death and taken the provincial court in Chiang Rai.
German who made a run for it fearing a long sentence in Thai prison in 2010 faces sentencing
Mr Theil was released on bail of ฿400,000 by the court pending his trial and a formal ruling from the court. However, he decided to make a run for it as the day of reckoning for his crime approached. He suspected that he was sure to be handed what would have been, at any rate, a long prison sentence in a Thai prison. Thai police were aware that the German had fled ahead of them, on a number of occasions, from northern provinces since he jumped bail in 2010. The authorities have however been constantly on his tail. On Tuesday this week, Thai CSD police finally nabbed Heinz Jurgen Theil back in Chiang Rai outside a clinic. The German will now be finally sentenced by the Provincial court and is being held in custody.