The Thai woman has been found guilty of controlling two other Thai women in conditions of  sex slavery in 2004 and 2005 just after both women arrived in Australia. The women were brought to live at Rungnapha Kanbut's Sydney home which she shared with her husband. The Thai madam then ferried them to and from work where they often worked long hours and 7 days a week in order to repay a $45,000 debt owed to the woman for facilitating their entry into Australia's vice trade.
A 57 year old Thai woman has ended up behind bars in Australia this week. She was taken into custody after being found guilty of controlling, as sex slaves, two Thai women who she introduced to the prostitution trade in Sydney in 2004 and 2005. The woman will be sentenced in September after the trial verdict which is seen as a victory for the efforts of federal law enforcement in Australia in fighting human trafficking in a country where prostitution is legal in most states. The legal defense team for Rungnapha Kanbut or Lisa, the Thai woman convicted, had raised concerns that one of the Thai women who gave evidence against her, was granted permanent residency for cooperating with the Australian Federal Police on the case.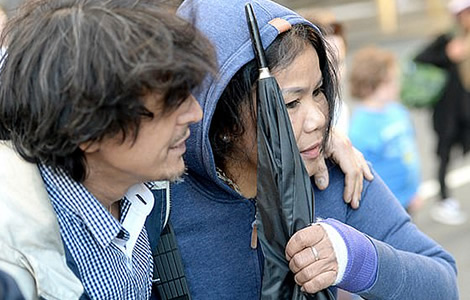 A 57 year old Thai woman has been taken into custody on the orders of a court in New South Wales in Australia after being found guilty of controlling two sex slaves and handling the proceeds of crime. Rungnapha Kanbut, also know as 'Lisa' or 'Mother Tac' will come back before the court in September when the question of sentencing in respect of her conviction will arise. The court refused to grant the convicted Thai woman bail.
Jury to a week to return guilty verdict on Thai woman accused of keeping sex slaves
The verdict of the Australian jury who took a week to deliberate on the facts of the case following legal instruction and a review of previous case law, will make it easier in the future for Australian Federal Police to prosecute cases of sex trafficking in Australia where prostitution is legal in most states.
Two Thai women traveled to Australia on 2004 and 2005 to work as prostitutes
The trial concerned the Thai woman's relationship with two other Thai women who traveled to Australia in 2004 and 2005 respectively, ostensibly and in full agreement that they were to work as prostitutes. The case hinged around the actions of the Thai woman who brought them into the country and organised them when they first began to work in Sydney's sprawling sex industry.
One Thai woman ended up working long shifts, 7 days a week in Sydney's brothels
Ms Kanbut, the court heard, took their passports and told them that they would be required to work 6 days a week and to pay off a debt of $45,000 before they were free to work for their own benefit. One woman told the courts that she effectively ended up working 7 days a week, sometimes working late shifts with only four to five hours off before commencing work again as a prostitute in Sydney's brothels.
Women recalled appalling treatment at the hands of Aussie customers paying for sex
The trial heard appalling reports of abuse and mistreatment which the two women suffered at the hands of their clientele of Australian men including being spat upon, raped and physically man handled. One of the Thai women reported that she complained of bleeding from her uterus but did not receive any medical attention.
Thai women stayed at Rungnapha Kanbut's home initially when they arrived in Australia
The two women lived at Ms Kanbut's home, at first, when they arrived in Sydney. The Thai madam ferried them to and from work. She warned one of the women that if she refused to work or cooperate in anyway, that photographs of her naked and in revealing postures were being held by a third party, a man in Thailand, which would be released online and made public. However, in in the course of the hearing, it was accepted by one of the Thai women that Ms Kanbut had sent $1,000 per month to her family in Thailand even in the period while she was paying back her debt.
Defense for Thai woman argued that the women were not slaves and that they had sought her out so that they could work as prostitutes in Australia
The Thai woman's barrister, in her defense last week, argued that the Thai women were not slaves. He pointed to their decision to come to Australia voluntarily to work in the prostitution business. Jeffrey Clarke said that the women had actively sought out Ms Kanbut help to direct them into the prostitution trade in Australia where the pay is higher than in Thailand. Earlier, the defense for the Thai woman had elicited from one of the Thai women who worked as a prostitute for Ms Kanbut, that she had been granted permanent residency in Australia in exchange for her testimony.
'The world is very unforgiving sometimes,' said Mr Clark in his client's defense. 'Sometimes people harden up. They're not slaves. They made their decisions.'
Jury brought back guilty verdicts against Thai woman on sex slavery charges and crime proceeds
The Australian jury however did not agree and last week returned guilty verdicts on the conduct of the Thai woman. She was found guilty on two counts of owning a slave and exercising authority or powers of ownership over a person in slavery. She was further convicted of dealing with the proceeds of crime.
Thai woman's threat to sex worker comes back to haunt her at trial in Australia
Prior to the jury's week of deliberations, the trial judge, Nanette Williams, explained the law to the court in respect of slavery. 'The condition of a person over whom any or all of the powers attaching to the right of ownership are exercised, including where such a condition results from a debt or a contract made by the person,' she said. The judge also focused on the amount of control that was exercised over the victims beyond what might be considered the actions and requirements of an exploitative employer. The words of the Thai woman on trial came back to haunt her when used by the barrister for the prosecution. He recalled to the jury her warning to one of the Thai women within her control, in 2004 and 2005. 'Don't think about running away because there's nowhere for you to run,' the Thai woman had told one of the women who had recently arrived from Thailand.
The barrister for the prosecution, Peter Neil, summed up his case against the Thai woman by stating: 'Just because you accept your fate because there is no alternative doesn't mean you consent to it.'
Thai woman on trial facing slavery charges in Australia for Thai women hired out as sex workers in Sydney