Thailand is an outstanding country in the world in its approach to healthcare and government health campaigns. They are both remarkably successful and point to an inherent strength in Thailand, the country's sense of  unity and common commitment to a mission. The latest move is a new law which imposes liability on those who smoke at home for the health damage caused to others. It also places an onus on professionals to report health damage caused by passive smoking. Despite online clamor against the new law that provoked a clarification this week from government officials, it is thought that the measure has overwhelming support among the Thai public.
Thai officials from the Ministry of Public Health this week attempted to clarify a new law which becomes effective in Thailand on August 20th. The new legal provisions allow sweeping new powers to state officials in relation to health cases involving smoking at home and subjects those who smoke at home to possible criminal sanctions if it is found that their second hand smoke is the cause of significant health impairment to others. The new law is not a blanket ban on smoking at home but in certain respects, is an even more stringent and far reaching piece of legislation. It is a new departure for Thailand in its battle against smoking which has seen the habit cut by two thirds in less than three decades and heralds into sight a day in Thailand when smoking will indeed be completely banned.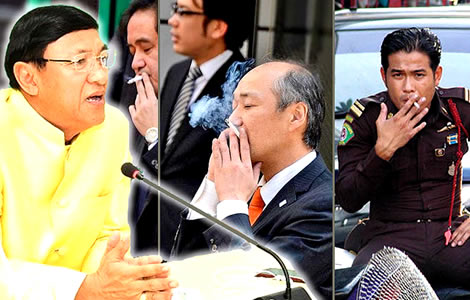 Thailand's health ministry officials moved this week to assure the Thai public that a new law that will come into effect on August 20th next is not an outright ban on smoking at home. It follows outrage and a viral response from some Thai people, angry at what they see as nanny state intrusion into personal liberties.
Strong support in Thailand for ongoing anti smoking moves by the Thai government
 Thai people are fiercely proud of individual freedoms and up to 20% of them are enthusiastic smokers. In Thailand, over 90% of these are men. Despite this, there is strong public support in Thailand for action to  curb cigarette smoking in the kingdom. Surveys suggest that over 80% of Thai people support an ongoing campaign by the Thai government to restrict and curb the use of tobacco. The reason is, as Thailand's Health Ministry points out, the devastating effect that smoking activity is having on the country's working population and consequently, the healthcare system.
A long history of successful Thai health campaigns against threats to the public
Thailand has a long history of successful government campaigns against health threats to the public. The Thai nation is unique in the world in providing near universal healthcare to its population while, at the same time, running a low tax economy which still allows a large small business sector or black economy that works outside the official economy. The underlying reasons are not clear but it is linked to the unity of the country as a nation, the country's culture and the personal values of Thai people.
Smoking cut by two thirds since 1991
The facts speak for themselves in relation to curbing smoking and tobacco use. In 1991, up to 60% of Thai men smoked cigarettes and 5% of women. By 2007, this has been reduced to 42% of men and 2% of women. The figures in the last decade have more than halved again.
It is, however, reported that the incidence of smoking is growing at a rapid rate among Thailand's younger population. For many conservatives Thais, smoking is both unacceptable and a waste of money especially with growing government tax hikes. Many Thai women, for instance, will not consider dating a man who smokes cigarettes.
New law in effect from August 20th does not ban outright smoking at home but is stringent
This week, Lertpanya Buranabanthit, who works at the Department of Women's Affairs and Family Development hit out strongly at some of the claims made online about the proposed new law. The Thai government official explained that the law, promulgated in Thailand's Royal Gazette on May 20th, does not place an outright ban on smoking at home. However, the new smoking law does place an obligation on adults and smokers to be aware of the impact their activities may have on those living in the same household. Significantly, it allows for criminal sanctions to be applied in the event of second hand smoke causing health damage to another human being living under the same roof.
The new law, which provoked some measure of support but mainly outright rage this week among some very vociferous smokers online, is a serious and meaningful piece of legislation which cannot be taken lightly.
New law will smoking at home in some circumstances to be treated as domestic abuse
The legal provisions allow for smoking at home to be, in certain circumstances, treated as a form of domestic abuse against children and adults living under the same roof. This was confirmed by the Thai government department chief this week. The Chief of the Departments of Women's Affairs and Family Development was speaking to a high powered conference held in Bangkok on Thursday last. He outlined the scope of the new law to the National Conference on Tobacco and Lung health: 'If it can be proved that the health problems of family members stems from second or third hand smoke at home, it can lead to two court trials, one in Criminal Court for 'domestic assault' via smoke and the other at the Central Juvenile and Family Court.'
The government official explained that the law would allow officials to seek a court injunction against offenders to stop them from smoking at home in such instances.
Online opposition to the new law but strong underlying support for the new home smoking law
Despite Mr Booranabundit's clarification, vociferous opposition to the new provisions continued online with many Thais opposing the move as an invasion of civil liberties. There is, however, understood to be strong underlying support for the new law. 
Smoking already banned near public buildings, spaces and beaches in Thailand
The introduction of the new home smoking legal provision follows a range of new anti smoking laws Thailand within recent times. Smoking is now prohibited outside all public buildings and public buildings as well as on beaches except for designated areas since the end of last year. Thailand raised the age for purchasing cigarettes to 20 in 2017 and the cigarettes are no longer displayed publicly in Thai shops.
Smoking in Thai prisons also banned
Last year, Thailand's Department of Corrections announced that prisons in Thailand would become no smoking zones following a noticeable improvement in the physical and mental health of prisoners in a pilot scheme in selected prisons.
Danger of smoking at home verified by studies, impacts 5 million Thai households
The danger of smoking indoors is undeniable. It is reported that Thailand has up to 5 million smoking households where upon 10 million are subject to second hand smoke. Data and research has been provided by Dr Ronnachai Kongsakon who is the director of the Tobacco Control Research and Knowledge Management Centre at Thailand's prestigious Mahidol University. Smoking at home doubles the risk of infant sudden death syndrome. Second hand smoke increases the chances of developing pneumonia by 47% and young people developing asthma by 39%.
New law places onus on medical professionals
The new law and other sweeping powers will, in future, place an obligation on medical professionals to highlight cases where children are found to be suffering from second hand smoke. Failure to do so will see clinics and professionals face charges under Article 209 of Thailand's Child Protection Act.
Thai government aims for another 30% cut in smoking by 2025 in all out war on  cigarettes
The Thai government is trying to reduce smoking by up to 30% by 2025. At the current rate of progress, it is a not a too distant possibility to expect that smoking, some day in Thailand, will be eliminated entirely.  Last week's conference in Bangkok was officiated by the Permanent Secretary for the Ministry of Public Health, Sukhum Karnchanapimai. The conference heard a startling admission that 400,000 Thai people still die from smoking related issues each year. Small wonder that the Thai government is taking forceful and direct action in spite of the outcry. This is leadership.  
Thailand to outlaw cigarettes in prison as it sends trainers to prison to assist inmates to cope