The horrific incident took place on Saturday morning in Thailand's southern Songkhla province.  The Thai woman appeared to lose her mind with jealousy after some altercation with her boyfriend on the road before she gunned the engine.
A Thai woman, overcome with jealousy, used her car on Saturday morning to violent and devastating effect as she appeared to be trying to kill her love partner and his new girlfriend. She drove her car after her boyfriend and his new girlfriend on a motorbike and ploughed directly into them leaving carnage and devastation in her wake.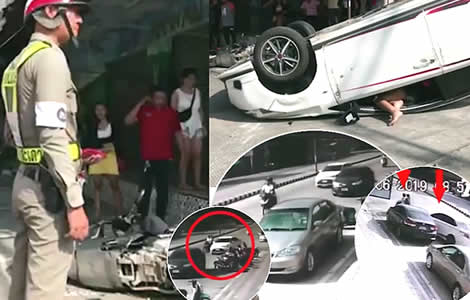 They say hell hath no fury as a woman scorned. As anyone familiar with Thai women will know, there's a lot of truth in the words. And so it proved on Saturday last in Songkhla province in southern Thailand when a Thai woman's green monster took overall mental control.
Shocking video from Songkhla province
A video of the shocking incident is available and shows a street in Sadao district of the province. A white Toyota Vios car is seen coming on to an intersection and pulling alongside a motorbike with a driver and pillion passenger. There seems to be some exchange of words. The bike takes off ahead and shortly after, the car follows, but at high speed.
Thai woman used a car as a lethal weapon to attack her love partner and new girlfriend
The driver of the car was a Thai woman and the man of the motorbike was her boyfriend or love partner. With another woman. The Thai woman evidently lost control of her senses after the brief altercation with her boyfriend and the sight of him with his new mistress. Her car speeds up. When the car accelerates, it has now become a lethal weapon being used to maim or kill her boyfriend and his new partner.
Early morning incident ended in a scene of devastation and left local people bewildered
The attack occurred at approximately 9 am in the morning. The car can be seen turning in the direction of the motorbike on the inside of the road at an angle and making a beeline for it all the while at accelerating speed. It upends the motorbike and the two passengers and drives over them before turning and tipping over on itself. The scene is one of devastation. Local people stood around the crash scene of shock.
37-year-old Thai woman arrested by Thai police
The woman has not been named except that she is known to be 37 years of age. The boyfriend and the other Thai woman are reported to have been seriously injured in the attack. The Thai woman driving the car has been arrested and Thai police will soon announce further details regarding charges.
Thai woman on Songkhla uses her car as a lethal weapn

Thai women loses all mental reason and attacks her boyfriend with her car after catching him on his motorbike with another woman.The incident happened at 9am in Thailand's southern province of Songkhla last Saturday morning.James Morris reports from Songkhla in Southern Thailand.

Posted by ThaiExaminer.com on Tuesday, July 2, 2019