Thailand's banks lead the way forward: Combined profits for banks reporting this week saw a 3.62% rise in profits in the first half with an overall gain of ฿108 billion. Despite the negative world trade environment and problems besetting the Thai economy, it is clear that Thai business and its banking sector is getting on with the job. The latest film for Thanachart Bank gives some insight into the mindset of the men and women that keep the Thai economy moving forward.
Thanachart Bank on July 11th launched a powerful new film entitled 'Your Everyday Progress' which gives an in inspiring insight into the can-do and tough, fighting spirit driving Thai business even when the going gets hard. In the last few days, this has been demonstrated as Thailand's leading banks report steady growth in profits overall. It comes at a time when many banks are in the process of transformation with the digital age.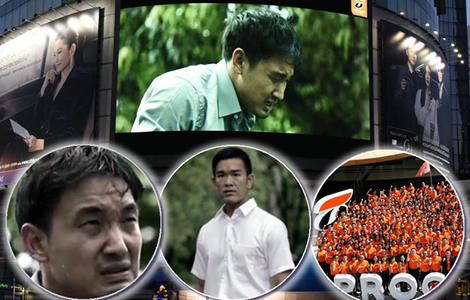 As Thailand weathers a challenging economic situation with a downturn in exports, its banks are holding their own and competing strongly. All banks are in a state of transformation along with their customers and especially business customers, as banking like the rest of the Thai economy, moves online.
On July 11th last, Thanachart Bank which is Thailand's 6th largest bank and a quarter owned by Candian Scotiabank launched a new short film. This is an advertising device that has become quite popular and vogue in Thailand. The kingdom, in recent years, has seen a slew of emotional films produced by leading companies with stirring themes that are attaining new heights in artistic and creative achievement.
Captures the spirit of business in Thailand
The new advertisement captures the spirit abroad in Thailand in the face of all the problems, uncertainties and snags that this original and spirited country suffers from but which still sees the people, in particular, the small and medium-sized business people, moving forward.
Film launched on July 11th at consumer traffic points
The film was launched on July 11th with LED screens in bank offices, public road intersections, the BTS system in Bangkok and major shopping centres repeatedly playing the clip. It is called Progress or more precisely 'Your Everyday Progress'. The film conveys the message that every day, people such as the bank's customers face challenges often daunting. Yet, they simply must move forward and make progress.
Hard uncompromising message and spirit not seen so much anymore in western media
What is interesting about this from a western perspective, is that this is no soft-story or soft sell. It employs a hard, uncompromising message and a hard character who drives an encumbered businessman or executive forward towards progress and success.
The film was directed by Thanonchai Sornsriwichai also known as Tor Phenomena. It can take its place alongside a number of masterpieces that have been produced over the last five years by leading Thai companies.
CEO of Thanachart says video gives an understanding of life challenges faced by its customers
The Chief Executive Officer and President of Thanachart Bank, Praphan Anupongongarch, said that the video film gives a real understanding of the life challenges faced by its customers throughout Thailand. The bank wanted to communicate to its customers that it is there with them and that the advanced new world of banking which gives users quicker access to financial services is part of the recipe for success.
'We believe that a little step every day will lead to a big step forward. Thanachart Bank's primary step today is a determined push to make customers progress every day and help them reach their goal with the fullest ability from our products, services, and staff,' the banking boss said.
Steady progress as nine of Thailand's big banks report profits up 3.62% in the first 6 months
Nine of Thailand's leading banks reported steady and satisfactory profits in the last week for the first half of 2019. In a challenging economy, this was welcome news. The combined profits for the banks was nearly ฿108 billion and this represented a 3.62% increase on the same period last year.
The star performer of the pack for the period, was Bank of Ayudhya which reported a whopping 58% increase to bring first-half profits to ฿19.7 billion. CIMB Bank reported an impressive profit increase for the period at 19.4% generating ฿430 million. Krungthai Bank also performed very well with a net profit of ฿15.4 billion, up nearly 7%.
Bangkok Bank reported a 1.7% rise in profits for the second quarter ended in June
Bangkok Bank, Thailand's largest commercial bank with assets of over  $100 billion, reported a steady profit of ฿9.37 billion for the second quarter of the year which was 1.7% ahead of the year previously. The bank reported a lower level of outstanding loans and a non-performing loan rate of 3.5%. Some banks such as Siam Commercial Bank and Kasikorn Bank reported slower profits for the first half of the year.
Bank of Thailand deputy governor optimistic going into the second half of 2019
The challenging environment faced by some of the banks was attributed by Bank Of Thailand deputy governor Ronadol Numnonda to slower than expected economic growth in the first half of 2019. The deputy governor also pointed out that the increased takeup of digital banking was one of the reasons that saw some banks experience a fall-off in fee income during the start of the year.
The senior Bank of Thailand official said that there was some optimism that government initiatives and a possible pickup in the international world economy may see a strong performance in the second half of this year.
Thailand as a strong and competitive banking sector
Thailand has a strong banking sector with over a dozen commercial banks and half a dozen state-owned banks. The banks have shown themselves to be competitive performers in the growing digital banking world. Last year, led by Siam Commercial Bank in a brave initiative, many of the banks in Thailand slashed online fees on internet transactions to compete with emerging Chinese competition.
Read more about radical changes in the Thai banking sector:
Thailand is about to change as more people spend money online and we move to a virtual reality 5G world
Thailand faces an economic threat from a fast paced shift to a digital economy – 3 million jobs in peril
Thai online bank scraps all fees to fight off Asian rivals
7 Eleven expands business in Thailand, with the economy looking up, it embraces change
Bank captures the hard and fighting of Thailand

+ Leading Thai bank's new film points the way forward as nine Thai banks this week report steady as she goes profits up 3.62% with over ฿108 billion. The new film for Thanachart Bank with a theme of 'progress' captures the hard and fighting spirit that keeps the country moving foward despite the challenges and problems that stand in the way.https://www.thaiexaminer.com/thai-news-foreigners/2019/07/20/thai-banks-thanachart-bank-customers-film-banking-thailand-profits-reported-half-year/Joseph O' Connor reports from Bangkok

Posted by ThaiExaminer.com on Saturday, July 20, 2019