Minister used his powers under the Child Protection Act 2003 to tighten up and add to regulations that had not been amended since 2005. There is a serious problem with inter-school violence which has seen a number of students killed in Bangkok this year in lethal street attacks including one notorious case where a handgun purchased for ฿2,000 was used to kill a student.
Last Friday, the new Thai Education Minister announced changes to regulations governing student behaviour in schools which appears to herald a tighter policy on sexually suggestive clothing and behaviour as well as the growing menace of inter-school rivalry and violence.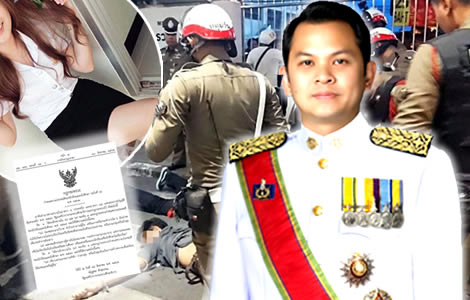 Thailand new minister for Education Nataphol Teepsuwan on Friday last updated regulations on the behaviour of students in Thai schools. The amended regulations were published in the official government gazette.
They appear to relate and address two key issues. One is the growing problem of gang violence between schools particularly in Bangkok and its environs. A number of students have been killed this year in long-standing feuds between educational establishments. 
One of the Bangkok bombs on August 2nd last turned out to be a student ping pong device associated with inter-school rivalry
On the day of the Bangkok bombings on Friday, August 2nd one of the bombs reported that day as part of the attack turned out to be a ping pong bomb that injured a number of city cleaning workers as they swept the streets. Police over the following weekend discovered that the bomb was not linked to the terrorist bombing spree but had been created by school students as part of an ongoing rivalry. Over the following week, similar devices were found in Nonthaburi just outside Bangkok.
In July, Thai police arrested an 18-year-old student in Samut Prakan in connection with the killing of a 16-year-old student from a rival college. The man had been killed with a handgun bought online for ฿2,000. In February, a Bangkok student was stabbed on a city bus by a student from a rival campus.
Read more about student violence in Bangkok here
New school regulations prohibit sexually suggestive behaviour and dress in Thai schools
The second key change to the school regulations deals with sexually suggestive behaviour and attire by pupils at school. It is understood that this is to counteract a trend among some female students to wear such attire including short mini skirts.
The new regulation calls for stricter adherence to the uniform requirements at school overall. It specifies that all school uniforms should be worn in an orderly fashion and particularly outlaws attire that may be construed as obscene. The regulation itself also extends beyond clothing to sexually suggestive behaviour by school students which is considered by school authorities to be inappropriate.
First update since 2005
The regulations relating to school behaviour have not been updated since 2005 and the minister's department points out that it is appropriate to amend the regulations to allow for a more modern age and society.
Tighter control on movement of students
In relation to inter-school rivalry and violence, the regulation also now prohibits activity that is likely to cause conflict. It imposes control on students from roaming from the school precincts if it is considered that such activity may be a cause of danger to the student or other people.
In May, a Democratic Party member called for the abolition altogether of school uniforms
The current minister is a member of the governing Palang Pracharat Party but was formerly a member of the Democratic Party. He is joined at the ministry by junior ministers from the Democratic and Bhumjaithai parties. In May, a well known Democratic Party member Mallika Boonmeetrakool Mahasook called for the abolition of compulsory school uniforms in Thai public schools where traditionally strict uniformity and modest dress has been the order of the day.
Thai schools are already quite orderly and disciplined
Indeed, it should be noted that despite these updated regulations, most Thai students maintain a very orderly and uniform appearance. The existing school regulations in Thailand are already quite strict and even specify acceptable hair lengths for girls and boys. In January, a Kanchanaburi school was the subject of a social media storm and controversy when a female student had her hair shorn in public to keep it to the correct length after she had repeatedly ignored instructions from her teachers. 
Further reading:
New Education minister and his deputies face a digital test as Thailand needs more bright minds
Bizarre coincidence as schoolboys cause Friday's Bangkok bomb that put workers in hospital
17 year old loses his life in Bangkok after chasing a ฿400 debt driving his motorbike on Friday night
Student loses his life in Bangkok for sitting at the back of the bus as 17 year old stabs him to death
Thai teachers rule as 4th year teenage student has hair cropped in public after defying school code