The murder of Kanyarat Kingkaew and her father was captured on CCTV footage which subsequently went viral online. The killer gunned down his father in law first and then shot his wife as she comforted her parent. He then drove to another home where he took the life his mother-in-law and her two sisters.
A Thai criminal court this week sentenced a 37-year-old man to death for the serial murder of his pregnant wife and 4 members of her family on Sunday, January 13th this year. The killing occurred just nine days after a Catholic priest in Chonburi filed a criminal complaint with the police after loaning the man nearly ฿30 million which was never repaid.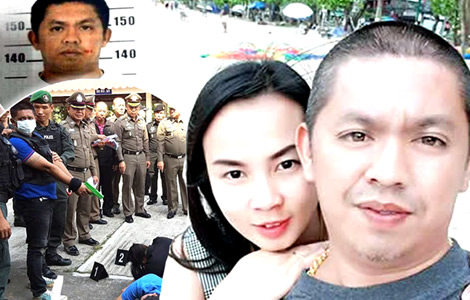 The killing took place in the northern Thai province of Uttaradit. The man fled the scene in one of a number of cars he owned.
Man went berserk after finding that his wife was steadfast in her decision to leave him
Teerapol Pinamorn who was originally from Ranong province in southern Thailand, went berserk that day after he learned that his wife Kanyarat Kingkaew was planning to leave him.
The crazed Thai man drove to his father-in-law's home where his wife was staying and while arguing with her in vain to make up, suddenly turned on his father-in-law and shot him dead while the older man was washing a vehicle and keeping an eye on the two estranged partners. He later told police he developed an uncontrollable rage when his wife rejected his offer of reconciliation.
Wife ran to her father when he was gunned down
His brave wife, pregnant at the time with his child, rushed to her father and while she held him in her arms, the killer shot her too. Mr Teerapol then drove to a house in the Pichai district where he shot his mother-in-law Namphueng Kingkaew, and her two sisters. He attempted to kill other members of the family but they escaped from his wrath.
The murder of Mr Teerapol's wife and her father was captured on CCTV footage and widely shared online in the days after the murders.
Fled the scene and the subject of a manhunt
The killer fled the scene but was captured days later by a huge police and army manhunt which located him in a wooded area in Ranong. It is believed that he was trying to flee into Myanmar.
Reenactment of the murders in Uttaradit
Following his arrest, he was taken back to Uttaradit province where police conducted a reenactment of the murders at a police station. It is understood that feelings in the local community were very high and at the time and it was considered wise not to bring him back to the real scene of the first crime scene.
Ekkarat Khamheag, Mr Pinamorn's brother in law, the husband of the younger sister of Kanyarat Kingkaew, came out and demanded the death penalty for the man following the funeral rites for his wife's family members. Police subsequently charged Mr Teerapol with premeditated murder.
Catholic police had filed a complaint against him 9 days before the murders seeking nearly ฿30 million
This came at the same time as it was revealed Joseph Chaiyo, a 66-year-old Catholic priest, had filed a police complaint in Chonburi province against Mr Teerapol. The complaint revealed that the cleric had wired nearly ฿30 million to his bank account as a loan supported by documents to a land sale. This was understood to be the title deeds of a ฿35 million property in Phuket. The complaint had been made to police in Chonburi on January 4th 2019 some 9 days before the killer's frenzied and murderous outburst. 
Escalating arguments about property and assets
It is understood that before the deadly rampage and the breakdown of the killer on that doomful Sunday, he had begun to argue with his wife's relations over what he claimed were assets belonging to him that he had been deprived of by members of his wife's family circle. He told police that he had been driven by anger and frustration on the day he carried out a serial killing.
History of jail time and no less than different 10 ID cards in forty years revealed by police
Police later revealed that Mr Teerapol had served time in prison for drug offences and had obtained no less than 10 different national identity cards between 1979 and 2018. It also came to light that his wife had reported her husband to police on two occasions for violent assault but that no official proceedings had resulted.
Read more about the killings and the background of Teerapol Pinamorn here:
Thai family killer who said he was a business man now also faces serious fraud charges over loan from priest
Thai man who killed his wife and family after she wanted to go back to her former husband is arrested