Rain to continue as the navy assists in rescue efforts on Koh Chang. Prime minister and cabinet ministers this week visited Ubon Ratchathani to give out relief and see the situation first hand. On Wednesday, it was reported that a further 20,000 people still needed to be rescued in the provinces hardest hit and that nearly 420,000 households have so far been impacted. 
So far, the personal campaign of actor Bin Banleurit to raise cash funds to help flood survivors in the aftermath their homes being flooded and a government-led initiative supported by a TV telethon, have led to ฿600 million being raised in relief funds for victims primarily in northeastern Thailand which has been hardest hit.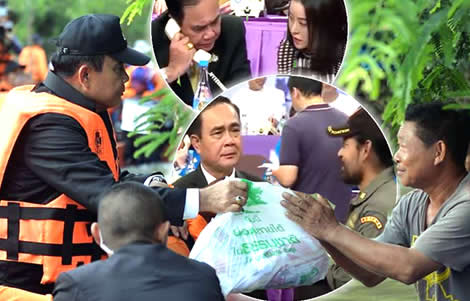 While the inspirational actor appeared and participated in the TV telethon on Tuesday, he has insisted on keeping the fund separate while government ministers have admitted that money from his fund is more likely to be received by victims faster because state officials have a duty to account for the distribution of funds raised and to do so in an impartial manner.
Flooding and heavy rain continues in Thailand and is expected to do so until at least September 23rd. It comes as the actor and foundation chairman Bin Banleurit's flood rescue fund which he initiated into action only one week ago, has reached ฿355 million and has now begun to focus on distributing the money on a wider basis.
On Wednesday, Bin gave ฿5,000 to nearly 2,000 homes in one Ubon Ratchathani district
It was reported on Wednesday that Mr Bin has distributed up to ฿10 million alone to nearly two thousand homes in the Warin Chamrap District of Ubon Ratchathani province in Ubon Ratchathani perhaps the worst-hit province by the flooding.
20,000 people are still being evacuated from 4 hardest-hit provinces as heavy rains continue
It was also revealed this week that government rescue services are working strenuously to evacuate up to 20,000 people in the four northeastern provinces most affected by the flooding. These are Ubon Ratchathani province, Yasothon, Si Sa Ket and Roiet.
Actor Bin and Thai prime minister manned the telephone lines at telethon that raised ฿263 million
Bin Banleurit participated in a highly successful TV telethon on Tuesday night on Channel 9 from 7.30 pm to 10 pm in which he answered the phones to accept pledges and met the prime minister in person. The show raised over ฿263 million but the next day on Wednesday, the actor confirmed that he would not be merging his fund which has raised substantially more money than that of the government.
Bin – every satang raised will be dispersed
The actor, however, was quick to pledge that every satang of the money raised will be distributed to the people in the 32 Thai provinces affected by the floods and storms which have left 34 people dead in their wake.
Deputy PM says government fund subject to scrutiny and must be distributed fairly and evenly
Meanwhile, senior Thai government ministers including the prime minister and the deputy prime minister Wissanu Krea-ngam have insisted that money raised by the government must be handled with due process and must also be distributed evenly throughout the impacted provinces without showing favouritism even where this is inadvertent.
Prime Minister admits that Mr Bin will distribute funds faster than the government can
The Thai prime minister himself in the aftermath of the TV show to raise money was back in Ubon Ratchathani distributing relief. He was there also earlier in the month. He admitted to reporters that funds from Mr Bin's relief effort would reach villages and communities faster because it could be dispersed without the same reporting controls that were part of an onus placed on government officials to account for public funds.
Cannot spend the money 'at will'
'How can I overlook the law and spend the money at will?' the prime minister asked but did say that officials were trying to speed up the process and it would help if homes had the proper documentation that may be required. This was later confirmed by the minister at the Office of the Prime Minister, Tewan Liptapallop, on Thursday who said plans to distribute the cash to those in need was being speeded up.
Ministry funds may be used for longer-term purposes 
The Deputy Prime Minister Wissanu Krea-ngam explained this week that monies raised by the government had to be properly accounted for on a legal basis. 'Once the money is placed in state coffers, it is subject to an audit by the Office of Auditor-General, he said. He did intimate that government officials were, therefore, looking at using the cash raised by the government for longer-term needs such as livestock replacement or repairs to damage caused by the flooding. 
Navy involved in rescue missions
The government is currently assessing the damage caused by the storms while rescue efforts have been widened and extended into provinces off the Gulf of Thailand and the Andaman Sea due to this monsoon season floods. It was reported that the Royal Thai Navy was involved in rescue operations this week in Koh Chang and islands nearby such as Koh Mak. This was confirmed on Wednesday by Vice Admiral Banjob Potedaeng of the navy's Disaster Relief Support Division.
Further reading:
TV show to raise cash for flood victims following Thai actor's inspiring and hearty example to all
Thai PM admits Mr Bin's cash relief helps flood victims faster

+ TV telethon sees government and Bin Bunluerit work together with over ฿600 million raised by both funds for flood relief victims.https://www.thaiexaminer.com/thai-news-foreigners/2019/09/21/mr-bin-and-the-prime-minister-working-together-to-bring-relief-as-authorities-battle-flooding/Carla Boonkong reports from Bagkok and Ubon Ratchatani

Posted by ThaiExaminer.com on Saturday, September 21, 2019