Actor Bin Bunluerit brought his cash to villages in need and handed it out on the spot. He chipped in ฿1 million to a fund which raised over ฿100 million in 48 hours. Mr Bin aims to deal with the need of poor people disrupted from their normal lives who need cash in hand now to tide them over these challenging times. 
A well known Thai actor and humanitarian activist has generated a wave of support and cash to assist tens of thousands of households in flooded provinces in Thailand's northern provinces. It has led to the government launching a TV appeal to raise much-needed cash for those impacted and in need.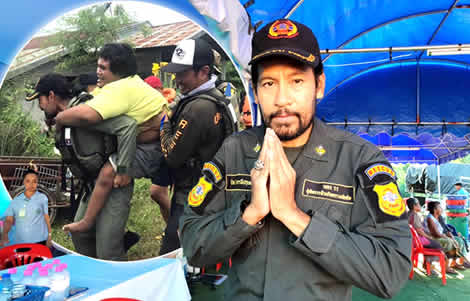 A well known Thai actor has captured the imagination and touched the hearts of the Thai nation in his can-do approach to helping the poorest Thai people directly affected by flooding in the north of the country. Since August, 33 people have died and nearly 25,000 people have been forced out of their homes as heavy rain continued to fall from the skies.
The Thai government and rescue services have been busy dealing with the emergency sending relief supplies and helping to evacuate stranded people and even much-loved pets and street dogs. However, many of the poorest people in the region are looking for a more direct source of help. They need cash. 
Humanitarian actor swung into action on Saturday
The Thai humanitarian and well-known actor Bin Bunluerit by Saturday felt it was time to do something for those who are at the margins of society financially. These people without means are most vulnerable when removed from their homes or when their day to day existence is disrupted. Mr Bin started with a Facebook broadcast but then went directly to some of the hardest-hit areas and brought with him what was necessary, hard cash.
Then things took on a life of its own as his interaction with real people on the ground channelled through social media creating a storm of positive intentions. 
Appearing in Thai TV on Monday morning, Bin, who is also the Chairman of the RuamKatanyu Foundation, a uniquely Thai volunteer relief service, tried to explain how his heartfelt effort which started on Saturday morning has mushroomed following his example when he personally pledged ฿1 million to the fund to hand out cash to people in dire need.
Now the war chest to help these poor people is in excess of ฿110 million and growing
By early Monday evening, his appeal looked like it had exceeded ฿107 million giving him a war chest to distribute cash relief payments to the 12,500 households that have been suffering for weeks now.
Last week, senior Thai cabinet ministers including deputy prime minister Prawit Wongsuwan and the prime minister were in the north focusing on the safety of the public and galvanising emergency services into action to cope with a continuous torrent of suffering and disruption.
 The priority of course for the government is to preserve life but the actor's approach is speaking to the needs of less well off people who find their lives disrupted without resources, even minor resources to cope with day to day challenges that those more fortunate in Thailand would take for granted.
Actor has inspired millions of Thai people
The barnstorming action of the humanitarian performer demonstrated effectively how it is possible to cut through to the heart of the matter for people who need help with his hands-on approach.
 It has inspired millions in Thailand. 'When I first went there, I brought with me ฿200,000, which I spent on daily necessities, fuel and pet food. I gave elderly people ฿1,000-฿2,000 each,' he told TV reporters. 'They desperately need money to buy what they need, rather than dry food or other stuff.'
Bin planned to fly to Bangkok to withdraw more cash from his bank to bring North again
Mr Bin revealed that he was planning to fly back to Bangkok to withdraw funds from his bank account so that it could be brought back to hand over to the people that needed it. By speaking with the people, he was able to tell reporters and the media just what it is like on the ground for people who are the least well off in the kingdom.
The actor revealed that he had met two families of 15 people each who had juts ฿4,000 or $110. Mr Bin gave them each around ฿3,000 and it made all the difference. 'They said they would buy baby formula,' he revealed.
Star chided the government over its current stimulus measures –  'better spent helping people'
Mr Bin gently chided the government on its handling of the humanitarian needs of the people hit by the floods. He mentioned a current stimulus measure to prime the stalling Thai economy. 'I thought about the 1,000-baht for shopping to stimulate the economy and I was sad. Will it be better spent helping people there?'
Raised ฿100 million in 48 hours
The actor raised over ฿100 million in one 48 hours period and the enthusiasm from Thai people to help is palpable. Mr Bin revealed that may of those donating had sent as little as ฿10 or ฿20 but every contribution counts.
Trying to be constructive, the actor asked why the government itself has not set up an appeal similar to his to let Thai people come together to help out the families whose lives have been struck by nature, many of them with all their possessions underwater.
Government takes up the challenge with an immediate TV show which airs on Tuesday
This was followed promptly by an announcement from the government that a TV telethon would be run to accept cash to be handed to those in need. This is a normal practice in western countries as a response to emergencies or issues of importance. The biggest one of all was Bob Geldof's Live Aid in 1985 described back then as a 'hunger telethon' to raise funds people starving in Ethiopia.
The TV programme will run on MCOT Channel 9 and its associated network on Tuesday from 7.30pm to 10 pm. Proceeds from the telethon will go to the flood relief fund being managed by the Office of the Prime Minister. It is reported that PM Prayut Chan ocha and Deputy PM Prawit Wongsuwan will be among those manning the phones taking donations from the public.