The fake new centre as outlined by the minister last Friday sounds eminently practical and benign. Free speech and human rights activist are dubious. The minister highlighted that its function will be restricted to clarifying falsehoods and the distortion of news reports in response to user submissions. The week also saw the Deputy Prime Minister Prawit Wongsuwan defend the Section 26 reporting requirement within the controversial Computer Crime Act for Wifi spots and internet cafés as something on which the government and security services were seeking the cooperation for the public in the interests of national security.
Thailand's Minister of the Digital Economy and Society on Friday announced plans for the fake news centre which opens next month on November 1st. It came in a week when moves by authorities to tighten up on internet security using the Computer Crime Act drew a hostile backlash and has sparked a movement to have key sections of the legislation amended in parliament with the help of the house committee overseeing the digital economy ministry and online activity.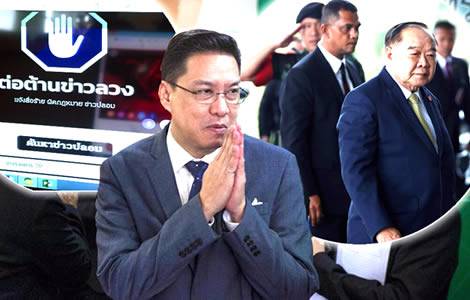 Thailand's new fake news centre will begin operation in November with a staff initially of about 40 operators seconded from TOT and CAT Telecom responding to submissions from the public on items suspected of being fake news on key social outlets such as LINE, Facebook as well as internet sites.
Fake news centre's mission will be benign
In a week in which his minister found himself embroiled in controversy over security requirements under the controversial Computer Crime Act, the Minister for the Digital Economy and Society Buddhipongse Punnakanta gave details of how the fake news centre would operate which seemed reasonable and practical. Government sources including the minister and Deputy PM Prawit Wongsuan who has an interest in the project, have repeatedly assured the public that the function of the new centre is not to stifle free speech or intimidate political opposition.
Not involved in legal action or prosecutions
This was underlined by the minister on Friday when he pointed out that the fake news centre will not be involved in investigating news sources for breaches of the law but would be focused on communicating government or factual information and clarifications where false or misleading reports appear.
This appears to be a turnaround from details announced at the end of August which envisaged operations to prosecute offenders. Indeed, the ministry has already been linked with some high profile arrests since early September when he appeared at a press conference with police.
Users will make submissions and the centre will publish clarifications on various channels
It is still not clear how the system will work in practice but Mr Buddhipongse said that clarifications would be published where initial fake news reports were identified. He suggested that this would avoid confusion. He said that special unit would receive the fake news reports and then investigate them followed later by the publication of its clarification
He said the mission of the centre would be to educate the public and in particular young people on how to identify news reports that are not factual or misleading.
Last week's requirement to internet café and wifi spots to hold a 90 log of users sparked controversy
It comes after the minister's announcement on Tuesday last week that internet cafés and wifi spots must keep a 90-day record of users in a log file which should be made available to security officials or police as required under Section 26 of the Computer Crime Act.
The minister said such requirements were necessary for security forces to do their job and also to track down certain people or groups publishing false information.
Backlash from rights groups and free speech activists
The move quickly led to an outcry by civil liberties groups and some leading press organisations who have long campaigned against the very wide-ranging and draconian Computer Crime Act.
During the week, a number of civil rights and free speech activists such as Arthit Suriyawongkul of Thai Netizen have come forward and made it known that they are preparing to enter into discussions with the House of Representatives committee on telecommunications, digital economy and society to begin moves in Thailand's parliament to amend the Computer Crime Act.
Bhumjaithai deputy chairman of key committee welcomes Computer Crime Act submissions
There was some encouragement for this when the Bhumjaithai MP Colonel Settapong Malisuwan who is the deputy chairman of the committee indicated that he would welcome representations on the law. The Bhumjaithai party has 51 seats in the house and is a strategically important player in the governing coalition.
Section 14 is the most oppressive provision
Activists are concerned about the Section 26 reporting requirement and quite a few other provisions but they are reportedly most concerned about Sections 14 and 20 of the restrictive law when it comes to limiting and suppressing free speech. 
Section 14 makes it an offence to cause public panic or damage national security as well what it terms public security and even information deemed to damage economic security.
Activists also want to see Section 20 curtailed
Section 20 establishes a series of committees or panels at the Department of the Digital Economy and Society. These panels can make judgments on internet data entered into computers systems including information which is deemed 'inappropriate' and can have such information removed after filing for a court order.
This would then have to be complied with by any company or media organisation in Thailand.
It should be pointed out that the Thai government, even during the junta period, has been reticent and judicious in its use of the wide-ranging powers contained in the act but some criminal prosecutions have taken place.
Reporting under Section 26 draws criticism 
As well as free speech and human rights groups, the Section 26 requirement drew criticism from business owners because of the inconvenience and cost it would impose on owners of cafe shops operated by both large companies and small.
A 41-year-old Klong Toey coffee shop owner pointed out that a server to comply with the law would cost ฿20,000 but even more importantly, customers do not like entering data when using such facilities in an era when speed and convenience is everything for consumers and workers hard-pressed from time.
Oil company director expresses concern
A director of PO Oil Co. Ltd which runs several PTT service stations and Cafe Amazon outlets expressed definite concerns in an interview with the Bangkok Post: 'We don't know yet how much it will cost us, and the company is concerned about that,' he said.
Legal expert who helped draft the law says small cafe owners can use paper to record Wifi users
Paiboon Amonpinyokeat of P&P Law who helped draft the Computer Crime Act points out that the Section 26 requirement was not intended to require small internet café operators to install servers. Pointing out that no prosecution has so far been made, he suggested that owners of such establishments get users to write their details on pieces of paper.
Police vigorously defend the need for the reporting of users who avail of Wifi in cafés warning that they are being used by criminals and subversives
The requirements were also vigorously defended by the Deputy Police spokesman Colonel Kritsana Pattanacharoen who pointed out that the information which is automatically available through mobile phone operators, must be harvested as bad actors are targeting free Wifi services.
These people, the policeman said, pose a criminal and security threat to the public. He pointed out that many online scammers use such facilities to give an example. The police need to be able to track the users and in conjunction with CCTV footage, they then can identify the culprits, he explained.
Deputy PM – asking for the help of the Thai public
Thailand's Deputy Prime Minister Prawit Wongsuwan who has a special brief on security and intelligence weighed on the issue.
He said that Section 26 of the Computer Crime Act does not represent a breach of privacy but an example of where the Thai public and police authorities must work together to preserve security. He said that security agencies were asking for the public's help and cooperation.
Further reading:
Digital Economy Ministry working to have Thai fake news centre up and running by November 1st
Fake news centre to be operational in Thailand in months as government seeks to combat the threat