Thai wife told Phrae police that her husband was regularly violent when drunk and had produced the knife to threaten her. She grabbed it off him and fatally stabbed him at around 2.30 am.
A Thai man was stabbed and killed by his wife in the northern town province of Phrae early on Sunday after a heated row developed when he repeatedly refused to hand over the keys to their home after becoming drunk partying with friends.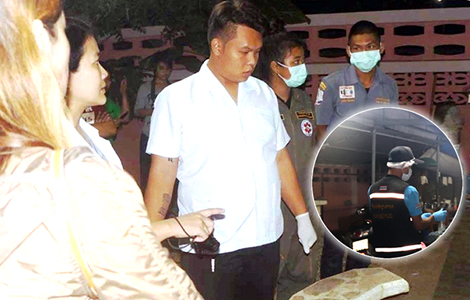 A domestic incident that began on Saturday night descended into what could well be murder after a Thai wife stabbed her husband three times before running off. The slaying occurred in Thailand's northern province of Phrae.
42-year-old victim attacked by his 47-year-old wife
The victim has been named as 42-year-old Pasin Areewong who lived with his wife 47-year-old Kanchakorn Wongsuwan in the town of Phrase at the centre of the province.
Threatened her with the knife
She told police that she stabbed her husband three times in the early hours of Sunday morning after their argument got out of control and he threatened her with a knife. The blazing row was related to a party that Mr Pasin was enjoying with friends which extended from Saturday night in which he became inebriated. 
Refused to give his wife keys to 
The man, in a drunken state, persistently refused to hand his wife the keys to their home so that she could go in and get some sleep. Ms Kanchakorn said her husband intransigence sparked her anger which led him in turn to produce a knife.
Managed to wrestle the knife from him
She revealed that she managed to wrestle the knife from him and attacked him with it. As she was making her escape she said that she heard her husband's cry for help which caused her to return only to discover that he had already expired.
Local police report that they responded to the scene quickly when called and brought with them a local doctor in attendance at Phrae Hospital. They said the stabbing of the man occurred at 2.30 am. 
Found the man dead behind his home
When they arrived at the site located at a village in tambon Muang Mo in Phrae, they found the 42-year old man lying dead behind his home. A knife was found near the body on a stone chair. He had been stabbed three times, first on the left-hand side of the rib cage, the abdomen and the chest.
Regularly violent towards his wife when drunk
His wife while she admitted her actions, told the police that her husband was regularly violent with her when he consumed drink and became drunk.
Mr Pasin's body was sent to Phae Hospital where a post mortem examination is to be carried out. Police are further questioning the wife of the deceased man and are considering the appropriate legal proceedings based on their still ongoing investigation.
Further reading:
Thai wife murders her younger husband and buries him 3 metres underground in her orchard
Death sentence for murderous trio who executed a loving Thai wife and her UK husband in Phrae
Murder of ex cop focuses the light on his love life even though police have cleared his 5 wives as suspects