Police discovered that Dutchman had travelled back from Ko Tao to his Ko Samui home after the theft on October 4th. On October 8th, the owner of the Ko Tao telecom shop submitted his complaint. The next day police searched the bungalow home of Mr Gerhadus while he was away. They found the stolen goods and arrested the man after he returned.
A Dutch national only identified this week by Surat Thani police as Mr Gerhadus was arrested on October 9th and charged with theft after he stole a ฿12,000 camera from a telecom shop on Ko Tao island five days earlier.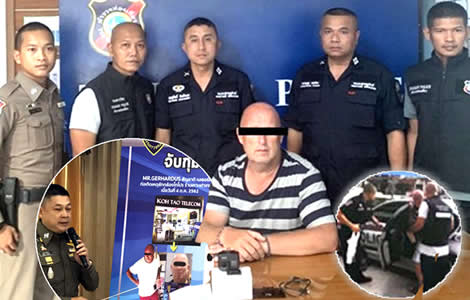 Thai police in Surat Thani have arrested a Dutch national and charged him with the theft of a camera and accessories from a telecom store on the tourist island of Ko Tao. The Dutchman is believed to have carried out the theft on the 4th of October last.
Owner reported to Ko Tao police on October 8th
The owner of the telecom store trading as Ko Tao Telecom reportedly named as Mr Rattawit reported the theft to police on the island on Tuesday the 8th of October. The businessman told police that a Go-Pro camera with accessories such as a charger, spare battery and a USB card valued at ฿12,000 had been taken by the Dutch national on Friday 4th October.
CCTV footage of the European committing theft
Police were given access to CCTV footage of the European man in the store carrying out the brazen act. This led police on Koh Tao to seek cooperation from police in Surat Thani and the immigration bureau.
Using the new biometrics system, they were able to identify the Dutch national. His full name and details have not yet been released to the media but police, announcing his arrest and prosecution this week, have named him as Mr Gerhardus.
Travelled back to Ko Samui with the stolen camera
The police investigation soon discovered that the Dutchman had taken his leave of Ko Tao and travelled to Ko Samui where he was living in a bungalow property.
The next day, October 9th, police raided the Dutch man's home on the bigger island with a search warrant while he was out on another excursion. Under the stairs of the property, they found the stolen camera and accessories. When the suspect arrived home he found police waiting for him and was placed under arrest.
He was then sent back to Ko Tao Police Station where criminal prosecution proceedings for theft were initiated against him. 
A briefing on the case and the arrest of the foreign man was given on Friday by deputy Immigration Bureau chief Pornchai Kuntee.
Further reading:
Westerner arrested for bank exchange robbery in Sukhumvit area of Bangkok on Wednesday
Despicable western foreigner sought by Pattaya police after the theft of ฿2,000 from a Thai woman
Pattaya plagued by foreign thieves preying on Thai locals and tourists as French man is arrested for theft
Bizarre antics of hippie western foreigners in Chiang Mai draws attention online and on TV news
Clash of two worlds: French couple accused of theft in Thailand