Police investigators, however, suspect an old and repaired electric extension cable unit may have 'leaked' current which reached the girl's iron bed but are keeping an open mind until they obtain the results of a post mortem examination and technical opinion. 
Police in Chaiyaphum are investigating the death of a 17-year old Thai girl who appears to have been electrocuted by her smartphone last Friday while her mother was away.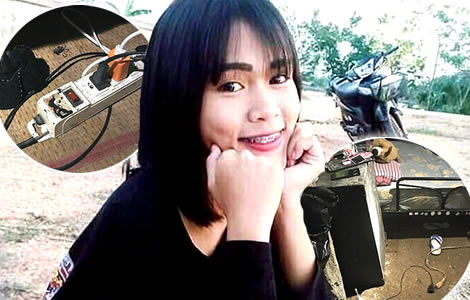 A 47-year-old mother on Friday found her 17-year-old daughter dead on her bed in the northeastern province of Chaiyuphum. The young girl had been electrocuted while paying with her smartphone.
It's a story that has devastated a local family and community and is warning about the real dangers of smartphones in Thailand and electricity.
47-year old woman returned and thought her daughter was sleeping at first in her bed
Ms Boonpeng Tuponchai had been out of her home.
When she arrived home she noticed her daughter was not moving on her cot like bed and assumed he was sleeping. However, when she attempted to wake the teenage girl, she immediately recoiled from a minor electrical shock and quickly discovered that something dreadful had occurred.
The panicked mother cut off the electrical mains connected to her daughter's smartphone but it was too late, her beautiful young daughter was dead.
Young girl was using a frazzled cable to charge her phone covered in ducting
Nong Yong died holding her smartphone which had been connected to the mains in a cable covered in ducting tape.
The electrical sockets used in the home by the Thai girl were on an old and battered extension cable which had been repaired numerous times. This and Nong Ying's iron bed contributed to the tragedy.
Police, however, suspect the oft repaired electricity extension cable and her iron bed
Police were called to the scene and are still investigating how the young girl died.
However, Police Captain Khanti Peansoongnern who is leading the investigation has indicated that the repaired extension cable unit could have 'leaked' electricity onto the floor and come in contact with the girl's bed.
This and the possibility that the frazzled phone charger may have reacted with the bed structure were being considered by investigators who will also seek an expert opinion.
Investigators still have an 'open mind' on the death
Police have also deducted that the young girl was using her smartphone when she was electrocuted.
However, officers are still keeping an open mind until they have had the results of a post mortem examination: 'We need to collect evidence from the scene and examine the body for the post mortem examination before we can confirm her cause of death, we will not rule anything out at this stage.'
Further reading:
Snake home invasions double in Thailand within the last 4 years with injuries and deaths reported