Automatic extension of the visa amnesty until September 26th to appear in the Royal Gazette as Immigration Bureau clarifies the situation for those who entered Thailand after January 2020 and availed of the concession which is now ending.
The last visa amnesty extension granted by the Thai cabinet this week, without having to apply, will be published in the Royal Gazette shortly. This has been followed by guidance from the Immigration Bureau in Bangkok which also allows for a last gasp extension of 30 days for those on tourist type visas until October 26th next on the basis of a letter being obtained from the relevant embassy or a medical certificate from a practitioner.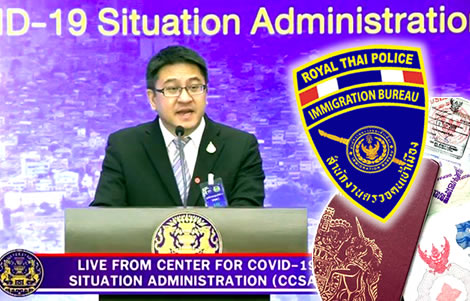 Deputy spokesman at the Ministry of Foreign Affairs, Natapanu Nopakun, officially confirmed the news that an automatic visa extension for foreigners had been approved by the cabinet on Tuesday when he briefed the media on Friday. 
He said that the decision will soon appear in the Royal Gazette and become official.
This was followed by clarification of the details of the new visa amnesty and surrounding regulations being issued by Thailand's Immigration Bureau.
Amnesty visa holders can apply for one last extension on medical and flight availability grounds
Immigration police have clarified that there will be no further automatic extension to the amnesty and that all foreigners must be prepared to leave the kingdom by September 26th. 
However, there is the possibility of applying, on a personal basis, for a further 30-day extension to the prescribed departure date.
This can be granted on the basis of either a medical condition or a letter from the applicant's embassy stating that they are having difficulty in obtaining a flight home.
It follows indications that access to Thailand for passenger planes may still be limited until the very end of the year.
Australian Embassy has confirmed that it will issue letters although it is unclear about others
In recent weeks, the Australian embassy has specifically indicated that it will now issue such letters to those who require them via an email system where applicants can submit their details including date of birth, passport number and other required information to the embassy.
This facility was a reversal of an earlier policy by Australian Ambassador Allan McKinnon.
Other embassies such as the US and UK missions have, in the past, indicated that they are not in a position to issue such letters.
It remains to be seen whether the required letters can be obtained for this purpose and which embassies will oblige their stranded citizens in the kingdom. 
Medical cert for extension medical grounds
For foreigners seeking an extension after September 26th on medical grounds, a medical certificate from a medical practitioner is required.
The Immigration Bureau has specified, however, that the maximum extension that can be granted after September 26th is until October 26th or 30 days. This extension must also be applied for in-person and the required documentation brought to the relevant immigration office.
After that date, anyone who entered Thailand between January 20th and March 26th and availed of the virus amnesty as a tourist, must either have already departed the kingdom or have applied for or been granted a long term visa on the appropriate grounds.
90-day report obligation to be completed during August for foreigners staying on after July 31st
Anyone falling outside the scope of these provisions will be staying in Thailand illegally with all the attendant dangers including the risk of arrest, imprisonment and, additionally, the payment of heavy financial penalties.
The Immigration Bureau has also clarified that there is now a 90-day reporting requirement for those who are availing of the extension of this amnesty and who remain in the kingdom after July 31st.
Such visa holders must report their address to their local immigration office between the 1st of August and the 31st of August.
Further reading:
Visa amnesty agreed as emergency decree is linked to the controlled entry of Thais and Foreigners
Visa amnesty 'grace period' being drafted says government official but must first get top-level assent
Doors closed to a European diplomat who came from the airport to a Bangkok condo building after flight
Peaceful anti-government protest led by 'Free Youth' movement breaks out in central Bangkok on Saturday
Screw tightens for foreign tourists as visa expiry date of July 31st beckons with even fewer options
Stranded foreigners must get embassy letter, new visa or leave Thailand to avoid arrest by police
US Embassy in Bangkok – guidance on the visa amnesty expiry – May 29th 2020
US Embassy in Bangkok – frequently asked questions – July 14th 2020
PM signs order granting visa extensions to all valid visa holders until April 30th to cull queues
Officials find a visa solution for up to 500,000 foreigners riding out the coronavirus crisis here in Thailand
Smart cars highlighted by the Immigration Bureau as it seeks out foreigners hiding from the law
Immigration boss warns that a new crackdown on foreigners flouting Thai laws has begun
It's a hard station for Thai police and foreigners should understand better the job they do to keep order