At a mini cabinet meeting on Friday to review Thai Airways, it was decided to let the bankruptcy process take its course meaning the firm's fate is now in the hands of its creditors. It comes as an International Air Transport Association (IATA) presentation to the press this week had the global airline body predicting that airlines will lose a further $48 billion in 2021, a figure revised upwards by 26.3% in recent months as the world has seen a large spike in the virus, driven by more infectious and dangerous variants of Covid-19 as it mutates.
Thai Airways is 'unlikely' to survive if the firm's rehabilitation plan is voted down at a critical meeting of creditors scheduled for May 12th next. A meeting of top ministers on Friday decided to firmly stick to the rehabilitation process with Minister of Finance Arkhom Termpittayapaisith afterwards stating clearly that the future of the airline is in the hands of its creditors. This came amid reports from sources within the Finance Ministry that ways to reinstate the airline as a state enterprise were being looked at after the issue was raised by key creditors. Globally, the international flight network is hoping to resume something akin to a normal flight schedule in the fourth quarter with many countries aiming for a 75% vaccination rate.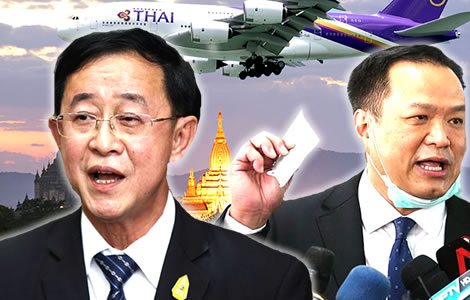 The acting president of Thai Airways, Chansin Treenuchagron, has said if creditors fail to give majority backing to the firm's rehabilitation plan on Wednesday, May 12th, then it is 'unlikely' the firm will survive.
'If the creditors reject the plan, THAI is unlikely to survive. But if they vote in support, there will be an inflow of new cash which will boost its chances of survival,' he said.
Meeting on Friday of key cabinet ministers chaired by the PM to review prospects for Thai Airways
He was speaking on Friday following a meeting of top ministers including Prime Minister Prayut Chan ocha to review the airline's prospects.
At the meeting also were the Minister of Finance Arkhom Termpittayapaisith, Deputy Prime Ministers Supattanapong Punmeechaow, Anutin Charnvirakul and Wissanu Krea-ngam.
Minister of Transport Saksayam Chidchob also attended the meeting by video link from Buriram where he is being treated for a Covid-19 infection.
Ministers insist that the future of the airline hinges on the outcome of the bankruptcy process next month
Ministers after the meeting denied the question of Thai Airways being redesignated as a state enterprise again was discussed. 
Prior to the firm seeking bankruptcy protection from the court last year, the firm was divested of its status as a state enterprise which saw shares sold to an investment concern to reduce the state's stake below 50%.
The move has also assisted management in dealing with unions at the former state airline who had hitherto played a powerful role in its affairs.
Staff levels being reduced by at least 33% after last year's SET record-breaking loss of ฿120 billion
Under the plan submitted by the firm to the Central Bankruptcy Court in March, it was indicated that staff levels at the airline would be reduced from a level of 21,000 employees to 14,000 by the end of the year.
Many of those working for the airline have been on reduced pay since the move to rehabilitate the loss-making carrier got off the ground last year.
In February, the airline made history on the Stock Exchange of Thailand (SET) when it posted the largest corporate loss in the market's history showing it had lost a whopping ฿120 billion in 2020.
Rehabilitation plan calls for a 3-year debt moratorium and concessions on aircraft lease agreements
The rehabilitation plan submitted to the court in March was not a demanding one.
It did not impose haircuts on creditors but instead requested a three-year moratorium on debt repayments as well as a new lease agreement with key creditors linking payment to aircraft that are used on flights.
The plan also foresees a scaled-down and more homogeneous fleet of aircraft to allow for optimal repairs and maintenance costs. 
Combined debts of ฿410 billion 
This is also expected to translate into the firm's revised flight schedule. 
In any event, it is being reported that the former state airline, even if it survives the process, will not be resuming a full international flight schedule until at least the fourth quarter of this year along with the global flight network.
The airline revealed in March that it had combined debts of ฿410 billion owed to 13,000 creditors.
No plans to renationalise Thai Airways says Minister of Public Health Anutin after the key meeting
After Friday's meeting, Deputy Prime Minister and Minister of Public Health Anutin Charnvirakul was adamant that there are no firm plans to renationalise the airline and said the outcome of the meeting was that the rehabilitation plans should proceed.
'It remains to be seen whether THAI's creditors will endorse the plan,' Mr Anutin said.
The Minister of Finance Arkhom Termpittayapaisith was also clear that returning Thai Airways to its former status as a state enterprise was not discussed.
He insisted the key decision in respect of the future of Thai Airways, at this point, must be made by its creditors on May 12th next.
Sources at Finance Ministry say the possibility of redesignating the national carrier as a state enterprise has been raised by creditors to strengthen its position
It comes as sources within the Finance Ministry are suggesting that creditors of the troubled airline feel its return to the status of a state enterprise may strengthen its position as an international flyer and its ability to access routes.
Officials are said to be studying this but have indicated that any decision here must bear in mind what is best for the state first and then the company.
Sources have also made it known that there are a number of alternatives as well as different categories and forms of state enterprises.
Nightmare for world aviation is continuing into 2021 with rising losses and spikes from Brazil to India
The future of the former state airline is coming at a particularly bleak time with Thailand in the throes of the third and biggest virus wave to date while plans to return to a full international flight network this year have hit turbulence due to virus spikes driven by variants, particularly in Brazil and India.
'This crisis is longer and deeper than anyone could have expected,' said the Director-general of the International Air Transport Association (IATA) Willie Walsh this week.
Mr Walsh is the former CEO of IAG which includes British Airways in its stable of airlines.
$126 billion lost in 2020 and a projected $48 billion in 2021 as mutated variants drive further virus waves 
He was speaking at the presentation of the world airline body on the crisis which revealed the industry had lost $126 billion in 2020.
Losses for 2021 had earlier in the year been projected at $38 billion but this figure has been revised upwards to $48 billion in the light of recent developments.
This has seen virulent outbreaks across Europe, India and Brazil where a particularly dangerous variant led to flights from Brazil to France being suspended less than two weeks ago.
Even vaccinated countries are cautious
Even countries with advanced vaccine programmes that have reached or are close to attaining herd immunity are becoming cautious about resuming international travel. 
The United States, through the State Department, has warned its citizens against international travel and as well as requiring Covid 19 tests from incoming passengers, is also prohibiting the entry of non-citizens from a growing list of countries including the UK, Europe, China, Iran and South Africa.
In the UK where a successful vaccination campaign has allowed the reopening of business, plans to restart international travel from mid-May are under review with caution being expressed by the government due to the heightened threat worldwide.
50 airlines have signed up for the online vaccine passport system 'Travel Pass' operated by IATA
The International Air Transport Association briefing included a presentation from Chief Economist Brian Pearce who suggested a full range of international flights may be available in the fourth quarter of 2021.
This was dependent on a 75% vaccination rate in the population of most destination countries.
The world airline body also revealed that 50 airlines are currently trialing its Travel Pass app which is effectively an online and practical vaccine passport system.
Further reading:
Thai Airways still requires borrowed time and money as firm submits survival plan to the bankruptcy court
Thai Airways seeking business rehabilitation plan that has the unanimous support of it's creditors
Thai Airways seeks a second and last extension to file its survival plan with the Bankruptcy Court on March 3rd
Ex Chairman of Thai Airways jailed in Bangkok for abuse of authority on fateful flight from Tokyo in 2009
Shares slump as Bangkok court sets two hearing dates to consider Thai Airways restructuring plan in full
IATA calls on countries like Thailand to think again over quarantine schemes and travel curbs costing jobs
Thai Airways probe into its low fare income for 2019 in move overseen by former met police commissioner
Thai Airways files for bankruptcy and gets court protection here as heavyweights are brought on board
Thai Airways and its workers face an uncertain future as it prepares to fly into bankruptcy protection in June
Thai Airways to file for bankruptcy in survival and restructuring plan which could still see jobs lost as it unfolds
Thai Airways suspends flights to six Chinese destinations as coronavirus outbreak grows with 304 deaths
Thai Airways in peril – boss tells executives there is 'not much time' to save the airline from closure
Deputy Transport Minister calls talks with Thai Airways, seeks new business plan in 3 months