Police resolved the situation to the satisfaction of both the Hong Kong tourists and the elderly motosai driver on Friday but a Chilean tourist was not so lucky in 2021 when he was viciously beaten after upsetting an impatient younger motosai driver with his halting and broken English.
A timely intervention driven by public spirit and alert police in Pattaya on Friday may have helped to prevent another damaging incident to threaten the resort city's international reputation when two Hong Kong tourists found themselves challenged in a standoff with one of the city's motosai drivers after a dispute over a fare of just ฿160 erupted.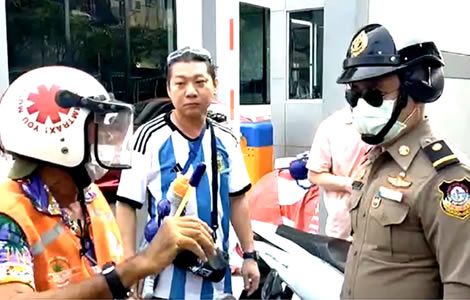 A minor dispute flared up on the busy streets of Pattaya on Friday when an elderly motorbike driver found himself chased down by locals and held by them for police after a fracas developed between him and two tourists.
The man is reported to have drawn a knife on the pair of Hong Kong tourists whom he had ferried to Songkran festivities from a nearby shopping centre.
Elderly motosai driver explains what happened on Friday in a commotion which led police to intervene and resolve a 'miscommunication' with two tourists
The 70-year-old driver is one of the thousands of orange-vested motorbike taxi drivers or motorsais who provide a popular service in Thailand to tourists and locals alike both as a taxi service and sometimes messenger service.
The driver later told reporters that he had agreed to transport the Hong Kongers 1km to an area near beer bars on Soi 6 in Pattaya for a fare of ฿80 each but when they arrived at the destination, the tourists would only pay ฿80 for the two of them.
The motorbike driver works from a taxi service stand located near the Central Pattaya Shopping Centre in the city.
The resultant dispute between the parties led to raised tensions, a commotion and a scene where police and a city official were forced to intervene.
Motosai drew a knife in self-defence in what he said was a violent situation over a fare dispute involving just ฿80 between him and two Hong Kongers
It is reported that the older taxi driver, at one point, tried to make his escape from the scene. He claimed the men behaved in a violent and threatening manner causing him to produce a knife.
However, he was reportedly chased down by onlookers who held him until Pattaya police intervened to negotiate a settlement between the tourists and their motorbike driver.
The minor incident caused such a disturbance in the heart of the city, that a Pattaya city official, identified as 49-year-old Mr Sakda Otaya was also forced to intervene and was shown video footage of the earlier scene between the taxi driver and the two men.
At first, responding to the incident, police searched the taxi driver and found a sheathed fruit knife in his vest pocket.
Negotiated settlement prompted by police in which ฿80 was returned and both parties apologised to each other over the 'miscommunicated' fare price
Officers then asked both parties to negotiate between themselves and reach an agreement on the matter to avoid any further negative consequences.
The Hong Kong tourists insisted that they had agreed to an ฿80 fare with the driver and the motorbike taxi driver was forced to return the second ฿80 as well as offering an apology for the misunderstanding saying he was not quite certain of the law and had only asked for what he thought was agreed.
Later, the elderly motorbike driver explained that the situation between himself and the two Hong Kong tourists had turned violently sour, forcing him, an older man, to defend himself physically.
He admitted that he drew the knife to protect himself but denied reports that he had tried to stab anyone.
Pattaya police happy that the matter was resolved by the parties who were innocent of any wrongdoing
Police in Pattaya later confirmed that both parties had apologised to each other over the affair when the motorbike taxi driver offered to refund the ฿80 and that the incident was purely the result of an innocent miscommunication which had the potential to marr the positive spirit which currently pervades the resort city as it celebrates Songkran.
Thankfully this was averted but a video of the incident has received widespread attention online on social media channels.
In February 2021, a South American tourist from Chile was not so lucky.
Chilean tourist in Pattaya not so lucky in 2021
He was left severely battered with injuries including a broken nose when he was set upon and kicked in the head in a vicious and crazed attack by another Pattaya motosai after the tourist, in broken and halting English, enquired about his fares.
'I apologise,' said Amorn 'Jeab' Boonmee at the time. 'I was annoyed at the tourist who came up to speak to me and I didn't understand what he was saying. He wouldn't go when I told him to. I'm someone who gets annoyed easily, especially at people who talk a lot.'
Further reading:
Police arrest motosai driver in Pattaya for the brutal assault of a tourist asking about a local fare
Inquest into death of Brit who died following a sucker punch outside a Pattaya Go Go bar
Irishman viciously attacked by Go-Go bar by a 10 man gang on his first night in Pattaya over dispute
Police crack the whip on late-night drinking in Pattaya after bizarre shootout at a local Thai bar
Go-Go dancers in Pattaya left out of pocket as salaries left unpaid by foreign bar owner
Bar girl provokes bar fight after Chinese man refuses her attentions in Pattaya – fines and charges ordered
3 western men arrested by Pattaya police at the 'Pussycat Club' on Saturday night and locked up