The 46-year-old man's family first learned of his execution on Wednesday morning by a routine-looking letter sent last week to his sister which started with the phrase 'Please be advised…' and offered to arrange visits to the condemned man on Tuesday, the day before he is to go to the gallows as fears rise concerning ongoing executions in Singapore which resumed again in 2022 after a moratorium during the pandemic. 
The family of Singaporean national Tangaraju Suppiah are counting down the hours to his execution which is scheduled for Wednesday morning with calls from non-governmental organisations (NGOs) and human rights activists for Singapore to halt the process. On Sunday, a tearful sister of the condemned man, Ms Leelavathy Suppiah, spoke of her faith in an appeal for clemency to the city state's first female President which looks extremely unlikely to succeed. The case is unusual as it involves a drug trafficking charge linked with the importation of 1 kg of cannabis, a drug which is currently legal in Thailand and with evidence accepted by the court in 2018 that Mr Suppiah had never seen or handled the drugs.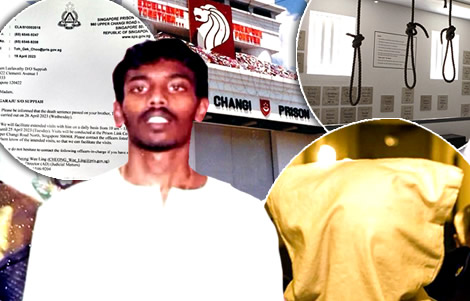 The family of Singaporean national 46-year-old Tangaraju Suppiah, on Sunday, appealed for clemency as the Tamil-speaking man who faces the gallows on Wednesday morning the 26th of April after being sentenced to death in 2018 for conspiracy to import drugs.
Mr Tangaraju's case is unusual in that he never had physical possession or even sight of the drugs in question, just over 1 kg of cannabis, which is over twice the amount for which Singapore's strict anti-drug laws require that a death sentence be imposed.
Conviction and death sentence stems from accepted British jurisprudence covering joint action, conspiracy or abetting the commission of a crime
This situation stems from Singaporean law, based on British jurisprudence, which holds that anyone who abets a crime is adjudged by the law as having committed the said crime.
It is the same legal provision that regularly sent unlikely defendants who had not participated in the active commission of a crime, to their deaths in the United Kingdom before the death penalty ceased to effectively exist as an option before the courts in 1965.
This was the point referenced by a Singaporean High Court judge in 2018 (SGHC 27) when he sentenced Mr Suppiah to death for his part in the importation of the drugs.
The downfall of the convicted drug trafficker came about through his use of drugs and his failure to report the results of a mandatory drug test to authorities in 2014 leading to his arrest by Singaporean police.
Police with the Central Narcotics Bureau then discovered that Mr Suppiah had two phones which linked him with two known cross-border drug traffickers and the importation of a consignment of cannabis weighing 1.017 kg or 35.9 ounces, resulting in a capital charge being brought against him.
Found guilty beyond a 'reasonable doubt' by the Singaporean High Court in a 2018 judgement with the verdict and sentence upheld by the Court of Appeal
Singapore's legal system is reputed to be the best in Asia by independent observers with a reputation for impartiality.
However, the legal system is based on the colonial era penal code adopted from India when Singapore was a British colony.
In 1969, Singapore abolished jury trials and in 1992 amended its Criminal Procedure Code to allow trials for capital offences to be held before a single judge. 
In the High Court in 2018, the judge, Mr Justice Hoo Sheau Peng explained that anyone found guilty of abetting a crime had to be treated by the law in the same way as having committed the same offence and that consequently 'the charge against the accused had been proved beyond a reasonable doubt'.
Court of Appeal upheld the death sentence and since March 2022, eleven have gone to their deaths by hanging at Changi Prison, all for drug offences
Subsequently, the Court of Appeal upheld the judgement while Singapore suspended the death penalty during the pandemic crisis before resuming the treadmill to the gallows again in March 2022.
Executions in Singapore are carried out at Changi Prison.
Since then, eleven people have met their deaths at the hands of the hangman, all for drug-related offences, with fears among human rights groups that the situation will worsen.
'What is especially troubling is that Tangaraju never actually handled the drugs,' rights activist Kirsten Han told news agency AFP this week while also raising questions about the condemned man's access to an interpreter, a point dismissed in court by Mr Justice Hoo Sheau Peng who pointed to the defendant's admission of all the facts before the court.
Amnesty International condemns Singaporean authorities for an 'extremely cruel' decision which saw the man's family informed by a routine letter
Amnesty International, in recent days, has castigated authorities for the 'extremely cruel' decision to proceed with the execution of Mr Suppiah whose family was only informed of his pending execution by what appeared to be a routine letter sent to his sister's address in Singapore by an official with the Singapore Prison Service.
The letter, dated the 19th of April, informed Ms Leelavathy Suppiah that her brother's execution would be carried out on the 26th of April 2023 and that arrangements had been made to give the family access to visit him on the 25th of April.
Two officials were listed as contact points for the family to arrange to visit the condemned man.
On Sunday, speaking in Tamil, his sister referenced a petition to Singaporean President Halimah Yacob who has the power to grant clemency.
As she spoke to reporters, the overwrought woman broke down in tears.
Man's sister puts faith in the Singaporean President
68-year-old Halimah Yacob is Singapore's eighth and first female President and was elected in 2017.
She comes from a Malay background and is a former lawyer, speaker of the house and justice minister.
'We don't think my brother's had a fair trial, I have faith the president will read all our petitions,' Miss Leelavathy said. 'Since young, he's been kind and well-liked by everyone, and he's never done anything bad to anyone, he's sacrificed everything to help his family.'
A reprieve is, however, thought highly unlikely after Malaysian national Nagaenthran Dharmalingam went to the gallows almost exactly a year earlier on April 27th 2022 in the same place that Mr Suppiah is scheduled to die on Wednesday morning despite calls from the United Nations and business tycoon Richard Branson for a reprieve on the grounds that the man, also convicted of drug trafficking, was mentally impaired.
Hardline law in Singapore now contrasts sharply with Thailand which legalised cannabis use in June 2022
The law in Singapore is facing scrutiny and now contrasts sharply with Thailand at least in respect of cannabis or marijuana which was legalised in June 2022 by Minister of Public Health and Bhumjaithai Party leader Anutin Charnvirakul leading to all charges being dropped against anyone within the justice system including those already jailed in connection with the once scheduled narcotic.
The fate of Mr Suppiah, at this point, appears to be all but sealed.
Authorities at the notorious Changi Prison deny prisoners the American custom of a last meal before they are taken from their padded death cell alone on the morning of execution day to the gallows where a specially tailored noose lies waiting for them.
No last meal for the condemned prisoner but he will be allowed to wear his own clothes in the last few days before he dies alone on Wednesday morning
The only concession to the prisoner is that two days before his death, he will be allowed his clothes back by prison authorities so that he can pose with his family for photographs to remember him by.
It is widely thought that death is instantaneous but disquieting reports are circulating among human rights activists about the administration of the death penalty at Changi Prison.
These were raised by the Malaysian non-governmental organisation (NGO) and rights group, Lawyers for Liberty (LFL).
Based on testimony by a former prison officer with the Singapore Prison Service who was involved in several executions and who also spoke at length with a former executioner at Changi Prison, it suggests that officers involved in executions have orders to break the neck of a condemned man should the hanging procedure fail by using a number of methods including kicking the neck of the condemned man until it breaks as well as pulling ropes in opposite directions.
Fears raised by Malaysian NGO about disturbing practices observed by prison guards at Changi Prison involved in the ongoing execution of inmates there
An adviser to the NGO, Mr N Surendran, at the time of the revelations in 2020, said that a former officer at Changi who participated in executions and who spoke at length with a former executioner at the facility, was prepared to testify before parliament or an appropriate forum in Singapore on the brutal 'neck snapping' extra-legal methods which he claims have been used in the past to carry out the death sentence by law.
He also subsequently pointed out that officials at Changi Prison had not come forward to deny the sensational and disturbing claims made by his organisation even after they were widely reported in the media.
'Significantly, they have also not denied our allegation of brutality in carrying out hangings, which has been widely reported,' he said. 
Further reading:
Killer sentenced to death for the 2nd time for the murder of a woman 7 months after being paroled
Scotswoman to appeal dropping of death sentence on brother in law and two hired hitmen by court in Phrae
Death sentence for murderous trio who executed a loving Thai wife and her UK husband in Phrae
Death sentence imposed on school boss who murdered a 2-year-old boy in a gold shop robbery in January
Convictions of Burmese Koh Tao murderers and death sentences upheld by Thai Supreme Court
Australian man pleads for help for his son and Thai wife sentenced to death for failed drug trafficking plot at sea
Police to re-arrest Australian death row inmate after he is released under court order at Bangkwang prison
93% of Thai people want to see the death penalty put to use to curb shocking murders and drug gangs