Foreign tourism is driving both a healthier current account position and rising domestic expenditure, again proving that this economic engine is critical to Thailand's real economy.
The Bank of Thailand is suggesting that the kingdom has avoided a technical recession with stronger-than-expected performance in the first three months of the year although confirmation of the country's official GDP data is awaited from the National Economic and Social Development Council (NESDC). In the last quarter of 2022, GDP contracted by 1.5% from the previous period and a second contraction would have heralded a technical recession. It comes with two months of a rising current account surplus in February and March this year and with a prediction by the Thai National Shippers' Council on Tuesday that exports will recover in the last quarter of 2023.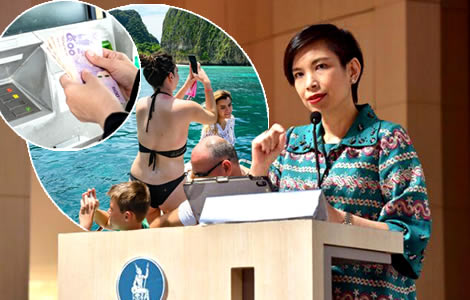 The Chairman of the Thai National Shippers' Council, Chaichan Chareonsuk, on Tuesday, told a press conference that there were signs of an improvement in exports in recent months as the impact of China's reopening finally appears to be felt in Thailand.
Nevertheless, exports will be down in the first quarter and also in the second quarter but the industry leader predicted that overall for the year exports will still be up 1% on 2022 figures.
Export rebound weighted towards the last 3 months with a 12% rise projected by industry in that period
The upside however will be weighted towards performance in the last three months of the year with predictions of a 12% rise in the last quarter of 2023 with a marginal 0.6% rise in the third quarter of the year.
'We are confident that exports should not be negative as several products such as food, agriculture and vehicles should continue to do well,' Mr Chaichan told the press. 'The dollar value of shipments in the January-March quarter was better than expected, meaning exports have bottomed out and should continue to improve.'
Bank of Thailand official Chayawadee Chai-Anant, on Friday, gave a positive report on Thailand's economic performance in the first quarter of 2023.
Current account surpluses recorded in February and March 2023 reversing a worrying pattern seen in the aftermath of the pandemic shutdown in 2020
She pointed to a current account surplus as the kingdom's foreign tourism industry's ongoing rally has offset losses seen in a decline in exports due to a slowdown in the world economy.
The total current account surplus for the three months was $4 billion with the trend being altered by a lower-than-expected drop in exports in March and still strengthening foreign tourism numbers and spending by incoming tourists.
The current account surplus for the month was $4.8 billion rising from a $1.3 billion surplus in February 2023.
This is strategically important and a clear indication that the economy is beginning to recover from the setback inflicted on it in April 2020 when Thailand imposed the closure of its borders and shut down large swathes of the economy to fight the virus threat.
Foreign tourism is driving a decisive improvement in domestic spending and employment that is taking hold in the economy says central bank official
Ms Chayawadee Chai-Anant referred to this on Friday and highlighted the singular importance of foreign tourism in driving domestic expenditure and employment in Thailand, the two main engines which appear to have prevented the country from falling into a technical recession after a 1.5% contraction in the last quarter of 2022.
It should be noted that Ms Chayawadee Chai-Anant referred to the National Economic and Social Development Council (NESDC) on Friday who have yet to confirm the GDP performance for the send quarter of 2023.
The top central bank official said that figures were now awaited from the national economic agency relating to this.
Exports fell back in the first quarter again
She did however point to a 2.2% drop in exports in March following a 1.8% contraction in February with an overall contraction of 2.4% for the opening quarter compared to last year.
This was offset by what appears to be stronger growth in domestic consumption, up 6% in March following a rise of 4.9% in February and an overall rise for the three months of 4.7%.
The Bank of Thailand assistant governor also revealed that it appears exports have risen in April from preliminary figures, a surprising outcome given a recent prediction by Mr Chaichan with the Thai National Shippers' Council who indicated that exports would continue to decline also in the second quarter of 2021 as the assumed boost from China's reopening has not yet been felt by the Thai industrial sector. 
Ms Chayawadee Chai-Anant highlighted the country's service sector which she said was benefiting from elevated domestic and foreign tourism spending.
6.4 million visitors recorded in the opening three months driving a reduction in unemployment which has fallen steadily since 2020 even with uncertainty
Foreign tourist arrivals for the first three months of 2023 were 6.4 million with 2.2 million visitors to the kingdom in March following 2.1 million in February.
'The tourism recovery also supported the labour market in the service and tourism sectors. Employment in these sectors increased to a level close to the pre-pandemic period,' declared Ms Chayawadee.
There is also encouraging news on inflation with the core figure also falling in March with reduced prices seen in the processed foods sector.
This came about because of a higher base seen last year with a surprising shortage of fresh food produce which has been rectified this year by the market's adaptation to current economic conditions.
She also noted that the Thai baht remained volatile and appears to be reacting to moves by the United States where the tightening of monetary policy continues although more moderately while Thailand maintains its policy of gradual but restrained interest rate rises.
Further reading:
Even as the baht surges, Thailand faces economic recession in mid-2023 with lower earnings
Soaring baht as the Thai economic spirit rises with one of the world's lowest levels of inflation
Finance Ministry unveils green bonds as it seeks ฿900 billion for investment over four years
Thailand feels the pinch of lower tourism earnings as second ex-minister queries economic data
Credit crunch as firms seek more bank loans with tightened lending criteria and recession fears
Economy faces export clogs with rules in China and 'green imperialism' from European Union
Vital European Union free trade deal with Thailand with stiff demands from Brussels to take time
Thailand in direct trade talks with 12 Indian states which could also boost the tourism industry here in 2021
World's biggest free trade deal just signed will be a huge boost for the Thai economy and exports
US move against Thailand on trade is a warning as Thai exports to America boomed in September by over 19%
Thailand's trade agenda may be complicated and thwarted by raised tensions in the Indo Pacific region
RCEP deal agreed as India opts out – busy Bangkok ASEAN summit concludes on a low key
Industry boss urges Thailand to join alternative Pacific trade pact and plan for a long recovery from virus debacle
Thailand's economy has become dependent on government expenditure to stay above water
MPs warned of an economic colony as opposition zeroed in on Thailand's impaired relationship with China
US China trade war may have some silver lining or upside for Thailand if firms can be agile and adjust