Ex PM Thaksin says he wishes to return to be with his seven grandchildren while describing his current exile in Dubai as akin to a larger prison just without walls. He claims he is ready to surrender to authorities.
Thailand's Immigration Bureau Chief Police Lieutenant General Pakphoomphiphat Sajaphan, on Wednesday, told reporters that his officers were coordinating a response to the eventuality of the return of former Prime Minister Thaksin Shinawatra to Thailand. Mr Thaksin's daughter, key Pheu Thai leader, Ms Paetongtarn Shinawatra, on the same day, told reporters that although her family was concerned at the prospect of her father's return on a personal basis, the decision was one he had to take alone. She confirmed that, at this time, he has not decided to postpone his intended return on July 26th next.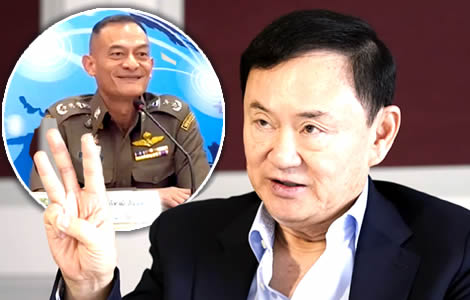 There are indications that the family of former Thai Prime Minister Thaksin Shinawatra is concerned about the possible impact of his planned return to Thailand at the end of next month which is due to coincide with Mr Thaksin's birthday on July 26th.
On Tuesday, his youngest daughter and Pheu Thai Party prime ministerial nominee, Ms Paetongtarn Shinawatra gave an interview in which she acknowledged that her family was apprehensive while at the same time confirming that, as of now, her father still wants to return to the kingdom as planned.
Thaksin faces up to 12 years in jail and certain arrest if he touches down in Bangkok at the end of July but is reportedly still planning to travel
Mr Thaksin fled Thailand in 2008, just weeks before a court handed down a prison sentence linked with a corruption case.
Since then, he has been sentenced several times in absentia while also being acquitted in a number of trials as a defendant.
The former premier is facing up to twelve years in prison and immediate arrest by police when he returns.
Thaksin has recently said he is ready to surrender to Thailand's justice system. He told reporters that he was already in jail while living in exile in Dubai except his current prison had no walls.
He also indicated his return should occur in the lifetime of this current caretaker government led by Prime Minister Prayut Chan ocha.
On Tuesday, Ms Paetongtarn or Ung Ing said that the matter was a personal one for her family and particularly her mother, Khunying Potjaman na Pombejra, who she said was, currently, the mainstay of her family in her father's absence.
She said her concern, at this point, did not have a political dimension although she acknowledged that her father remained an important political figure.
Ung Ing not influencing her father's decision but she understands his thinking as talks take place within her family on a personal basis over concerns
She said that her family respected her father's wishes to return home, in particular his wish to be with his seven grandchildren, the youngest of whom is Ms Paetongtarn Shinawatra's son who was born only weeks before the May 14th General Election.
She indicated that talks were taking place within the family but they had highlighted to their father that the decision was for him to make alone.
She did underline that the inner family was 'worried' about the situation and whether now was a suitable time for her father to return given the current political uncertainty and that he was still a figure who impacted Thai politics.
She insisted, however, that no decision to postpone Mr Thaksin's return, as announced, had been taken.
'No, there is none yet. But that said, we have to look closely at what is happening. I am thinking here for myself, my father does not speak to me. Regarding the date he told me to announce, he still hasn't said that it will be postponed,' she told reporters.
Pheu Thai Party's key leader is fully committed to Mr Pita Limjaroenrat's quest to become Thailand's next Prime Minister in August after the election result
Concerning the ongoing efforts by Mr Pita Limjaroenrat to form a new government, she reiterated her support for the embattled Move Forward leader.
She would not speculate or comment on whether she would be a minister in any new government.
She also confirmed that she was still ready to act as a Pheu Thai nominee for the top job if such a situation should arise but reaffirmed her support for Mr Pita's candidacy for that role.
She said she was giving her full support towards the objective at the moment.
Immigration Bureau Chief says that former PM Thaksin will be the subject of an arrest warrant and that his officers will follow the correct procedures
At the same time, in Muang Thong Thani, outside Bangkok, the Immigration Bureau Chief, Police Lieutenant General Pakphoomphiphat Sajaphan said that if Mr Thaksin should decide to travel back and enter Thailand, then it would present his force with a challenge for which, it must be prepared.
Police Lieutenant General Pakphoomphiphat said there was an obvious public interest in the matter and that his agency must coordinate with other government bodies and be ready.
He said that Mr Thaksin would be the subject of an arrest warrant which was bound to generate controversy when executed particularly on social media.
The police chief sidestepped questions about the political nature of Mr Thaksin's predicament and said that his officers would strictly follow procedures laid down which everyone is aware of and should accept.
Further reading:
Ex-minister rejects claim new prison regulations were designed to aid Thaksin's return to Thailand
Senator warns that Paetongtarn Shinawatra or Ung Ing, Thaksin's daughter, is wrong for the job
Legal pot does not appear to be working for Anutin's Bhumjaithai Party in latest opinion poll
New Shinawatra may lead the next quest for power as Pheu Thai Party aims for 14 million members
By-election polls amid a weak economy and rising food prices may mean a 2023 General Election
Move against Pheu Thai, the kingdom's biggest political party, over it's alleged links to Thaksin