Figures for June arrivals show 79% of all foreign tourists to Thailand came from the Asia or Pacific region with 373,922 entering the kingdom, mostly by land, from Malaysia.
Despite positive news on the government's tax take for the nine months to 30th June 2023, published this week, showing ฿159 billion more than projected in tax receipts due to a buoyant economy, the Fiscal Policy Office of the Finance Ministry, on Thursday, downgraded growth to 3.5% for 2023 with concern growing over the lack of spending power among tourist arrivals that are being seen on short stays, many of them from Malaysia.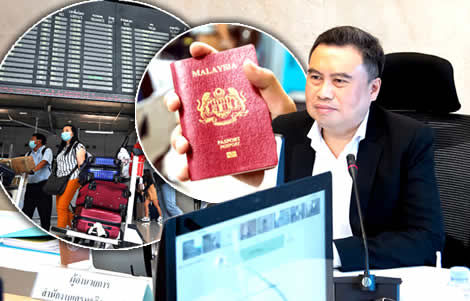 There was good news for the outgoing government of General Prayut Chan Ocha this week when the Fiscal Policy Office at the Ministry of Finance announced that the government collected ฿136 billion more in revenue while bringing in a total haul of ฿1.95 trillion for the first nine months of this financial year ending on the 30th June 2023.
The figure, revealed by Mr Pornchai Thiraveja, was 5.2% higher than that achieved last year and is attributable to buoyant value-added tax receipts and revenue generated by the customs department as a result of increased economic activity. 
Tax receipts were up while excise duties were 17.8% below projection because of a reduction ordered on excise duty on diesel to fight rising inflation
฿1.59 trillion came from the kingdom's Revenue Department which exceeded its target for the year by 11.1%, generating ฿159 billion in extra tax receipts including higher levels of corporate tax and personal tax as well as VAT.
The Excise Department's haul was ฿87 billion which was 17.8% below that projected.
This was due to a reduction in the rate of excise tax on diesel fuel authorised by the government which expired on July 20th 2023.
This was a move by the government to combat inflation.
The country's customs department generated ฿97.5 billion in income or 23.2% over budget giving a surplus of ฿18.3 billion. 
Elsewhere in the government's finances, firms controlled by the state or state enterprises generated revenue which was just marginally above target by 0.5% or ฿574 million. 
Total revenue to September 30th of ฿2.4 trillion projected as the fragile recovery continues for now powered by foreign tourism and domestic spending
The government projects that its total income for the year ending on the 30th of September 2023 will be ฿2.4 trillion with the country's coffers benefiting from a recovering economy driven by increased foreign tourist traffic and domestic consumption generated by increased employment and revenue in the sector including among the self-employed. 
Thailand saw 12.9 million foreign tourists arriving up to the 30th of June 2023 with projections currently suggesting that the final tally for the year will be between 27 and 30 million visitors.
So far this year, the country has also benefited from a reduced level of inflation as oil prices worldwide have been tamped down because of relatively lower global economic activity and demand.
The current inflation rate in the kingdom is running at 2.5%.
Thailand's manufacturing and export sector, which represents 66% of the economy, is currently in a slump, which saw exports decline by 5.1% from January 1st to May 31st, 2023.
Figures just released on Wednesday showed a further 6.4% fall for June, lower than a 7.3% Reuter poll forecast.
Political instability is an emerging threat that could cut 1% of GDP growth this year if foreign tourism bookings in the last 5 months are impacted 
Given the improvement in foreign tourism and increased domestic confidence caused by benign inflation and increased employment from the tourism industry, the Fiscal Policy Office, up to this week, projected GDP growth this year at 3.6%.
However, the threat of political instability and rising concern about the possible fallout from the current struggle at a parliamentary level, has seen some analysts warn that 1% of this growth could be shaved off if violent street protests emerge and foreign tourism bookings suffer in the last five months of 2023.
On Thursday, the Fiscal Policy Office downgraded its estimate to 3.5% GDP growth with reports of lower than anticipated tourist arrivals and lower spending per visitor with large numbers arriving in the kingdom on short-haul visits from Southeast Asia including Malaysia making up the numbers.
79% of tourists this June were from the Asia Pacific area with 18.6% of them coming across the border by land from Malaysia with a lower spend per capita
There was some concern about the foreign tourist numbers from Malaysia recorded in July 2022 when 220,554 visitors were confirmed as entering the kingdom by land from Songkhla province alone.
The figure recorded from June 2023 shows 373,922 Malaysian arrivals out of a total number of 2.014 million or 18.6%, the largest country of origin.
This compared to 281,426 from Europe, 85,529 from America and 285,547 from China.
79% of all tourists last month came to Thailand from Asian or Pacific countries including 51,069 from Australia and 6,690 from New Zealand. 
The kingdom is targeting some ฿1.22 trillion in foreign tourism income this year or approximately 64% of the level in 2019 when the country earned ฿1.91 trillion but on far lower arrival numbers and a spend per tourist estimated to be running at ฿42,000 or 12.3% less than 2019 when it was ฿47,895 per capita.
There is now a question mark even over this lower figure because of the latest trend. 
There is also concern over budget disbursements because of the delay in forming a government and concerns over the El Niño effect with raised temperatures impacting agricultural output in the coming months.
Further reading:
New PM in July a turning point for the Thai economy in 2023 which could still see 4% GDP growth recorded
Scorching electricity costs may sear the economic recovery with a new threat to reduced inflation
Incoming tourism growth slows amid visas, airfares and attacks on Chinese nationals which have caused jitters
Economic recovery shaky despite strong foreign tourism as global economic outlook deteriorates
Chinese kidnapping victim held by Immigration police and facing extradition over fraud case
Recession fears rise as growth projections are cut and export output continues to decline in 2023
Good news on foreign investment at the start of 2023 fails to mask stunted competitiveness issue for economy
Economy faces export clogs with rules in China and 'green imperialism' from European Union
Vital European Union free trade deal with Thailand with stiff demands from Brussels to take time
Thailand's financials are sound but the economy is exposed if another world banking crisis emerges
Thai economic woes grow with a 10-year high trade deficit as January exports slumped by 4.5%
Credit crunch as firms seek more bank loans with tightened lending criteria and recession fears
Even as the baht surges, Thailand faces economic recession in mid-2023 with lower earnings
Soaring baht as the Thai economic spirit rises with one of the world's lowest levels of inflation
Thailand in direct trade talks with 12 Indian states which could also boost the tourism industry here in 2021
World's biggest free trade deal just signed will be a huge boost for the Thai economy and exports
Thailand's trade agenda may be complicated and thwarted by raised tensions in the Indo Pacific region
RCEP deal agreed as India opts out – busy Bangkok ASEAN summit concludes on a low key
US is a better friend for Thailand than China says US ambassador as tensions grow between the 2 powers
Industry boss urges Thailand to join alternative Pacific trade pact and plan for a long recovery from virus debacle
MPs warned of an economic colony as opposition zeroed in on Thailand's impaired relationship with China
US suspension of Thai preferential trade partner status part of Trump's ongoing trade war