Former Future Forward Party Secretary-General Piyabutr Saengkanokkul and now Progressive Movement leader this week called on the newly sworn-in government to look at a wider amnesty for all political prisoners as part of an extended national reconciliation process.
There is mounting speculation that former Prime Minister Thaksin Shinawatra may be released from prison in the coming weeks possibly as early as October 13th. It comes as his seemingly preferential treatment as a prison inmate threatens to draw further political attention with a key leader of the Progressive Movement, this week, calling for an amnesty in the kingdom for all prisoners serving sentences linked with political activities.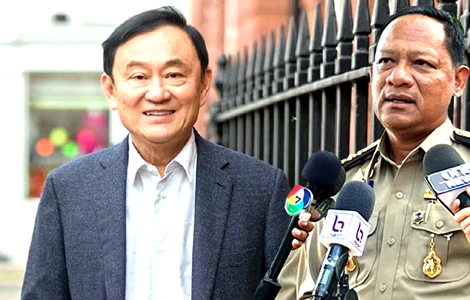 There is heightened speculation that former Prime Minister Thaksin Shinawatra, who was granted a pardon and commutation of his sentence by His Majesty King Maha Vajiralongkorn on Thursday, August 31st, reducing his prison term from eight years to one year, may be released from prison as soon as October 13th or December 5th.
Both are significant days for the monarchy in Thailand and occasions when prisoners across the Department of Corrections are given remission on their sentences.
Even in the interim, Thaksin may be entitled to early release or parole due to old age and underlying illnesses which could see him allowed to go home
Nevertheless, it is also being reported that Mr Thaksin, the country's most famous inmate, may be separately entitled to apply to the Department of Corrections for early parole based on his seniority, in that he is over 70 years of age while also suffering from four underlying ailments.
Normally, in such situations, prisoners are required to wear an ankle bracelet but sources suggest that because of Mr Thaksin's high profile status, this may not be required.
Last Monday afternoon, speaking to the media, Mr Narong Juisei, the Deputy Director General of the Department of Corrections, acknowledged the recent pardon and noted that Mr Thaksin had not yet submitted a petition to the Corrections Department and the Ministry of Justice seeking a suspension of his sentence or his release on parole.
The senior official said any decision on this matter would be up to a sub-committee of the Ministry of Justice.
Progressive Movement Piyabutr Saengkanokkul calls for amnesty for all political prisoners in jail
At the same time, the then outgoing Minister of Justice Mr Wissanu Krea-ngam noted that it was also possible for Mr Thaksin to request a suspension of his sentence given his underlying illnesses and the fact that he is over 70 years of age.
The former Deputy Prime Minister noted such a determination, even if Mr Thaksin is not required to wear a bracelet, would still mean Thaksin would be confined to his residence for the remainder of the sentence, which may not be very long as his full release is expected before his continued incarceration becomes a political issue.
This week, Mr Piyabutr Saengkanokkul, the Secretary-general of the controversial Progressive Movement associated with the Move Forward Party, called on the newly sworn-in government to widen the reported national reconciliation associated with the return of former Prime Minister Thaksin Shinawatra, to grant amnesty to inmates in the Corrections Department system who are serving sentences linked with political activities.
Mr Piyabutr, a Thammasat University legal expert, is an influential figure among the political opposition.
He is a former MP and Secretary-general of the dissolved Future Forward Party which is seen as the forerunner of the Move Forward Party.
The political activist suggested that a failure to do so would mean that Mr Thaksin is being accorded privileged treatment.
Quick resolution to Thaksin's status required
It is understood that, at a senior level, a quick resolution to Mr Thaksin's status is considered advisable, with his continued incarceration likely to become a focal point for those who are unhappy with the incoming government which took its constitutional oath before the King and Queen this Tuesday. 
The decisive nature of the Royal Pardon granted last week and warm comments about the former Prime Minister's service to the country and his medical condition have done much to dampen criticism of the favourable treatment Mr Thaksin was perceived to have been receiving, which is now understood to be part of a national reconciliation process by the public.
Constitutional activist Srisuwan Janya questions family visits to Thaksin at Police General Hospital
Nevertheless, there are some, such as dogged constitutional activist Mr Srisuwan Janya of the Association for the Protection of the Constitution, who in recent days has drawn attention to pictures of Mr Thaksin's extended stay at a suite at the Police General Hospital while receiving visits from his family with pictures on social media posts, who keep asking questions. 
Last week, when the Deputy Director General of the Corrections Department, Narong Juisei, was pointedly asked by reporters about this, he declined to comment and walked away from the media posse.
Further reading:
Thaksin helicoptered to Police Hospital at 3am after feeling ill says Department of Corrections
Police concerned for Thaksin's safety on Tuesday after he lands at Don Mueang and is arrested
Fears of political betrayal abound as Thaksin plans to touchdown at Don Mueang Airport on Tuesday
Thaksin and Pheu Thai have burned their bridges with its national 'family' and loyal support base