Thailand was shocked in recent weeks to see one of the world's biggest banks label it as the most unequal country in the world. This claim has now been shown to be false and based on inaccurate data. The fact is Thailand is making great strides at reducing inequality but a respected Thai economist feels that the government must do more to help the plight of the poor.
A long serving economist, formerly with the World Bank, has called for the Thai government to reaffirm sufficiency economy principles as the country navigates the choppy waters of international trade conflict. He called for priority to be given to those on low incomes with an initiative to reduce indirect taxes for day to day products and services while taxing conspicuous consumption. This week saw a Thai government spokesman dismiss a flawed Credit Suisse report on inequality in Thailand. He pointed to impressive progress in dealing with the issue and the government's commitment to make Thailand economically a fairer place, while alleviating poverty among the most vulnerable.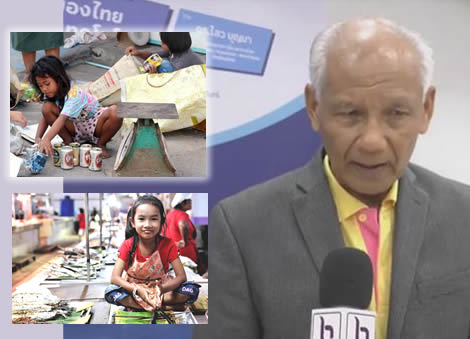 The Thai government in the last week has come out and dismissed a report, quoted by a top Thai financial executive, which suggested that inequality in Thailand was increasing sharply. The report, quoted by a former influential member of Thailand's State Enterprise Policy and Supervisory committee caused quite a stir when it suggested that Thailand was No.1 in the world for inequality, even surpassing Russia, well known for its oligarchs and conspicuous billionaires. The report focused on and quoted a reported surge in the wealth of Thailand's 1%, rising from 58% to 66.9% of the country's total wealth in one year. This week those figures and the data used to support the claims, were roundly dismissed by a Thai government spokesman as flawed and mistaken.
Inequality in Thailand going down at a strong pace
Describing the claims as 'inaccurate, incomplete and unreliable,' Putthipong Punnakan said that the matter had been investigated by Thai officials, alarmed by the claims. He explained that the data used in the Credit Suisse report, prepared for wealthy investors and financial analysts, used data going back to 2006 which made the claims erroneous and inaccurate.
He explained that the original figures quoted in the Credit Suisse Wealth Report came from the Bank of Thailand and the IMF (International Monetary Fund) but dated wrongly. The real trend, in fact, was the opposite of that represented. Thailand's government has been effectively reducing poverty rates for forty years and in recent times, focusing on inequality.
The government spokesman pointed out that the wealth held by Thailand's rich people was 29.92 that of the less well off in 2006. This figure was reduced to a multiple of 19.29 last year.
These were 10 years which saw political instability but nevertheless, government policy and programmes, implemented by successive Thai governments, were moving strongly in the right direction.
Thai government policy aimed at tackling inequality
The spokesman emphasised the determination of Thailand's current government and leadership to reduce the gap and tackle inequality between the rich and the poor in Thailand. Currently, the focus is on targeted welfare allowances for the elderly and those on very low incomes.
Proposals have recently been made by Thailand's National Economic and Social Development Board to introduce paid benefits for those Thai adults who rear children in an effort to boost Thailand's falling birth rate.
'Sufficiency' economic principles more valid than ever in Thailand 4.0 era with new technology
Progressive policies are easier, in fact, for the Thai government to implement in a more dynamic economy than those that exist in western Europe. There have been calls by some influential thinkers in Thailand also to mould government policy in the Kingdom along its own traditional path, best suited to Thai society and its traditions.
Thailand's revered monarch, King Bhumibol Adulyadej, in his later years, emphasised the proposition of a 'sufficiency economy' so as to avoid the excesses of consumerism, consumption and inequality. This is particularly appropriate as Thailand rolls out and progresses further with its ambitious Thailand 4.0 programme targeting higher incomes and the implementation of new technology.
Economist calls for more 'sufficiency economy' thinking to be included in government policy
As the future of global trade becomes more and more unpredictable and Thailand's economy is entering a transitional phase, with the advent of technology and developments from Thailand 4.0, many influential voices are urging the Thai government to revise its economic policies.
One of those who voices has been heard loudest on this issue is well known and respected economist, Sawai Boonma. He has called on Thailand to include the sufficiency economy philosophy, which was introduced by the beloved late King Bhumibol Adulyadej, further into its current plans.
Long-standing economist believes trade rift between America and China makes the need for sufficiency economic thinking more acute for Thailand
Mr Boonma is an economic thinker of long-standing in Thailand. He has drawn attention to the difficult and unpredictable situation that may develop as a result of the US-China trade war. There is some debate about this issue.
A recent statement by Thailand's influential Thai Chamber of Commerce, although it moderated outlook and expectations for the Thai economy downward, suggested that the US-China trade war did not have a significant impact on the Thai economy.
This was the view of Thanawat Polvichai who works at the university in Business and Economics. Thailand has backed down from a projected target of 5% GDP expansion to just over 4.5% for 2018. The drop was attributed to a poor showing by Thai tourism in the third quarter although new reports suggest this sector is rebounding for the last period of the year.
Thailand's focus on growth areas in the economy including a fledgling technology and internet business sector targeting Asia and world markets
In the meantime, Thailand's tourist sector and those driving the expansion of technology have been forging ahead with plans to grow the economy.
It is clear that Thailand now has a strong, emerging middle class with continued urbanisation and wealth creation. Government policy, while now aiming to increase GDP though 'added value' also hopes to raise Thai income levels through tourism being directed at secondary areas in Thailand as well as known favourite tourist spots and more technology based industry.
The Thailand 4.0 plan is to utilise and apply technology in all areas of business and sectors of the economy including farming. Thailand is pushing its Eastern Economic Corridor in its eastern provinces near the sea, as well as plans to develop a fledgling technology and internet business sector targeting Asia and world markets.
Respected economist calls for the Thai government to lower indirect taxation on the poor and tax conspicuous consumption by the rich
However, Sawai is urging caution and moderation. His prescription is for the Thai government to reduce taxes on everyday products and services so as to boost the spending power of poor Thai people.
He is calling, correspondingly, for increased taxes on conspicuous and ostentatious consumption. He has voiced concern that the new technology sector, as in western countries, will be cut off from the working-class man and woman.
Thai economist worked at World Bank for 20 years
This concern may have a genuine basis as we have seen recently in protests from the European Union and populist forces coming to the fore in western countries. The economist has also voiced his concern that new technology should be employed and used on a moral and ethical basis, for the good of society as a whole.
The long-time economist has expressed a view that the Thai government must take a role in offering instruction and guidance to Thai citizens on the proper uses of money and day to day management.
He has warned against overconsumption. Sawai Boonma worked at the World Bank for 20 years and that organisation has a very good understanding of Thailand as well as its current economic and social challenges, perhaps more so than any other international agency.
Further reading:
Thailand is fighting inequality and must chart its own economic and social path
China's Belt and Road now knocks on Thailand's door to the north but is the kingdom on board?
Inflation forces expected to recede in 2022 with a final annual figure projected at under 2.5%
GDP fall for Thailand's flagship Eastern Economic Corridor project since the COVID-19 crisis began
Thailand's economy awaits the fallout from the Omicron surge as projections for 2022 take a dive
Inflationary fears for Thailand more muted than in the United States but planners should prepare
A cautious recovery in 2022 says Bank of Thailand boss but PM strikes a mildy more optimistic note
With Omicron hovering, firms already suffering a cash flow crunch with the economy again in peril
Shaky economic recovery as planners target only a 1% gain in 2021 with rising headwinds in Quarter 4
Economy climbing out 'of a hole', foreign firm's confidence levels rose sharply during October
Another GDP contraction looms as Thailand tries to boost its economic fortunes by spending more
Government borrows more to bring the economy through an extended Covid 19 crisis with GDP flat
Officials switch to prioritising economic recovery as CCSA expected to agree a new Covid approach
Richest man in Thailand says COVID-19 is like a World War, the kingdom could end up a big loser in the end
Foreigners in Thailand have nearly ฿600 billion in the bank as inequality and poverty rise alarmingly
Rising prospect of GDP contraction for 2021 may see government breach the legal public debt limit
A dead mother beside her children and a taxi driver who slept, show us a nation riven by an extended crisis
Economic fears rising as Thailand faces a bigger crisis than 1997 with rising job losses and debt
Baht falling with confidence in Thailand waning as foreign tourism closure and virus drive funds out
Central bank to lower GDP growth forecast as its attention turns to private sector debt management
Loan bill passes but Thai economic prospects are not bright with a 1.8% 2021 GDP gain predicted
Thailand to reopen to 'big fish' tourists as a cryptocurrency friendly haven says promotion agency boss
IMF urges government to loosen nation's purse strings as finances tighten with the tax take down
Failure to pass the ฿500 billion borrowing decree could lead to the dissolution of parliament
Baht to strengthen later in the year even after July as foreign tourists will return says top bank economist
Industry leaders and central bank all warn that foreign tourism must return to avoid a collapse
Refloat of foreign tourism in the 2nd half of 2021 with vaccines pushed by minister and industry for the sector
Fact – only 6,556 visitors arrived in Thailand last month compared to 3.95 million in December 2019
Desperate foreign tourism business concerns are clinging to straws as they try to survive the crisis
Strict entry criteria to remain as officials await clarity on the medical status of vaccinated people
Challenge of the virus and closure to tourism leads to major long term changes in the Thai economy
Finance Minister says economy must pivot away from tourism with a switch to S-Curve industries
Steady as she goes economy driven by exports and public investment with a 3.3% growth rate forecast for 2021
Thailand's tourism boss targets thousands instead of millions as public health is prioritised above all
Thailand unlikely to reopen doors to mass-market tourism before the end of 2021 until after a full vaccination
Strengthening baht predicted as investors bet on a reopening of Thailand to mass tourism in 2021
Economic picture continues to darken as cabinet approves new ฿700 billion loan to plug the gap of higher deficits
Thailand facing a credit crunch as 3rd virus wave craters the kingdom's economic recovery plans
3rd virus wave now spells not just economic loss but financial danger as kingdom's debt level rises
Still time to avoid lockdown says Health Minister as 3rd virus wave dwarfs all infections to date
Thai economy is still in reverse despite rising confidence and a virus threatening a 3rd wave
Reopening of Phuket still not officially approved although it is the ideal test for a broader move
Minister urged not to be afraid to borrow in 2021 as fears grow for a quick foreign tourism revival
Economy to rebound as the year progresses driven by exports and a return of mass foreign tourism
Door closing on quick foreign tourism return as economic recovery is delayed to the end of 2022
Phuket's plan to self vaccinate on hold as Interior Ministry orders private sector out of vaccine deals
Refloat of foreign tourism in the 2nd half of 2021 with vaccines pushed by minister and industry for the sector
Fact – only 6,556 visitors arrived in Thailand last month compared to 3.95 million in December 2019
Desperate foreign tourism business concerns are clinging to straws as they try to survive the crisis
Finance Minister says economy must pivot away from tourism with a switch to S-Curve industries