The strong baht and emerging competition from Cambodia and particularly Vietnam are key factors. However, some leading tourism figures also put the blame on political uncertainty and Thailand's track record on tourist safety in the frame. One result of it is that the glory days of Europeans packing the beer bars and hotels in Pattaya while spending freely are gone. The other is a glut of hotel rooms in Phuket where some room rates for June we're going unsold at 50% off the normal low season rate for that time of year. All eyes now are on the rest of July and August for a rebound because anything less will spell a crisis for the industry.
Thailand has suffered a slump in tourism figures since the beginning of the year as hoteliers and tourism trade leaders have confirmed a huge 20 to 30% drop for June in tourist numbers and trade in Pattaya and Phuket this week in separate media interviews. It comes as even the head of the Tourist  Authority of Thailand, famous for its bullish outlook, has accepted that the country's prized industry, which had a record year in 2018, has found itself buffered by an unexpected but very negative environment so far into 2019. He held out hope however that the industry will rebound in 2020 as the country refocuses on high quality and high spending tourists.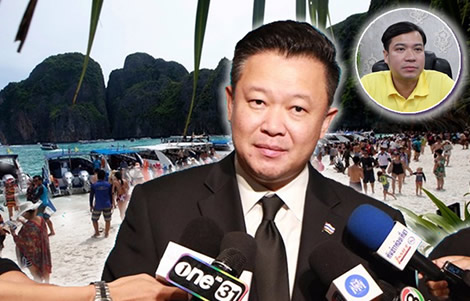 It's a beautiful sunny weekday in Bangkok in mid-July. At a well known five star hotel, it's not the high tourist season but it is a time of year when you would expect normally to see many Europeans who traditionally take holidays at this time of year or the normal mixture of Americans and world travellers. They are often younger or people looking for low season bargains. But they are not here this year. Thailand's tourist numbers have fallen sharply since January last. Instead, there is an Asian man and middle eastern man and at the back of the coffee shop sit two older American businessmen discussing a production line.
Bangkok five star hotel has had staff meetings about the downturn twice in the last 6 months
The experienced and long-serving staff at the hotel are busy attending to whatever guests there are. They are attentive and eagerly explain to the American businessman about the special offer for dining. Most of them have worked at the hotel for a long time but last week, they were called to another meeting, the second in six months. They were told that times were tough and every effort would have to be made to boost sales and control costs. This is the tired state of the tourist industry this July in Thailand, just seven months after a record-breaking year in 2018.
Low point just seven months on from a record tourist year and a good January start
Last year, Thailand achieved a record number of tourists with over 38 million foreign visitors who spent nearly ฿2.2 trillion. Significantly, a quarter or more of these visitors were Chinese. In December of 2018, the number of Chinese visors arriving in Thailand was over 838,000 a nearly 3% increase on the same period last year. Thailand's tourism bosses, who have done remarkably well, predicted that 2019 would be a record year and targeted 41 million visitors with overall expenditure on tourism including the domestic market targeted at ฿3.3 trillion. The year actually began well in January but as the end of the high season approached, the numbers started to spiral.
Thoughts of a record tourism year for 2019 on hold
It appears that all thoughts of a record year have now gone out the window. This is devastating news for the Thai economy already suffering what could be a contraction of exports this year. It could also be that the reason for all the bad news could be the same. A stubbornly high valued Thai baht and the economic impacts of the US-China trade war which is being experienced worldwide. There are also other factors when it comes to tourism and that includes political uncertainty due to Thailand's election in March, tourist safety and a conflicted marketing message.
Switch to new markets that drove the recent boom may have been at the expense of the old
Thailand, to achieve the numbers we saw in 2018, had some years previously switched its target market for tourists to include a new younger market of westerners including backpackers and tech-savvy young people who travelled independently and moved out to explore secondary locations in Thailand. There was also a move to attract more Asian travellers from Asia and the ASEAN community. In the midst of this, the core market of European and western visitors may have been overlooked or indeed taken for granted. 
US tourists are the leading users of Thai hotels
Figures released by American travel company Expedia give some insight into this. The figures are only up to end of March 2019 this year. They showed that the US tourist was still the biggest driver of income and bookings to Thailand's hotels. They were was followed by visitors from China and Japan. Notably, 7 of the top ten countries were Asian with 55 to 60% of Chinese and Japanese travellers booking four and five-star hotels. The thing to note is that these figures are figures for elite travellers who made their own bookings. They are what the Thai tourist executives are now calling 'fit' tourists which stands for free and independent travellers. The other two countries in the top ten were the UK and Australia.
Emerging popular locations in Thailand such as Hua Hin, Ko Phi Phi and Ko Lipe
Pimpawee Nopakitgumjorn if the director of market engagement for Expedia Group in Thailand. He also highlights the emergence of Hua Hin, Ko Phi Phi and Ko Lipe as key destinations being sought after by elite and well off travellers. Expedia also highlights emerging countries where visitors have an interest in Thailand. These include South Africa, Israel and the United Arab Emirates.
European countries absent from the Top 10
What is significant about the finding is the absence of European countries. European travellers in the last twenty years have been highly significant at up to 20% of the market based on 2016 figures. These are also comparatively wealthy countries. Traditionally, figures for tourists from Germany and France have nearly been as high as US and UK visitors to the kingdom. It could be that Europeans use travel agencies or other sites to make bookings or it could be well that this is a market that is going elsewhere or has been impacted by the economic impediments that have developed such as the high baht. At the end of 2009, the euro was worth ฿48, today it less than ฿34 which is a 29% reduction.
Something bad has happened to Thai tourism in 2019
Something bad has happened to Thai tourism in 2019. This has now been accepted, even officially. Figures for tourist arrivals show a slump from January this year. From April to May 2019, the figures for arrivals dropped from 3,195,006 to 2,726,808. However, we should note that it is not so long since December last year, which saw the busiest month ever for what was then seen as Thailand's tourism goldmine.
Thai Tourism boss accepts that the industry is now suffering from a negative environment
Thailand's Tourist Authority of Thailand boss or governor Yuthasak Supasorn, accepted in recent weeks that  Thailand's tourist sector had become susceptible to a negative environment. He predicted a boost from 2020. This has coincided with announcements from the organisation which has masterminded record numbers in the past, suggesting that from 2020, Thailand will be moving the focus back to target more affluent and high spending tourists to the country.
New niche tourist markets targeting wellness
The TAT governor recently spoke to a meeting in Thailand's northern city of Udon Thani. He also outlined plans by tourism chiefs to develop niche markets for Thai tourism for secondary locations in the country targeting affluent tourists seeking lifestyle and wellness experiences. He predicted that tourist revenues for 2020 would reach ฿3.7 billion with a 10% growth. The authority is still holding out hope that 2019 can rebound.
Meanwhile, hotel owners and managers at the coalface of the industry in Phuket and Pattaya are raising the alarm as they suggest that June this year has seen a fall-off in trade at between 20% and 30% compared to last year. It is an unsustainable situation and although businessmen and industry operators are expecting improvement for this month and next, there are real fears that July could be as bad as June.
Phuket tourist chief says all there is now is hope
Kongsak Phupongsakorn is a respected leader in the industry and is the head of the Thai Hotels Association in southern Thailand. He gave a  wide-ranging interview this week to the Thai speaking publication Manager in which he frankly explained the situation.
Political uncertainty is one reason for the fall off
'There are hopes that Asian and Australian travellers will take up some of the slack in July and August. But that is all they are, hopes. Most people are expecting July to be just as bad as June,' he admitted. He blamed the problem not only on external factors but also on shortcomings in Thailand. One was the political uncertainty sparked in the run-up to the election in Thailand and the long process afterwards to form a new government. 
Visitors to Thailand familiar with its current affairs
Many observers have been surprised by the negative reaction in the market to any suggestion of political uncertainty in Thailand from potential tourists on the outside who seem to be very much aware of what is happening in Thailand in this day of advanced internet communications and online news. The Phuket hotelier also criticised a lack of clarity in government policy and strategy regarding tourism.
'Leapfrog' investment pattern in Phuket has left many hotels and tourism operations exposed
Mr Kongsak explained that Phuket has seen what he described as 'leapfrog' investment in the tourism industry on the island driven by a massive increase in tourist arrivals in five years from 9 million arrivals to 14 million. He observed that this now poses a major problem for operators who find themselves competing for a shrinking market. He suggested that some rooms in Phuket were on sale at 50% of the low reason rate for June last year as desperate hotel operators try to recoup income on their investments.
Stagnant European economy and world conditions suffocating tourism trade right now
Kongsak Phupongsakorn also highlighted the deteriorating economic situation as another factor. He said that tourist numbers from the European Union were down as the European economy was stagnant. However, he also believed that there are now heightened tensions caused by the US-China trade war that is suffocating the tourist trade. This is most notably seen in a dramatic fall-off in Chinese tourists.
Competition from Vietnam and Cambodia
The hotel boss also highlighted the growing competition that Thailand is experiencing from other Asian tourist locations such as Vietnam and Cambodia. He described a tourist industry in Phuket currently stranded with too many hotel rooms and not enough visitors.
Safety is a real issue in Thailand's tourist prospects that can no longer be ignored
Mr Kongsak also alluded to safety. Last Sunday, the Thai Examiner reported on a woman from Northern Ireland who had come to Phuket to pick the remains of her husband killed on the Wednesday before at the well-known Surin beach. Days before, local beach users and surfers had highlighted the dangerous rip tides and the lack of lifeguard personnel and warnings at the beach. It is stories like this that put potential visitors to Thailand on guard.
Thailand emerges on top for insurance claims from travellers in a UK survey
This week, the UK Post Office released data to show that Thailand was the tourist destination with the highest number of claims for accidents in the UK for its insurance service. Thailand scored 5.9 in its index coming ahead of  Sweden and New Zealand. The survey measured the cost of covering insurance for tourists in these countries. For instance, the survey highlighted high medical costs in New Zealand which also has a high accident rate. New Zealand is famous among young westerners for its extreme sports. Thailand's accident rate was the problem. For Sweden, it was cancellations and lost luggage.
Government asks Thai university and office to look at tourist tax and automatic insurance
Thailand's government announced this year that it had commissioned a Thai university to study a possible insurance scheme for automatic insurance cover for all tourists entering the country. The move would be very timely and beneficial. Naresuan University is working with Thailand's Office of the Insurance Commission to look at the feasibility of a tourist tax and the possibility of incorporating automatic insurance cover. Thailand already has a voluntary insurance scheme run in association with a number of respected Thai insurance firms which offers 7 days insurance cover for ฿400. Reports from sources within Thailand's Ministry of Health suggest a ฿100 proposal for insurance cover could be incorporated into the tax which would allow for hospital care and medical repatriation of tourists involved in accidents.
Pattaya raises the alarm – tourist number down 20% to 30% in June compared to last year
Also this week, a similar story from Pattaya where the Secretary-General of the Entertainment and Tourist Industry of Pattaya told the Sophon TV channel in the area that the number of tourists and trade for June was between 20 and 30% down on the same month last year. Damrongkiat Phinitkar said: 'Compared to last year, there are between 20 and 30% fewer tourists this low season.'
Europeans have abandoned Pattaya
However, in this instance, the key message was the absence of European tourists from the resort city. The tourist boss said that this had now become a long term trend but that in past years, the influx of Chinese tourists and travellers from other Asian countries had filled the gap. It appears that European and western travellers are still more likely to arrive at high season.
Glory days of the Pattaya beer bars are gone
Mr Damrongkiat echoed other industry operator and observers when he suggested that 'fit' or free and independent travellers had increased primarily from China. The tourist industry chief, however, confirmed that the glory days of the huge numbers of young and middle-aged European tourists crowding out the beer bars of Pattaya have come to an end. They have gone elsewhere or else they are put off by the high Thai baht and adverse economic conditions at home.
Tourist chiefs look to the huge upgrade for local U-Tapao airport and high-speed rail to Bangkok
There were some bright spots according to Mr Damrongkiat such as more Indian visitors and the new high speed rail link and upgrade being proposed for U-Tapao airport linking it with Bangkok. In the meantime, the tourism business operators and those who make a livelihood out of the industry, just like their counterparts in Phuket and Bangkok, wait anxiously to see what July and August will bring. There are some European visitors now in Pattaya but nothing like the numbers from a decade ago.
Pattaya's tourism market today is dominated by Asian visitors notably Indian tourists
The media also spoke with Ms Amporn Kaewsang of the Stone House on Walking Street. She confirmed that numbers were down and today, Pattaya's tourist market is more dominated by Asian tourists with an uptick in Indian visitors. She blames the high baht. She points to many beer bars closing in Pattaya as they are no longer able to stay afloat without the Europeans. She explains that it is now a time for business people in Pattaya to work harder and smarter. She is not without hope however that situation can improve.
Vietnam emerges as a serious competitor to Thailand
The emerging competitor for Thailand is Vietnam. Cambodia has attracted many European visitors who once flocked to Thailand as well as huge numbers of Chinese. But Vietnam is now seen as a relatively safer and more exciting destination. Last year, the country also had a record tourism year in 2018 with over 15.5 million visitors, less than half the size of Thailand.
Thai hotel group Centara expand in Vietnam
This has led leading Thai hotel chain Centara to announce that it is developing new hotels and resorts in that country over the next five years. The company has a range of branded hotels and offerings in Vietnam already from its Centara Grand brand and Boutique collection to accommodation for foreign techies who enjoy more freedom. Centara is a Thai hotel group that has a 30-year track record of excellence and success. The company now has over 70 hotels in its portfolio with over 13,000 rooms
23,000 hotel rooms right now being built in Vietnam as that country celebrates its EU deal
So far in 2019, Vietnam is having an excellent year with almost six million visitors recorded. The upsurge in Vietnam's tourist prospects can be seen from official data showing that there are currently over 23,000 hotel rooms in the process of construction.
Vietnam on June 30th signed a historic free-trade pact with the European Union. On a number of fronts, the country is emerging as a competitor to Thailand which appears at this point in 2019 to be in a state of flux now also with its highly prized and valuable tourist industry.
Wife and mother from Northern Ireland flies to Thailand after tragic death of her husband
Thailand could introduce tourist tax or levy next year as expert group begins to examine plans
Record year for Thai tourism but not so good for Thailand's bar girls and luxury hotels as market has changed
Activist slams Air Asia ad campaign in Australia that she claimed promoted Thai sex tourism at Aussie blokes
Thai tourism may be in trouble for 2019

Reports from Phuket and Pattaya speak of a drop of up to 30% in numbers for the low season in June compared to last year. Speaking to Thai publication, Manager Online, Kongsak Phupongsakornof theThai Hotels Association in southern Thailand painted a picture of an industry in Phuket livng on hope after a disastrous June and fears for July. A tourist boss in Pattaya aslo reported the same with a convegence of opinion that European visitors appear to have abandoned Thailand so far this year.Joseph O' Connor reports from Bangkok, Phuket and Pattaya

Posted by ThaiExaminer.com on Saturday, July 13, 2019