The President of the European Association of Business and Commerce has come out strongly against the continued enforcement of TM28 and TM30 immigration reporting even as the Thai government announces an easy to use app which will combine the reports with the 90-day address reporting requirement. 'Within two to three months, life will be much easier,' promised Kobsak Pootrakool of the Prime Minister's Office on Tuesday night.
Deputy Secretary-General to the Prime Minister, Kobsak Pootrakool, confirmed on Tuesday evening that the TM6 reporting form to be filed on arrival and departure from Thailand is being scrapped by the government. He also revealed that the government has ordered the expedited development of a smartphone app on Friday last to allow ninety-day reporting for foreigners in Thailand as well as making it easier to file the controversial TM28 and TM30 forms in 4 clicks.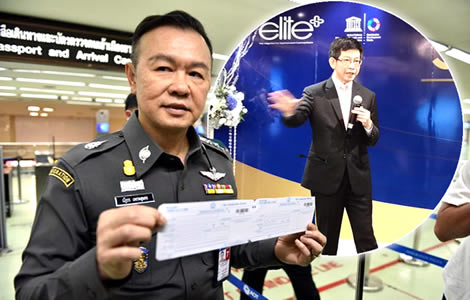 He said the app will be ready in two to three months and would resolve the difficulties now being encountered. It comes as the President of the European Association of Business and Commerce has warned the government that the controversy over the TM28 and TM30 forms is hindering Thailand's efforts to attract inward business investment into the kingdom.
Friday's promised meeting resulted in TM6 getting the chop not TM30 as most foreigners wanted
A meeting held last Friday under the guidance of the deputy secretary-general to the Prime Minister, Kobsak Pootrakool, decided to introduce a mobile app that can be downloaded on smartphones to allow long-stay foreigners in Thailand to submit 90 days reporting information as well the TM30 and TM 28 forms that have been generating such controversy since they began to be enforced from the end of March this year.
Top government official positive about the changes that are coming in a few months
Mr Kobsak was bullish about the changes on Tuesday evening which were promised in the wake of last week's government push to attract new business into the kingdom which may yet see some further changes in relation to visas and work permit regulations to do with foreigners working for firms that set up in Thailand.
The top official and former minister at the Office of the Prime Minister was attending a dinner at a Bangkok hotel to celebrate the fifth anniversary of Elite Plus magazine which saw diplomats and representatives for at least 10 foreign embassies in attendance. 'We made the decision last Friday. Within two to three months, life will be much easier,' Kobsak promised.
TM6 found to be never to have been used 
The government spokesman also revealed that the government had decided to scrap the TM6 arrival and departures card that every foreigner in Thailand will be very familiar with. He is reported as saying that Thailand will experience 40 million visitors this year and that the cards simply ended up being stored and never used by authorities or security services. 
Smartphone app for foreigners to report
At Friday's meeting it was agreed that the app to allow foreigners to easily submit their residential details and information as required under various immigration requirements would be capable of being submitted via personal smartphone in 'four clicks' which would be a big step forward for foreigners, most of whom have given up on existing immigration website applications as being too complicated and unwieldy to use.
Reporter directed to an unnamed immigration officer
On Wednesday, the immigration bureau confirmed the end of TM6 cards and also the decision to introduce a smartphone app for reporting requirements. Speaking with Khaosod, a deputy immigration commander Nattapon Sawaengkit could only indicate that the reports were true and forwarded reporters to an unnamed officer.
This immigration officer suggested that the new app will use QR codes but declined to elaborate on just how exactly the new app would operate except to confirm that it will be available on smartphones for use.
Government official confirms that TM30 stays
On Tuesday, Mr Kobsak did confirm that the current immigration provisions from 1979 such as TM30 and TM28, will still be enforced but was confident that they will be easier to comply with by foreigners. He accepted that the Thai government had work to do to make the country more business-friendly to business people and workers from abroad moving to the kingdom.
Foreign Chambers of Commerce body intimated that a key unit in government wanted it scrapped
The news comes at the same time as another foreign business representative group has called for the immediate scrapping of TM 30 and TM 28 reporting altogether.
This follows a statement some weeks ago by Stanley Kang of the Joint Foreign Chamber of Commerce of Thailand who asked for the provision to be made easier to comply with but also suggested that a key task force in the Thai government charged with cutting red tape and bureaucracy is also in favour of giving the controversial reporting requirements to axe. The unit is known as the guillotine group.
European business body asks for the controversial immigration reporting forms to be axed
On Wednesday, it was reported that the European Association of Business and Commerce had come out and pointedly asked for the two reporting forms to be scrapped altogether. 'It is hard to see how security which relies on self-disclosure can be a useful solution,' said the President of the body Jan Eriksson.
Proposals submitted to the government on various visa types and statuses requesting a change
Mr Eriksson said his organisation had submitted its proposal in detail concerning all different types of foreigners staying in the kingdom to Mr Kobsak at the Prime Minister's Office and both the Minister of the Interior, General Anupong Paojinda and the Immigration Bureau chief, Sompong Chingduang.
Difficulty and hardship being caused to foreigners damaging Thailand's tourism prospects
The association has warned that the two reporting forms were creating a difficult situation and hardship for foreigners and expats that was as futile as it was damaging to Thailand's tourism prospects and the perception by foreigners of the country as a place to do business. He pointed out that the controversy had created negative sentiment towards the kingdom. 'This is surely not good,' he said.
TM30 controversy impeding Thailand's inward investment efforts say European business group
The association boss, however, commended the government for its recent steps to make inward investment both easier and more attractive to foreign firms but again insisted that the TM30 controversy is hindering these efforts. 'We commend the government for taking positive steps to make it easier to do business. Currently, we feel that the TM30 is undoing those good achievements,' he said.
Further reading:
Changes to TM30, an easier visa and work permit system approved by Thai cabinet yesterday for foreign workers
Bangkok Immigration boss indicates easier TM30 reporting as an option, asks for understanding
Unit suggests that TM30 reporting be scrapped to make doing business in Thailand easier as Chambers weigh in
Thai expats launch website to campaign for easier immigration reporting rules for visa holders