Some foreigners and expats have been critical of the move fearing a backlash from authorities. A UK man in Bangkok said: 'I wouldn't put my name to that for love nor money.' In spite of this, the response has been overwhelmingly positive with reports that one campaign organiser, Mr Andrew Biggs from Australia, has already been in contact with senior officers at the Immigration Bureau in Bangkok.
An online group is believed to be behind an organised campaign and petition seeking to grab the attention of Thailand's immigration authorities and get them to relax, in some fashion, stringent reporting requirements that are making life very difficult for significant numbers of foreign residents in the kingdom. One of the chief orchestrators of the movement is believed to be Candian entrepreneur, legal expert and holder of permanent residence status in Thailand, Sebastian Brousseau from Nakhon Ratchasima province. Mr Brousseau, because of his status, is not impacted by the stringent regulations but is pursuing the campaign to make a difference for many genuine people who contribute greatly to Thailand and have strong links to the country over many years. He has called for foreigners in Thailand to take part: 'Can it make a difference? If people participate, yes,' he said on Sunday as he spoke to expats debating the move as the petition was launched online.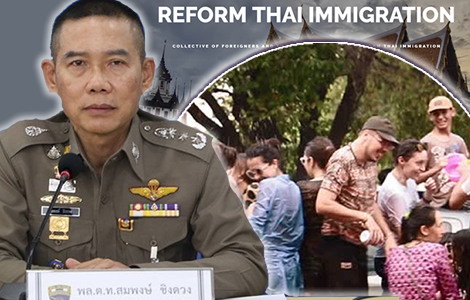 On Sunday, a group of foreigners representing expats in Thailand went public with a petition seeking 10,000 signatures and addressed it to Thailand's Prime Minister, Prayut Chan ocha and the Minister for Immigration requesting that Thai Immigration authorities take steps to reform immigration practices in relation to a number of residency information requirements including a particular form under which landlords are obliged to file notification to immigration authorities if a foreigner stays at a specific location.
Some long term expats in Thailand impeded from moving within the kingdom by reporting rules
The form which relates to the 1979 Immigration Act has been emphasised in the last few years as Thai authorities move to bolster security in the country. The problem the long term expats have with the reporting requirement is that it impedes them from moving about the country if they are not staying at hotels or commercial establishments. In effect, the petitioners or people behind the campaign claim that a foreign expat spending a weekend or a few days in another province is then required to report his new residence if he has spent more than 24 hours there. It appears that there no extra reporting requirement in relation to the foreigner if he or she stays in a hotel or commercial hostelry which already has established reporting systems in place with the local police.
Law being stringently enforced in recent times
Those behind the expat petition claim that the enforcement of the regulations surrounding the TM30 immigration reporting form was not strictly applied up to last year and question if the law is appropriate for foreign expats who live in the kingdom for extended periods. They point out that immigration authorities already have an address in relation to them in connection with their annual application for visa extensions.
Property owner must report not the tenant but expats must notify any move to another province extending beyond a 24 hour period
The online petition is accompanied by a covering letter. It refers to Section 37 of the 1979 Immigration and the requirements for property owners to report foreigners staying at a location within 24 hours. The expat, many of whom have been living in Thailand on a long term basis with the appropriate visas, give an example of a foreign teacher who moves from one province to another and moves over a weekend being required to attend an immigration office on a Monday. While the property owner is obliged to file the appropriate notification with the immigration authorities, the expat is also obliged to notify authorities when they move from one province to another for a period extending beyond 24 hours. They must do this within 48 hours or face a fine.
They have called for a modification of the law to address their concerns or for appropriate dialogue with the immigration authorities.
Thai police and security chiefs shocked since 2015 at the numbers of illegal foreigners evading immigration laws in the kingdom
The background to the law is the ramping up of measures to curb illegal hotels and lax reporting that came to light during the last government's ongoing immigration crackdown where foreigners were found in accommodation that authorities simply knew nothing about. Many of these were, of course, illegal immigrants or people who were evading immigration laws. This has led to the law been applied rigorously to individuals in Thailand who rent out rooms and those operating through AirBnB. It is worth noting that it is the duty of the property owner to file the TM30 report and not the expat of foreigner himself or herself. The fine for failure to do so is  ฿800. However, the need to reports a move to another province is a separate requirement imposed on the expat.
Mixed reaction from foreigners to the online campaign that went public on Sunday
There has been mixed action to the petition and the website from among foreigners in Thailand. For a start, there are no names and pictures of the foreigners and expats behind this campaign. This is a pity and a weakness as the campaign represents a huge community of  Thailand's most law-abiding residents who contribute greatly to the kingdom. However, the reason for this is understandable. Thailand's foreigner or expat population are very careful never to be seen trying to influence events in Thailand considering it a privilege as opposed to a right to be living in the country that many have come to love dearly.
Fear of a backlash against expats as one campaigner is reported to be already speaking with top officials
Some expats fear that the move to speak out may cause a backlash or as one commentator on Facebook, Mr Steve Riches, a UK man living in Bangkok put it: ' I feel that with the current state of affairs that this will lead to a witch hunt and a worsening of the relationship. Just my opinion.' the UK man said that he would not consider sighing the petition for a moment. 'I wouldn't put my name to that for love nor money,' he said.
 It has been reported in the last 24 hours that top immigration officials in Bangkok have been in contact without an expat named as Mr Andrew Biggs. It is believed that Mr Biggs is an Australian living in Bangkok.
Canadian entrepreneur and legal expert linked with the campaign is from Korat
One of those behind the move this week is a legal expert and entrepreneur Sebastian Brousseau, a Canadian from Korat who has lived in Thailand since 2004. Mr Brousseau is not personally impacted by the newly enforced immigration reporting requirement under Section 37. He is one of the elite expats in Thailand who have permanent residency and is exempt for reporting and visa requirements much the same as a Thai citizen.
Respectfully putting the position forward
 He said on Facebook that he believed that the reporting requirement, form and regulations associated with it to be 'draconian, useless and pure bureaucracy' but insisted that the petition's organisers are intent on respectfully putting the position of the expats affected by the regulations to Thai authorities.
Sever crashes twice as expat petitioners in Thailand and worldwide logon to voice support
Mr Brousseau revealed that reaction to the site and the petition had been abnormally high, leading the server located outside Thailand to crash on two occasions. He dismissed concerns that the move may provoke a backlash from authorities. This came from some foreigner expats online. He pointed out that this was merely an expression by some people who find themselves in this position. 'We don't violate any law,' he assured them.
The Canadian is a lawyer who has headed up Isaan Lawyers in Nakhon Ratchasima since 2007. Mr Brousseau was a member of the International Bar Association until 2017 and is a family man married to a Thai woman.
Mr Bousseau: 'Can it make a difference? If people participate, yes'  as he urges expats to sign
Speaking to the group on Facebook, most of whom enthusiastically supported the new website with others who were more concerned, Mr Brousseau said this: 'Can it make a difference? If people participate, yes. That is my wish. I do not have time to answer your comments. It is a collective work and I assume whatever is on that website.'
If you wish to support the campaign please go to the website here: Immigration Reform – Expats in Thailand
Western expats in Thailand and a huge pool of regular western visitors to the kingdom
The actual figure for expats living in Thailand is not clear. Thailand has over 2.5 million people living within its borders from foreign countries. The vast majority of these or over 1.8 million are from Cambodia, Laos and Myanmar. It is thought that there are at least 250,000 western foreigners permanently resident in the country, although this figure is boosted by westerners visiting Thailand on holidays from a large pool of westerners who are regular visitors to the country's shores.
Up to 1 million western foreigners living in Thailand at any one time according to some estimates
 This is thought to number between 5 or 7 million people. These visitors, however, are thought now to be on the decline for a variety of factors including a stronger Thai baht and weakening western currencies, alternative destinations and significant to this issue, tighter immigration and security policies which have acted indirectly as a chill factor. It is still a large body of people. One estimate suggests that there are between 700,000 and 1 million westerner foreigners at any one time, living within the kingdom. In summary, there is an overlap between the expats living in Thailand and tourists which exists in practice.
Overly burdensome immigration rules may be impacting tourism as expats are tourists also
A key point to note for Thai authorities is that the tightening of immigration policy, while necessary and indeed supported by the vast majority of western expats, tends to involve bureaucracy and unintended complications or red tape. It also has a direct impact on tourism. These regular visitors to Thailand and indeed those living in Thailand are also all potential tourists. 
Genuine, law-abiding people who live in Thailand
The stories that have emerged online since the campaign began are too numerous but a quick glance shows that these are real and genuine difficulties being experienced by expats who are by and large law-abiding and who contribute to Thailand in both economic and social terms. To paraphrase the words of a former immigration bureau chief, these are good guys that Thailand should want to keep in not bad guys who should be put out.
Cambodia and Vietnam have similar immigration requirements, it should be noted
It should be noted that Cambodia recently introduced a similar tightening of the law in relation to foreigners moving about that kingdom and in Vietnam, the reporting requirements for foreigners are even stricter. Indeed in Vietnam, foreigners are not allowed to live in certain areas of the country.
Notifications can be made online quite easily
Some expats online, in the last few days, have also pointed out that the TM 30 notification can be filed online using certain browsers quite easily. Others are decidedly less sympathetic to the cause that has been highlighted. One foreigner expat, a Mr Karl Anstee in Bangkok and originally from Cambridge in the UK, offered this advice to others not happy with the situation: 'there is an easy alternative to this, it's not rocket science as long as you do go away with your g/f or wife.'
Tightening of policy linked to the Erawan Shrine bombing in August 2015 that was a wake-up call
The focus on tightened security in Thailand stretches back to Erawan Shrine bombings in Bangkok on August 17th, 2015 when authorities found that the perpetrators of the blasts had been living in the city with no record of their whereabouts or movements. It was a wakeup call for security services in Thailand as well as an unspeakable tragedy in which 20 people died and over 125 were injured.
Real security fears behind the immigration bureau's actions must be understood by expats
Given the very real security concerns, some understanding of the need for authorities to know where foreigners are must be considered. The Thai Immigration and Tourist police have been closing down illegal hotel operators and bringing in landlords and accommodation owners who fail to report guests for some years now. It is a campaign that has a valid basis based on the need for security and the real threats that exist.
Positive support for the petition from real people who we do not often hear about in Thailand
There has been a lot of positive support for the campaign online and it has come from the expats and foreigners in Thailand that no one often hears much about. Those that maintain their lives in the kingdom quietly, keeping the laws and are concerned to be found by such provisions to be outside the law. The campaign and petition already have nearly 1,600 signatures of the 10,000 required.
Nub of the matter is that in recent years, some expats have begun to feel uneasy
The nub of the matter behind support for the petition aside from talk of reporting regulations and various official forms is that a certain section of expats and foreigners are growing concerned by the tightening of rules and regulations which are becoming more difficult to comply with. The genuine desire to be in compliance with all Thai laws is what is driving this unease. 
Some foreigners appear to feel less secure of their position in Thailand than in the past 
It appears that the heightened requirements have made some feel less secure in Thailand at least according to online forums and commentary on social media. These reporting requirements are, for instance, not required for holders of permanent residency in Thailand. The fact is that many of these foreigner expats are de facto permanent residents but the tightening of quotas, lack of reciprocal treaties and a large number of expats living in Thailand over the last twenty years has meant permanent residency a far off prospect for many.
One solution to the problem would be  a dispensation for 'good' foreigners by immigration
The solution to the problem may be some dispensation to expat or foreigners who have complied with the laws of the country and have strong connections with the kingdom. Already the reporting requirement is believed not to be applied to certain work permit holders, diplomats and those who own property in Thailand.
Petitioners seek recognition and understanding
For now, however, those renting properties and moving within the kingdom and staying at the property of a friend or a rented property are obliged to make sure the TM30 report is filed by their landlord within 24 hours or the property owner will face a fine of ฿800. They are also obliged to have completed the report requirements before their new visa is issued. But again, it appears that the support for this petition is an expression by a certain section of expats living and working in Thailand for more recognition by authorities and understanding for their plight as long term and fully compliant residents of the kingdom.
Expats and tourists are entwined
At a time when democratic rule has returned to Thailand and military rule lifted, its expat population are hoping to also see a ray of warmth. A positive reaction and even further moves to make all these groups feel easier in some way without compromising Thaland's valid security concerns is what is required. This would also help boost tourism on the simple basis that expats are also tourists. In the internet age and a global world, where perception sometimes trumps reality, the two are very much intertwined.
Further reading:
Visa amnesty finally ending but the new regime is pragmatic and may allow for further renewals
Visa amnesty to be retrospectively extended to October 31st says top Immigration Bureau officer
Time up for some long-stay business owners as immigration warns of arrests after Saturday's deadline
Visa amnesty to end with 30-day extensions on application as the focus moves to long-stay visa holders
American and Thai wife arrested for operating an illegal visa business in Bangkok using fake official stamps
Broken-hearted Swede fears history will repeat itself as shock parting left him stranded in Laos for 4 months
Two Immigration Bureau officers in Nonthaburi suspended after video appears to show bribe request
Stranded foreigners must get embassy letter, new visa or leave Thailand to avoid arrest by police
US Embassy in Bangkok – guidance on the visa amnesty expiry
UK Embassy in Bangkok – letters for visa extensions
PM signs order granting visa extensions to all valid visa holders until April 30th to cull queues
Officials find a visa solution for up to 500,000 foreigners riding out the coronavirus crisis here in Thailand
Smart cars highlighted by the Immigration Bureau as it seeks out foreigners hiding from the law
Immigration boss warns that a new crackdown on foreigners flouting Thai laws has begun
It's a hard station for Thai police and foreigners should understand better the job they do to keep order
Expats launch website to campaign for easier immigration reporting rules for visa holders
Elderly Hungarian arrested at Suvarnabhumi for a visa overstay offence found dead in a holding cell
Canadian arrested at the border but a lifeline for foreigners seeking marriage and retirement visas
Australian business woman deported to Sydney on charges of illegal overstay after being arrested
Thailand's top immigration cop wants genuine foreigners to come forward – new visa regime is forever