Top government officials appeared reticent on Tuesday about closing down media outlets as efforts to resolve the political crisis on the streets have begun and such moves at this time could be counterproductive and risked backfiring.
A leading online Thai TV station and news platform has been ordered shut by a court in Bangkok under emergency decree provisions. It comes as Thai authorities are desperately trying to subdue anti-government rallies in the capital and throughout the kingdom. This has led them to turn their attention to the country's media, particularly the burgeoning online news sector increasingly patronised by tens of millions of Thais. It comes as reports emerged, on Monday, that five media outlets had been targeted for action with a court order for closure of the country's Voice TV network now being reported.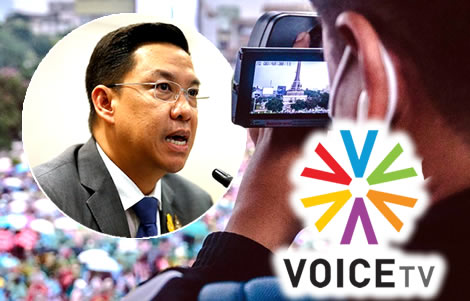 It is being reported on Tuesday that a court has already issued an order to close the Facebook platform of Voice TV as well as its TV station. This was confirmed by Mr Putchapong Nodthaisongm, the deputy permanent secretary of the Ministry of Digital Economy and Society.
The senior official pointed out that the ruling cannot be appealed because of the state of emergency now in force. He suggested that Voice TV may use a different URL.
Minister earlier highlighted that no media outlet has been closed at this stage suggesting a process
Earlier, the Minister of Digital Economy and Society, Buddhipongse Punnakanta, pointed out that no media outlets had yet been taken off air and suggested that they would be given an opportunity to remove the offending content as any action taken against them would be on a 'step by step' basis.
'Initially, the NBTC or agencies concerned will ask them over for talks and urge them to be careful,' the minister said. 'But the messages should be deleted.'
The minister also clarified that broadcasting live streams of the protests was not in contravention of the emergency decree but republishing comments by protest leaders which were illegal was an entirely different matter.
His comments chime with those of under fire Thai Prime Minister Prayut Chan ocha who has said that it would be more appropriate for media outlets to remove any material deemed dangerous rather than putting them off air.
Swing against the government blamed on the media
The controversy over moves against the media could be counterproductive right now as efforts to negotiate a peaceful solution to the crisis through dialogue, are currently being pursued in parliament.
On the other hand, many pro-government supporters, officials and politicians have been stung by the huge swing in momentum in favour of the student protests in the last week and that has led them to point the finger at the media
Voice TV describes its mission as beneficial to society
It is understood that the popular TV station is studying the courts' decision but has vowed to carry on its mission.
 The TV service and platform has described itself as an open and impartial space for Thai people to obtain information and posited that this activity was beneficial to society in the kingdom.
The TV channel, on Tuesday, asked to be treated fairly by those in government who are directing events at this time of crisis.
Official accuses the TV channel owned by the Shinawatra family of peddling false information
The permanent secretary, at the Ministry of Digital Economy, Mr Putchapong, had earlier accused Voice TV, a multiplatform TV channel using satellite and social media, of broadcasting false information.
The network is owned by the family of the former Thai premier Thaksin Shinawatra, now living in exile in Dubai. Mr Shinawatra is still closely associated with Thai politics despite his announced retirement in recent years.
He is believed to be a key influence on Thailand's largest political party, Pheu Thai, which could emerge in a position of strategic importance as efforts to resolve the country's crisis are moving to parliament.
Five outlets named in a leaked memo on Monday to be targeted at the request of the National Police Chief
Voice TV was among 5 media outlets listed in a leaked government communication on Monday which suggested that the Centre of the Resolution of Emergency Situation directed by Thailand's new National Police Chief, General Suwat Jangyodsuk, had identified five media outlets against which it asked the National Broadcasting and Telecommunications Commission as well as the Ministry of Digital Economy and Society to take action.
These were Voice TV, The Reporters, The Standard, Prachatai.com and the Free Youth movement. 
Much of the media operating online in Thailand utilises a combination of social media platforms and internet websites to reach millions of viewers and readers. 
Thailand, in recent years, has a rapidly expanding news media environment as the public appetite for news coverage has exploded.
This has produced a much more sophisticated and better-informed population as Thai society has developed with an increasingly younger and more educated audience embracing new media.
Voice TV CEO defends the media outlet
The CEO of Voice TV, Mekin Petchplai, has hit back and claimed that the media outlet was not involved in broadcasting or disseminating information that was either distorted or false.
He said that he would be studying the court's ruling closely and that his organisation was always mindful of ensuring that its output did not undermine the kingdom's national security or stability
News widely condemned by academics and media bodies who warn authorities that the move will only escalate the crisis further
The court action and threatened move against four other outlets has been widely condemned by media bodies and academics.
This includes the National Press Council of Thailand, the News Broadcasting Council of Thailand, the Thai Journalists Association, the Thai Broadcast Journalists Association, Online News Providers Association and the National Union of Journalists Thailand.
The bodies issued a joint statement in which they warned the government that silencing media outlets only risked raising tensions further and prompting more people to protest.
At the same time, they called for all media outlets in Thailand to ensure that coverage was unbiased while comprehensively reporting on the situation.
Foreign Correspondents say a clampdown on a free press tarnishes the image of Thailand abroad
A similar statement was issued by the faculty of journalism and communications a Thammasat University which emphasised the importance of freedom of expression in society.
The Foreign Correspondents Club in Bangkok (FCCI), representing foreign journalists based in Thailand and other media professionals, warned that the move could backfire on the government as it may increasingly make it seen, outside Thailand, as 'heavy-handed and unresponsive to criticism.'
The organisation also warned that the move would only rile the public further.
Further reading:
Minister warns Facebook of possible legal action including Computer Crime Act criminal charges
Facebook under investigation over translation blunder as minister criticises the social network
Protests on the streets creating political tensions as PM warns the public only the country will lose
Press conference given by activist and Progressive Movement leader checked by abrupt police visit
Rally's march on Government House surprises officials with a larger turnout and police in retreat
Police arrest 21 protesters in Bangkok attempting to block the road to be used for planned Royal motorcade
Smaller crowd expected at rally on Wednesday as police gear up security cordon with checkpoints
Police say students have no permission to protest as army chief warns that security will be upheld
New army chief takes the helm this week amid growing tensions and rising public apathy toward politics
Criminal charges likely against student leaders as mysterious 'People's Party' plaque goes missing
Students submit a reform petition to the Privy Council, call for a General Strike in Thailand on October 14th
March on government to go ahead on Sunday as rally organisers appear to focus on the monarchy reform plans
Western foreigners being blamed by ultra-right for this latest wave of radical student protests
Raised concerns for the defiant student protest being planned for next Saturday and Sunday
Exasperated PM loses patience with press corps over 'distorted' online speculation of a coup amid tensions
Army chief denies and rejects rumours of a likely coup as the country faces crisis on key fronts
Shock resignation of Minister of Finance a sign of more politics being demanded in government
Thailand stuck in a 'vicious cycle' which will lead to further military coups says leading academic
New ministers take the reins in a formal audience with King Rama X & Queen Suthida at Dusit Palace
New cabinet lineup in Royal Gazette but economic damage now extending into parts of the property market
Warning signs in new banking and employment reports as virus crisis hits Thailand's bottom line hard
Thailand may have to live with the virus but can recover in two years says outgoing central bank chief
June export figures show a 23% decline on last year but the economy will recover by end of 2021
Prime Minister indicates that the cabinet reshuffle will be complete very shortly with no problem
Somkid ready to bow out of government as September cabinet reshuffle seems to be on the cards
Plans to relaunch tourism from China thrown out as conflicting reports emerge of a new swine flu virus threat
Election of a new ruling party leader, shifts focus now to the future of the economics czar Somkid and his team
Banks ordered to cease dividends and shore up balance sheets on fears of loan quality erosion due to slump
Thai economy in even greater peril as Covid 19 shutdown appears to have had a bigger impact than expected
Election of Prawit as Palang Pracharat leader will see more grassroots politics in government
Emergency decree extended by Thai government but politics behind the scenes abuzz with PPRP party heave