Big Joke or Deputy National Police Chief General Surachate Hakparn urged foreign residents and tourists in Thailand not to be afraid to report anyone claiming links with the police, who attempted to extort money or coerce others with the threat of police action. The top police officer urged anyone concerned to phone 24-hour police hotline numbers.
Deputy Police Chief General Surachate Hakparn has urged anyone and particularly foreign residents in Thailand or tourists to avail of police hotline numbers to report any incidences of attempted extortion by individuals claiming to have power within the police force seeking 'protection' money. The top cop made the appeal this week as he announced the arrest of a French national, a former police volunteer in the resort city of Pattaya, wanted by the city's courts for fraud, coercion and extortion of fellow foreign residents and tourists.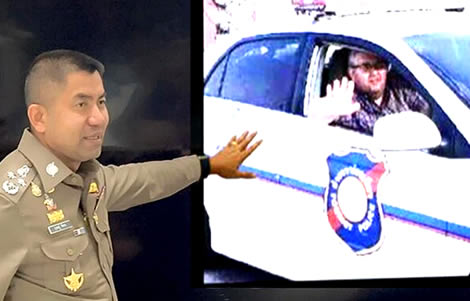 A 58-year-old French national was arrested at a condominium complex in the Chatuchak area of Bangkok on Wednesday after spending years extorting other foreigners in Thailand even while on the run from the police and with an extinguished visa status.
Details of the case were given by Deputy National Police Chief General Surachate Hakparn who was one of several senior police officers whose name was used by Mr Herve Christian Robert Leonard to prise money from insecure foreign residents in the resort city of Pattaya.
Frenchman skipped bail after first arrest, moved every two or three weeks while overstaying his visa
Outlining the case with the help of visual aids at the Police Club in Bangkok on Wednesday General Surachate said that Mr Herve Leonard was wanted on various arrest warrants and had been arrested some time ago but escaped from police after being granted bail and going on the run.
It is understood that over a two-year period, the conman used a network of connections with senior police officers he had met through social events to repeatedly commit fraud and extortion.
Mr Leonard, at some point, was a foreign police volunteer within the Pattaya police force which allowed him to target foreign residents demanding 'protection' by passing himself off as a person of influence within the police force.
Big Joke showed Mr Leonard at the wheel of a police car, former Pattaya police volunteer used social events and photos to bolster his fraudulent claims
The Frenchman was shown in pictures presented by General Surachate at the wheel of a police car as the top police officer explained that Mr Leonard would attend social events to obtain such photographs to support his false claims.
The arrest warrants issued against Mr Leonard in Pattaya specify charges of fraud, coercion and extortion of both money and property from victims. 
The deputy police chief, Thailand's most famous police officer also known as 'Big Joke', said that Mr Leonard had successfully managed to evade police up to this week by relocating his place of residence every 2 to 3 weeks between Pattaya, Hua Hin and Bangkok.
He used different names and told property owners that he had mislaid his passport when checking in to new accommodation.
He had overstayed his visa since September 15th 2020 meaning an overstay period of 868 days up to his arrest this week.
General Surachate urged Chonburi police to pursue all legal proceedings against the Frenchman to the furthest extent possible before deporting Mr Leonard
He faces deportation when legal proceedings against him have been finalised.
There was some indication this week that police intend to move expeditiously to have the French man deported from Thailand after the legal proceedings he currently faces have been finalised.
General Surachate, however, on Wednesday, said he wished to see legal action against the French man pursued by the Chonburi Provincial Police in respect of the offences committed by the foreigner to the furthest extent possible. 
The French man's time on the run ended on Wednesday last when he was discovered in the Chatuchak area of Bangkok at a condominium complex on the Phaholyothin Road.
A police task force, which had been tracking the Frenchman for some months, finally caught him in his rented accommodation and took him into custody.
Most recent arrest warrant for Mr Leonard issued by Pattaya Kwaeng Court in May 2022 for alleged fraud
The alleged offences committed by the Frenchman all date after his visa expired in September 2020 and appear to have been committed in association with others.
One warrant was issued on the 27th of July 2021 related to 'fraudulent property' and extortion. A more recent offence led to an arrest warrant issued by Pattaya District Court (Ref 19/2565) on the 18th of February 2022 for 'jointly defrauding' while another warrant issued on the 25th of February 2022 simply specified 'fraud' as the basis of the alleged crimes committed.
The most recent arrest warrant was issued by the Pattaya Kwaeng Court on the 18th of May 2022 and mentions links to another crime presumably committed by someone else.
It is understood that Mr Leonard introduced himself to third parties in social circles in Pattaya claiming to have influence within the police and among senior officials.
Activities of Frenchman enormously damaging
Once he had established his position in the minds of his victims, he then sought to use it to extort or obtain money from them under various pretences.
General Surachate noted that the activities of the Frenchman in Pattaya were enormously damaging to both the local police force in the city and the image of Thailand farther afield.
He called on the media to promote the message that if anyone feels threatened or intimidated by any party pretending or holding themselves out as having links or influence with police officers to contact the proper authorities and report such incidents.
He gave out 24-hour hotline numbers in Thailand as 1155 or 1599 and promised that such reports will be dealt with sympathetically.
Further reading:
Aussie with Thai wife arrested in Chachoengsao on sex abuse of a minor charge in New South Wales
Woman files false rape complaint against a local trader in Chonburi to get a free virus infection test
Australian man jailed for sexually abusing Thai children shows the depravity that authorities must tackle
Thailand tightens screening of foreign English teachers following paedophile arrest
It's a hard station for Thai police and foreigners should understand better the job they do to keep order
Police looking at date rape theory in the probe into the death of 25-year-old Thai woman found in Thonburi
Calls to legalise prostitution in Thailand after Pattaya sex raid on Walking Street this week