Deputy Prime Minister Supattanapong Punmeechaow defends Thailand as a place to do business as it loses ground to Indonesia and Vietnam which maintain lower electricity tariffs, offer younger workers and more competitive labour costs. Pointing to lower interest rates compared to other ASEAN countries, the country's economic czar says that across the board, the kingdom remains a competitive place to do business and work.
A Japanese business leader has confirmed the results of a survey which showed declining confidence levels among Japanese firms in Thailand towards the end of last year but has indicated that there has been a change in recent weeks and now predicts that 25% of Japanese concerns will expand in Thailand in 2023 while only 1% will see a decline. He also promises that 8% of firms are moving to relocate business operations from other countries to Thailand as supply chains are being reordered with a move worldwide to make firms less reliant on China. On Sunday, Thailand's deputy prime minister for the economy and energy, Supattanapong Punmeechaow, admitted that the kingdom's electricity costs were higher than both Indonesia and Vietnam, its two key ASEAN competitors for inward investment but insisted that overall, Thailand remains a competitive place to do business.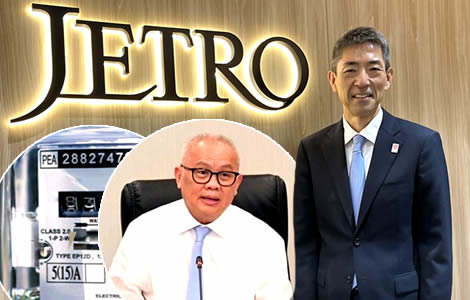 Deputy Prime Minister and Minister of Energy Supattanapong Punmeechaow, this weekend, defended the kingdom's industrial policies following concerns expressed following a survey conducted by Japanese business interests in Thailand which showed rapidly declining confidence in the latter half of 2022.
The reasons for the decline were a fall in export demand and also rising costs in the kingdom including labour rates and energy bills.
Minister Supattanapong said on Sunday that the cost of doing business in Thailand was still competitive with other ASEAN countries including Indonesia and Vietnamese, the country's key competitors for investment.
Both countries, in recent years, have pulled away from Thailand in the race or competition for investment projects with their younger demographics often cited as a key factor when weighed against the kingdom.
Thailand's interest rates substantially lower in 2023 than peers in ASEAN says deputy prime minister
The deputy prime minister and economic czar points to substantially lower interest rates in Thailand due to a determined policy pursued by the Bank of Thailand in 2022 even amid fears last year that holding off on interest rate rises would backfire and lead to substantial capital outflow from Thailand.
Mr Supattanapong said that this had not happened and the country was now seeing capital inflows and a stronger baht because of confidence in Thailand's economy which is also beginning to experience a pickup due to the softening trends in an anticipated downturn this year in global trade and the reopening of China.
Last week, the Federal Reserve announced a possible softening of interest rate policy as it added another 25 basis points to the rate in the United States which is Thailand's largest export market.
Some days later, the US Department of Labor reported surprisingly strong job growth in a scenario that has suddenly made many economists believe that a very rare 'soft landing' may have been engineered with a weakening inflation trend while some growth may still be maintained.
The same trend was also seen in Europe, the country's fourth-largest market for goods and services.
Disturbing trade surveys showed declining confidence levels among Japanese firms in Thailand at the end of 2022. Japan is Thailand's largest investor
In recent days, Mr Kuroda Jun, the President of the Japan External Trade Organization (JETRO), revealed the results of a survey of 508 Japanese-owned firms in Thailand.
Japan is Thailand's largest inward investor and has been a key player in developing the kingdom's manufacturing economy since the 1960s.
In 2021, despite a fall-off in investment with ฿213.1 billion or $7.14 billion invested in Thailand, a disturbingly high 54% drop on the year previously despite pledges and project approvals, Japan remained the country's biggest investor with a 10% rise in investment coming in at ฿75.9 billion or 36% of the total.
The survey results showed an index reading of 21 down from 27 in the first half of 2022.
Key factors impacting the sentiment were higher operating costs, rising material costs and lower demand because of inflationary pressures worldwide impacting purchasing power.
Executives with Japanese firms felt also that Thailand was facing stiffer external competition with higher electricity and labour cost adding to the burden being felt by operators.
Pickup in sentiment in the opening days of 2023 with a recovering economy and the reopening of China
The firms surveyed were engaged in a broad spectrum of activities from food, textiles and metal manufacturing to engineering, transport as well as retail, finance and insurance concerns based in Thailand.
The Japanese representative body has, however, suggested that things have turned around so far into 2023 with an improvement seen in the Thai economy with a recovering foreign tourism industry and the reopening of China for business.
Mr Kuroda said despite the pressures of higher materials and parts as well as rising energy costs, his organisation expected Japanese firms in Thailand to expand their activities in 2023 with only 1% of firms surveyed talking about downsizing.
25% planned to expand while 8% will relocate business units from other countries to Thailand in the coming years.
He particularly highlighted that Japanese firms are exporting products and services to Thailand's key competitors, Vietnam and Indonesia as well as India indicating a new supply chain trend.
Supply chains are changing rapidly as firms move to strengthen security worldwide which has led to a move away from mainland China which is benefiting Thailand as Japanese firms look to ASEAN countries as an alternative.
More Japanese firms shifting to the ASEAN region as tensions between the United States and China grow
These developments are being driven by increased tensions between the US and China and new US regulations.
'Even in the first half of 2023, doing business will improve. But most of them are still affected by the economic situation, with up to 72% affected by higher raw material and parts costs, 62% higher transportation costs, 50% higher procurement costs, 43% higher energy costs including a shortage of raw materials and parts. As a result, 66% of businesses maintain their current business size, another 25% expand their business, another 8% will relocate their bases from other countries to Thailand, and only 1% reduce their business size and relocate their bases from Thailand to other countries,' the Japanese business leader explained.
Mr Kuroda urged the Thai government to look at the overall cost of doing business in Thailand and improve the country's competitive position against its key competitors which are Vietnam and Indonesia, both ASEAN members.
In this respect, he emphasised the importance of exchange rate stability, the development of transport and communications infrastructure, improving the country's defence against flooding and the elimination of red tape and bureaucracy in the civil service. 
He also urged Thai authorities to relax foreign business laws to open up the economy.
Deputy Prime Minister Supattanapong Punmeechaow calls on private firms to take a broad view and work with the government to improve business conditions
In defence of Thailand, Minister of Energy Supattanapong Punmeechaow pointed to Thai interest rates as being at least half other countries in the ASEAN community and also defended the country's electricity costs despite a 21% rise for commercial operators which kicked in this January bringing the unit price of power from ฿4.72 to ฿5.33.
Mr Supattanapong said all aspects of the cost of doing business must be taken into account and highlighted that interest rates in Thailand are less than half those in Vietnam which have risen to 4.5% compared to 1.5% in Thailand.
He admitted that Thai electricity costs were not competitive when compared with Indonesia and Vietnam.
In Indonesia, business rates for electricity are lower than household, the reverse of the current situation in Thailand with a tariff price of ฿2.45 per kilowatt hour or 43% of the rate charged in Thailand.
In Vietnam, the rate is ฿2.88 per unit or 50% of the Thai rate.
'If you think that the Thai policy rate of 1.5% is too high, you have to look at competitors such as Indonesia and the Philippines to see how much the private sector likes to compare electricity costs but not interest rates. We must look at all the costs of doing business and compare them. The part that the government takes care of has already been done. We will invite the private sector to join in discussions as well, not complaining, or asking for help. Looking at the Thai policy interest rate is appropriate. It is not too much of a burden for entrepreneurs.'
Further reading:
Pheu Thai to knock back skyrocketing electricity costs hitting business with a 21% rise in 2023 already confirmed
Former Pheu Thai finance minister expresses unease about US regional moves to counter China's rise
Prayut unveils 3 'R' strategy for a deeper and broader partnership with the US on the economy
US to unveil new economic relations framework for Asia at ASEAN Summit as China warns of new cold war
Thailand and Japan announce defence pact on visit by Japanese PM to Bangkok ahead of US summit
US ASEAN summit as 'dangerous directions' now emerging in Asia as China's regional power rises
US sanctions on Russia part of a 'profound' geopolitical shift to Asia as many US firms leave China
Channel 5 TV rumpus shows Thailand feels the heat in an altered world after the Ukrainian war raised divisions
Russia warns Thais planning fight for Ukraine they will not be treated as enemy combatants under UN treaties
Thailand votes on the right side of history in UN deploring Russian military action in Ukraine
China could be an economic time bomb sitting on Thailand's doorstep as Evergrande collapse nears
UK Foreign Secretary visits Bangkok after AUKUS security pact further raises tensions with China
Trade pact with Hong Kong as Thailand negotiates both Chinese and new western trade relationships
US Ambassador resigns as Biden Presidency starts with growing tensions with China over Taiwan
US move against Thailand on trade is a warning as Thai exports to America boomed in September by over 19%
Thailand's trade agenda may be complicated and thwarted by raised tensions in the Indo Pacific region
RCEP deal agreed as India opts out – busy Bangkok ASEAN summit concludes on a low key
Industry boss urges Thailand to join alternative Pacific trade pact and plan for a long recovery from virus debacle
Chinese FM to visit Thailand in a Covid battered world of raised tensions and potential conflict
Lowering of US flag in Chengdu is a wake-up call for foreigners living in Thailand and with close ties here
US is a better friend for Thailand than China says US ambassador as tensions grow between the 2 powers
Industry boss urges Thailand to join alternative Pacific trade pact and plan for a long recovery from virus debacle
Thailand and US aim for a new more 'proactive' trading relationship as ambassador meets Prayuth
Rice price spike but drought conditions to recede – security concern for the Mekong river
US election will impact investment and moves by US firms from China to Thailand says new American envoy