29-year-old US live streaming star Ice Poseidon or Mr Paul Denino in despair after being charged by police under Thailand's strict pornography laws after a live streaming event at one of Bangkok's most upmarket hotels on June 28th last when, without seeking permission from the hotel's management, he broadcasted a worldwide live stream of himself giving a lapdance to his girlfriend dressed in women's lingerie.
A foreign lawyer in Thailand has warned visitors from Western countries, most especially from the United States, to be wary of excessive use of their first amendment freedom of expression rights in Thailand where they do not legally exist especially when it comes to pornography, obscenity or discussions on sex. It follows the arrest at the end of June of celebrity internet live streamer Mr Paul Denino otherwise known as Ice Poseidon while giving an erotic lap dance to his girlfriend dressed in ladies' lingerie at one of Bangkok's most exclusive and popular hotels for foreign tourists, the Banyan Tree in the prestigious Sathorn area of the capital. This weekend, Mr Denino told fans that he was upset and extremely worried after being charged under Thailand's draconian pornography laws which has meant restrictions on his movement as he faces proceedings before the Criminal Court which could see him facing up to five years in prison if convicted and a judge takes a harsh attitude towards his behaviour before his arrest by police on June 28th last.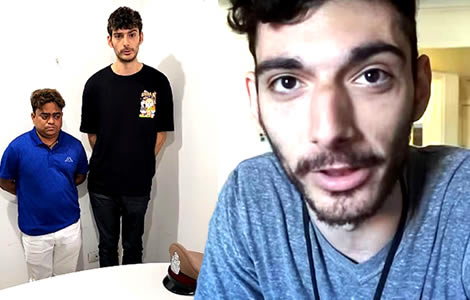 The well-known international online streamer, US-born Ice Poseidon, warned over the weekend that he may not survive life in a Thai prison after it was revealed he could be facing a jail sentence of up to 5 years following his arrest at the end of June at a high-end Bangkok hotel while performing a lap dance for his girlfriend.
The star whose real name is Paul Denino, is facing charges under Thailand's strict pornography law in a country where breaches for obscenity are strictly enforced by the Royal Thai Police despite the Kingdom's international reputation for prostitution. 
Incident took place in a dimly lit exclusive restaurant at the upmarket Bangkok hotel in the Sathorn area as the online celebrity and friends partied
The incident which led to the online star's arrest occurred in the restaurant of the exclusive hotel in the affluent Sathorn area of Bangkok.
The Banyan Tree is particularly popular and well-liked by foreigners visiting the city because of its rooftop restaurant and outdoor dining experience. It is a haven for refined and upmarket travellers to the kingdom.
Korean streamer Hyub 'Hyubsama' and Indian online personality Deepak Lai were among Ice Poseidon's guests at the streamed event broadcast on the international streaming service Kick which is associated with gaming and live streaming across the world. 
The service was only launched in 2022 as a direct competitor to Twitch which is owned by Amazon. 
The lap dance occurred in the midst of what appeared to be a dinner party in the hotel's restaurant.
Mr Denino could be seen wearing women's lingerie but was not naked while he posed erotically in front of his girlfriend Kimberly in the process of giving her a lap dance.
Manager stormed in on the proceedings and upbraided the streaming star about the activity she and her staff had witnessed and recorded on CCTV
The performance ended abruptly when the manager of the hotel stormed in and upbraided the internet star about his activity. 
She insisted that the star and his guests be rounded up by the police and taken to a local police station. 
Reports on the incident suggest that Mr Denino and his guests, including the other internet stars, were taken in a police paddy wagon to a local police station in the area where Denino himself and at least one of his party, believed to be an Indian man of small stature who appeared with him days later a video apology recorded at the station, were photographed for mug shots.
The star and others facing charges relating to the event were interrogated at length by officers who charged them under the relevant legislation. 
They were held at the local police station in Bangkok for several days, with Mr Denino posting the online apology on June 30th.
Star apologised unreservedly for his actions both to the hotel and manager but also to the Thai public for offending the country's culture and traditions
In it, Denino unreservedly accepted responsibility for his actions and apologised to the hotel, its management and staff. He also expressed remorse for offending the country's culture and traditions. 
A video of the incident has appeared online which shows Ice Poseidon astride his girlfriend dressed in women's lingerie and underwear while performing before the party is interrupted by the manager.
'What is this? What happened? I'm the general manager here,' the incensed woman said as she made her way through a small audience sitting around Mr Denino and his girlfriend in the darkly lit restaurant.
'Oh, hey, what's up?' responded Mr Denino.
'So what are you doing now? This is all the policeman 191 and I would like all of you to go to the police station now. If you are doing something like this, it is disrespectful for Thai culture,' she warned.
Denino played down the situation, he appeared not to fully understand the offence caused to hotel staff
'No, we're not doing any of that. No, it's not like that,' the American assured her.
'I see the photo and all of them have CCTV. Alright, well you can check. You will make the police report now, immediately. Can you call now? Yeah. Okay. What are you doing? We have the photo and everything in the record,' the hotel boss replied. 
The manager then noted that she was being filmed but said it made no difference to her.
'Okay, you can filming me. My name is ****, General Manager of Banyan Tree Bangkok. What are you doing if you not respect Thai culture and Thai women?'
Mr Denino again appeared to apologise and appeared somewhat bewildered. 'I'm sorry, I'm sorry. But what, I mean…' he responded.
'You cannot do this in Thailand,' the hotel manager insisted.
Manager insisted that police had to be called
'This is very serious and my manager is woman also. I'm in a meeting with a customer at the rooftop and what are you doing? Can you put it down now or you want to have a case with me?' 
'No, I'm good,' Denino said.
'You can go to police station now. Can you call the police station?' the manager addressed herself to staff, bringing to an end the video clip of the event and the exchange between Denino and the exercised hotel chief who appeared extremely anxious about what had taken place.
The video, captured from the stream and Denino's device, appeared online two days later. 
Denino and at least one other accused individual were held for a number of days at the local police station before issuing an abject video apology
Mr Denino appears to have been held in custody by the Royal Thai Police for some time following his arrest on June 28th.
The next video was published on June 30th and contained an abject apology from the American star and his Indian companion.
The two men were standing in front of a wall in a room in the police station, where Mr Denino outlined their predicament. 
'I'm being held in Thailand for the actions that I've done a few nights ago at a hotel in Bangkok, Thailand. I wanted to make this video to apologise to Ms **** and the Banyan Tree in Bangkok for the actions that I've done. I did not know the severity of the actions that I've caused and I was just trying to have fun, and I'm sorry. We were drunk. We were in a room. I just didn't understand the severity of what I'd done,' he explained. 'I lapped dancing on my girlfriend. And I'm sorry for that. I'm sorry. I did not want to cause any negative actions towards anyone. I didn't want to make the hotel look bad or anything, so I apologise.'
'Our apologies,' echoed his Indian companion at that point.
'I really, I hope for the speedy release of all of us. And thank you,' the steaming star ended his video apology.
Not the US star's first brush with controversy after being banned off streaming service Twitch in 2017 just after becoming famous, over a bomb threat
The incident in Bangkok last week is not Mr Denino's first brush with controversy. 
The American star became popular in 2017 when his internet streams took off and he was named by Rolling Stone magazine as a pioneer live-streamer. 
His initial fame began on the social network Twitch, from which the star was later banned in April 2017 after a video on an aeroplane at Phoenix Airport resulted in a bomb threat, which allegedly was phoned in by one of Mr Denino's fans using his name.
After being banned from Twitch, Denino moved to a social network site called Mixer, which was shut down in July 2020.
The incident in Phoenix aboard American Airlines Flight 458 made national news in the United States and introduced the American streamer to new audiences, albeit under controversial and irregular circumstances.
Foreign lawyer warns visitors to the country to correct their perception. Thailand is not a liberal country where anything goes regarding sexual behaviour
This week, commenting on the case to do with Mr Denino, a foreign lawyer in Thailand, warned visitors to the kingdom that they should always be aware that, despite Thailand's international reputation, the country has a very traditional and conservative culture. 
This is particularly seen in the enforcement of the country's pornography laws by the police. 
The international lawyer particularly noted that many foreign tourists arriving in the kingdom regard the country, quite wrongly, as having a relaxed attitude towards sexuality, something which is certainly not the case.
He referred to an incident in February 2020 in the popular tourist resort of Krabi where immigration officers arrived at a hotel to arrest 31-year American man Roderick Antonio Matthews Jr and his 22-year-old Hungarian girlfriend Kata Barbara Koszo who had overstayed their visas in Thailand.
When the police arrived and knocked at the hotel bedroom, they found the couple in bed and in their room noticed that they were using video recording equipment. 
This resulted in a charge being processed against them for making pornographic movies, which carries severe penalties in Thailand and is consistently enforced by the police, even assiduously against Thai nationals. 
Do your homework on Thailand and be circumspect before getting embroiled with Thailand's quite distinctive legal code and its infamous prison system
The lawyer urged foreigners in Thailand to exercise care and most especially to be circumspect in their dealings with Thai women, warning them that they should refrain from being overly familiar with normal women who are not working in the sex trade and even so, to always be respectful as Thai sensitivities to anything which resembles disrespect for the country's customs and people are particularly heightened. 
He noted that this was especially the case for visitors from the United States, which has a very open culture because of the American First Amendment concerning free speech, which guarantees unparalleled freedom of expression even when compared to European countries. 
The lawyer advised visitors to Thailand to do some research on the issue before travelling to the country, more pointedly, if they are planning an extended stay and close interactions with the people.
The Thai legal code often criminalises disputes and matters which are considered civil matters in Western countries and what may be considered minor or trial in some countries are often serious offences in the kingdom.
There are currently 15,000 foreigners in Thailand's infamous corrections system representing 4% to 5% of the country's large prison population.
Further reading:
Tripadvisor American who smeared a local hotel was already a convicted criminal jailed in the United States
Big tech US website Tripadvisor stings struggling Thai hotels and resorts after acting in bad faith
American teacher learns his lesson following his spiteful campaign against a Ko Chang hotel resort
Meeting between Ko Chang hotel and US guest arrested for defamation set to happen next week to resolve case
American waging a campaign against a Ko Chang hotel shocked as police arrest and jail him for defamation
Fear and confusion in Thailand's tourism industry as near-bankrupt hotels decline foreign tourists
Long stay spenders sought for Thailand's defunct foreign tourism industry with new visa approved
Thais losing ฿8 billion a day in lost tourism with no guarantee of a return to past glory days of old at this point
Crunch time for 2.5 million jobs as government dithers on whether to reopen to foreign tourism this year
VIP jetsetters holidayed in Phuket as government holds up foreign tourism due to local fears until October 31st
Setback for Tourism Minister as Phuket model for foreign tourists put in doubt by an infected inmate
Australian and New Zealand tourists first to return to Phuket in the coming few weeks as a pilot run
Broader opening of Thailand to tourists may be on but only with robust health controls says PM
Tourism is coming back to Phuket with a wave of visitors expected from October in a surprising move
Official says tourists will have to wait until at least after February 2021 to return to Thailand normally
Expats banned and then unbanned from Bangkok Midnight Marathon as Thailand's tourism industry crumbles
New cabinet lineup in Royal Gazette but economic damage now extending into parts of the property market
Warning signs in new banking and employment reports as virus crisis hits Thailand's bottom line hard
Plans to relaunch tourism from China thrown out as conflicting reports emerge of a new swine flu virus threat