The retailer appeared to lose his mind on Tuesday first of all critically injuring his younger third wife and then rushing from the scene to bring her to the local hospital with an extremely serious injury caused by a gunshot to the forehead.
A 38-year-old successful shop owner on Tuesday shot his third wife, a 27-year-old woman, in the forehead out of jealousy after suspecting that she was being courted by another lover in Nakhon Pathom, about 56 km west of Bangkok.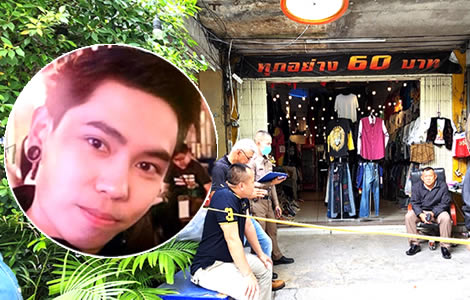 The 38-year-old operator of a popular second-hand store in Nakhon Pathom, Mr Chonkawee Deechan, on Tuesday, was charged with attempted murder and illegal possession of a firearm and ammunition.
It follows the shooting of Mr Chonkawee's third wife at the store on Tuesday which has left her critically injured in hospital.
Police went to the city shop on Tuesday afternoon after a report from the public of a serious shooting
At 4 pm on Tuesday, Police Colonel Chaiyut Insen, the deputy inspector for investigations at Mueang Nakhon Pathom Police Station received a report from the public of an individual being shot in the head and seriously injured. 
The deputy inspector informed his superiors and travelled to the scene with Police Colonel Phupon Thapcharoen, the Superintendent of Nakhon Pathom Police Station.
They were joined by an investigative team and emergency services at the scene.
Police on arrival at the three-and-a-half-storey commercial building found evidence of blood marks at the front of the popular local shop.
Shooter took the victim to the local hospital after shooting her in the head with a 0.38 calibre gun
Mr Chonkawee had already taken the victim, 27-year-old Ms Araya Uamsart, to the local medical facility, Nakhon Pathom Hospital.
Police quickly discovered that the woman had suffered an injury with a .38 calibre firearm being fired at her forehead with a bullet embedded from one shot.
It is understood that the violent incident occurred after a heated quarrel between the pair.
Mr Chonkawee suspected that his third wife was meeting another suitor and thinking of ending their relationship.
Bystanders, including customers who had come to the well-known shop to make purchases, told police that they initially thought the man had lost his mind and noticed that he had blood marks on his arms while testifying that the young woman being carried by him appeared to have suffered a traumatic brain injury.
Shop owner had three wives, 27-year-old Ms Araya was his third. Witnesses told police that, previously, they all got along quite well with each other 
Witnesses told police that it was not customary to see Mr Chonkawee arguing with his wives at the store.
The successful retailer who has an address in the Taling Chan district of Bangkok, has three wives, one with whom he has a child, the second who works with him retailing at the shop and the third, Ms Araya.
Police were told that it appeared up to Tuesday that the three wives and Mr Chonkawee appeared to get on quite well until this calamity.
Medical staff at Nakhon Pathom Hospital are reported to have conducted a scan on Ms Araya's head after admission and found that a bullet was embedded at the back of her skull.
Her condition was described as extremely serious.
Police interviewed second wife who was present
Police are continuing to investigate the case, including reviewing CCTV footage, in particular pictures and video evidence of Mr Chonkawee's actions before and after the shooting, notably when he was seen carrying the victim to hospital. 
It is understood that Mr Chonkawee's second wife was at the scene when the fight erupted and her husband shot his third wife. She has been interviewed at length by police 
The second-hand clothes store is known in Nakhon Pathom for selling an eclectic mix of vintage clothes and has a healthy regular custom.
Further reading:
Bangkok murder probe as jealous schoolboy lover takes his girlfriend's life with a taped pocket knife
Tragedy of a 13-year-old Muslim girl who died on Friday in Bangkok shows need for more women police
Sex drugs found in hotel room of Australian man who died from balcony fall on Tuesday in Phuket
Pattaya bar girl jumps to her death after heated row with her foreign boyfriend on her birthday
Thai girlfriend survives fall from 5th floor condo after heated argument with her French partner
Pattaya bar girl jumps to her death after heated row with her foreign boyfriend on her birthday
'Insane' UK man David Mitchell found praying after tossing his wife over a balcony in Rayong province
Dutchman in Suphan Buri missing from wife with reports of a mystery rendezvous in Uthai Thani province
Police in Phuket await post mortem results after deaths of two elderly westerners last weekend at home