This week sees the Pheu Thai Party beginning the week as a diminished force in Thai politics despite its mission to form a government which insiders say is doomed to fail. So too with its de facto leader, Thaksin Shinawatra, who attended birthday celebrations over the weekend as the guest of Cambodia's authoritarian strongman and ruler Hun Sen who has openly mocked political groupings pursuing full democracy in Thailand. The country is facing a deepening crisis as efforts by the conservative establishment to use the unelected Thai Senate to dictate the makeup and formation of the next government after the May 14th General Election grow stronger and more distorted.
Prescient political activist and anti-corruption campaigner Chuwit Kamolvisit who this week announced that he may have only eight months to live, is predicting that Thailand's next Prime Minister will be 78-year-old General Prawit Wongsuwan who will be elected at the end of August after several further votes in parliament and the failure of the Pheu Thai Party to form a government.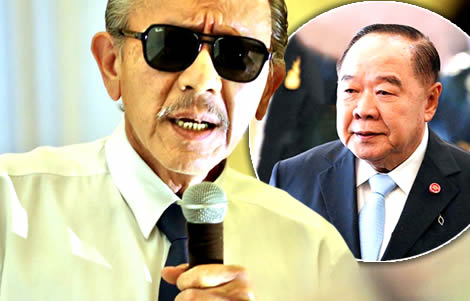 On Sunday, whistleblower and truth activist Chuwit Kamolvisit predicted that there will be at least two rounds of voting to elect Thailand's 30th Prime Minister saying that the final vote will come sometime at the end of August.
Mr Chuwit predicted that Thailand's next Prime Minister will be the leader of the Palang Pracharat Party, General Prawit Wongsuwan, the current Deputy Prime Minister and one of the three brothers in arms associated with the 2014 coup d'etat in Thailand.
General Prawit celebrated his 78th birthday this weekend dressed in jeans and casual clothes and was feted by well-wishers.
It is predicted that the former Commander-in-chief of the Royal Thai Army will be elected with a resounding vote with a majority in both the House of Representatives and Senate behind his nomination when it comes to the floor of parliament.
Thailand is in a full-blown political crisis which last week saw the Pheu Thai Party wipe out over twenty years of political capital and public support
Chuwit has proved himself to be accurate in his predictions concerning what has now become a full-blown political crisis in Thailand which has severe long-term implications following the effective scuttling of the Pheu Thai Party by its own hand last week when it turned its back on its democratic ally the Move Forward Party after signing a Memorandum of Understanding for a 'Government of Hope' on the 22nd May 2023.
As a result of that decision, political analysts accept that the Pheu Thai Party has cut itself a drift from its faithful support base and may have wiped out over 20 years of political capital achieved by the Shinawatra family since ex-Prime Minister Thaksin Shinawatra came to power in 2001 and kept alive through series of movements and political parties after the 2006 and 2014 coup d'états.
As another week in Thai politics dawns, the Shinawatra family and Pheu Thai begin it as a spent force in politics, a shadow of what they were before last week's disastrous decision to break ranks with the Move Forward Party.
Thaksin's appearance at a celebration of dictatorship in Cambodia this weekend did not help his deteriorating popularity and public image in Thailand
The appearance of Mr Thaksin and his younger sister, former Prime Minister Yingluck Shinawatra this weekend at the birthday celebrations of Cambodia's strong man Hun Sen just weeks after a corrupt and sham General Election in that kingdom and the proposed transition of power from Hun Sen to his heir and son, General Hun Manet, currently the Commander-in-chief of the Cambodian Armed Forces, further taints the image and reputation of Mr Thaksin as a democratic political figure after last week's revelations of backroom deals linking his controversial return to Thailand with the formation of a government.
Mr Thaksin was seated next to General Hun Manet at the dinner held for the Cambodian leader.
The close personal friendship of both Mr Thaksin and his association with an authoritarian dictator shows how out of touch the ex-premier has become with the attitudes and aspirations of young Thai people which after last week, now also includes a growing number of the older generation, many of them former Pheu Thai Party supporters and voters.
Chuwit this week criticised Thaksin's actions in recent days but understood the former Prime Minister's anxiety and urge to return home
On Thai TV, this Sunday, Mr Chuwit was highly critical of Mr Thaksin's actions over the last few weeks, although he consistently points out that he understands the pressures and forces that the former prime minister is under. 
Mr Thaksin is 74 years of age and it is reported widely that he is anxious to be reunited with his family in Thailand after going into self-imposed exile in July 2008 to avoid a prison sentence, one of four, subsequently handed down by Thai courts relating to fraud and corruption.
Last weekend, Chuwit predicted that Mr Thaksin would postpone his return to the kingdom, which had been scheduled for Wednesday the 10th of August. 
His pronouncement was quickly criticised by Mr Thaksin's daughter and Pheu Thai Party prime ministerial nominee, Paetongtarn Shinawatra, or Ung Ing, who, on Saturday the 29th July, described Mr Chuwit's claims as delusional. 
However, in the course of the last week, the 72-year-old former massage parlour boss and colourful politician was again proved correct when Mr Thaksin, despite Pheu Thai Party denials, confirmed that his return to Thailand had been postponed citing the need for a medical examination.
Thaksin received a danger signal while negotiating with conservative elements in the last few weeks
Over the weekend, Mr Chuwit dismissed this explanation and suggested that Mr Thaksin had received a danger signal in his ongoing negotiations with power brokers who are believed to be linked with the Conservative parties, chief among them the Palang Pracharat Party which came in fourth in the May 14th General Election with just 40 seats in Parliament, many of those seats being comprised of constituency MPs elected with particularly strong personal support bases.
It is understood that this was related to General Prawit's political future and a manoeuvre last week which saw him resign from the leadership of the Palang Pracharat Party and then his immediate reelection to the role.
General Prawit is a cabinet minister in the current government without a portfolio but is a Deputy Prime Minister with oversight of state security.
In opinion polls, before the May 14th election, the Palang Pracharat Party and its leader General Prawit, only polled 1% in national surveys and appeared to be facing a wipeout. 
Pheu Thai will fail in its efforts to elect a Prime Minister says Chuwit Kamolvisit and will be forced to hand over the mantle to the Bhumjaithai Party
A National Institute of Development Administration (NIDA) opinion poll in Bangkok, in March 2023, did not even show General Prawit in the top ten in terms of popularity to become prime minister with less than 1% support.
Mr Chuwit's prediction came on a guest appearance on 'Saturday and Sunday news hours' on Thai PBS television in which he predicted that the Pheu Thai Party would fail in its efforts to have Mr Srettha Thavisin elected as the prime minister 
It follows allegations against his property development company of what might be considered legal tax avoidance and reports that many upper house members or senators are concerned about his position on Article 112 of the Criminal Code relating to lèse-majesté which he proposed to amend while campaigning up to the May 14th poll.
Chuwit promises further revelations dealing with the tax affairs of Srettha Thavisin's huge property firm on Monday including a government document
Mr Chuwit promised to reveal further evidence against Mr Srettha's firm on Monday including a government document to support his claims linked to the purchase of land which appeared to show that an elaborate although legal scheme to avoid paying in excess of ฿520 million in taxes to the exchequer on land purchased by Mr Srettha's property development firm.
However, during the week the Sansiri Public Company, in defence of its good name and Mr Srettha's, made it clear that any property transactions conducted by the company were both fully legal and above board.
The firm pointed out that responsibility for tax reporting in connection with the transactions lay with the seller and not the purchaser of the property concerned.
The revelations mean that Mr Srettha's nomination as prime minister, when it eventually comes to Parliament after the Constitutional Court has resolved a case referred to it by the Ombudsman over proceedings on July 19th, when the renomination of Mr Pita Limjaroenrat of the Move Forward Party was blocked by parliamentary regulation and a subsequent vote ordered by the Parliament's President, Mr Wan Muhamad Noor Matha, is likely to be fraught with difficulty. 
Senators, including Senator Jadet Insawang, predict that Srettha's nomination faces a rocky passage in parliament, questions over tax and Article 112
Senators speaking to the media this week have gone on record to suggest that they believe Mr Srettha will face stiff opposition to his nomination for the role.
They noted it was the duty of senators to ensure that any prime minister elected to the job was in keeping with Section 160 of the constitution which specifies that any government leader must be a person with evident honesty while exhibiting ethical behaviour and a high standard of probity.
This week, various senators referred to the revelations revealed in a series of press conferences by Mr Chuwit, detailing the controversial land purchases, which appeared to have been orchestrated in repeated transactions between the purchaser and the seller of the land.
Speaking to the media on Tuesday, last Senator Jadet Insawang who has long advocated the need for a Thai Prime Minister committed to protecting the Monarchy or the country's highest institution, said that any proceedings in Parliament to elect Mr Srettha as prime minister would have to see a debate in which Mr Srettha would put forward his vision for the role.
He foresaw a heated debate on the floor of Parliament and great difficulty in Mr Srettha obtaining the votes required, effectively killing off the businessman turned politician's ambitions before ever holding office.
Chuwit says he is dying, may only have eight months to live. Wishes to carry on his crusade against corruption and organised crime activity in Thailand
In the course of his revelations last week, Mr Chuwit revealed that he had terminal liver cancer, which had now escalated to Stage Four or the final stage, with the growth entering other organs of his body.
Chuwit said doctors had given him eight to fifteen months to live.
At the commencement of one of his colourful briefings to the media last week, he told reporters that he had just come from a chemotherapy session at a local hospital and went on to explain that he was dedicating the remainder of his life left to reveal the truth about current affairs in Thailand and particularly towards a mission he honed successfully last year, of exposing criminality and corruption.
Mr Chuwit told reporters that this activity gives him great satisfaction and inner peace in his last days.
Sources within the Palang Pracharat Party have all along suggested that General Prawit harbours ambitions at a later stage in this political power game
His revelation, on Sunday, that General Prawit may be Thailand's next Prime Minister has been echoed by sources close to the Palang Pracharat Party since June. 
In recent weeks, the Secretary General of the party, Captain Thamanat Prompow, did not dismiss out of hand the prospect of General Prawit emerging eventually as Thailand's 30th Prime Minister.
He suggested, however, that he would not be nominated in the immediate term, while not ruling out his party leader's nomination at a later stage, as the political process plays out. 
Many commentators have compared this process to a political dance.
Pheu Thai on Saturday described its government formation efforts as in a state of crisis as the party finds itself dangerously exposed after last week
With news from the Pheu Thai camp on Saturday where its efforts to form a new government were described by party officials as in a state of crisis, the party finds itself without the support of two smaller parties to the Eight Party coalition in addition to the Move Forward Party which has the largest number of seats in parliament. 
The plan that was hastily shelved by the Constitutional Court's surprise intervention on Thursday was for a technical government without the Palang Pracharat and United Thai Nation (Ruam Thai Sang Chart) parties associated with the former military figures linked with the 2014 coup, ginving it 264 MPs in an alliance with smaller parties, the Bhumjaithai Party and the Democrat Party.
However, there is a consensus that this proposal is one of political convenience with a general acceptance that the door is open to the two more conservative parties to enter its government while at the same time running the gauntlet of the Thai Senate or Upper House which is understood to be controlled by either General Prawit Wongsuwan or the Prime Minister General Prayut Chan ocha having been hand-picked and appointed in the days after the parliament met in May 2019.
This plan will ultimately never be put to the test however as the conservative agenda is for the Pheu Thai Party's convoluted efforts to fail due to lack of Senate support in any event.
Senate which was handpicked and installed as an unelected body on the 28th of May 2019 has completely distorted the result of the May 14th poll
The Thai Senate, currently in session, was appointed on the 28th of May 2019, just days before Parliament met to elect General Prayut Chan Ocha as Prime Minister.
The voting power of the Thai Senate associated with the appointment of a Prime Minister, however, expires on May 11, 2024, some 5 years after Parliament first met under the 2017 Constitution, which is significant under Section 272 of that charter, as it is the date which automatically sees its power cut off in this respect.
It is being predicted by Mr Chuwit and other political analysts, however, that Pheu Thai will ultimately fail in its efforts to elect a prime minister and has now found itself without the support of its former coalition ally, the Move Forward Party as well as the Thai Sang Thai Party and the Thai Fair Party.
Top Move Forward Party leaders urge all democratic MPs to wait until May 2024 to elect a new PM, seen as ultimately less damaging for the kingdom  
It is now dealing with parties associated with the outgoing government, having appeared to burn its bridges with the democratic alliance where key Move Forward leaders such as MP Wiroj Lakkhanaadisorn have openly advocated a prolonged caretaker government until May 2024 as the least damaging alternative for the kingdom given the potential political instability and international opprobrium caused by the distortion of the results of the May 14th General Election through the influence of the Thai Senate.
At some point, however, despite its concession to political expediency, the situation will warrant the Pheu Thai Party relinquishing its power to form a government to the third-placed Bhumjaithai Party.
At that time, it is expected to invite General Prawit Wongsuwan to become Thailand's 30th Prime Minister with the Pheu Thai Party making up a coalition of more traditional parties while relegating the Move Forward Party to the opposition benches. 
Further reading:
Political crisis deepens as Court takes up petition, voting on PM off until at least August 16th next
Pheu Thai gives Move Forward the boot, promises a new Constitution and another General Election
Fate of Thaksin linked to political fate of the kingdom as Chuwit predicts his return deal is off at this time
Fears grow that Thaksin has become a pawn for conservatives to break the 8 party democratic pact
Prime Minister, business leaders oppose strategy to countdown the clock on the Senate's power
PM votes suspended indefinitely as Constitutional Court asked to review last vote in parliament
Pheu Thai meets Anutin as Move Forward's Pita turns up the pressure on its conflicted leaders
Former police chief and political leader says Move Forward must sacrifice itself for the country
Anutin waits for the call from Pheu Thai but will not treat with Move Forward over its policies
Pheu Thai to install Srettha as Prime Minister by forming a coalition pact with government parties
Pita suspended as an MP and loses renomination attempt in parliament as Senate blocks his path
Tide going out in parliament for Move Forward as it faces being axed or sidelined from real power
US expresses concern about the democratic 'will of the people' as tension mounts over legal case
Senators to the fore as tide favours a conservative fix to install a more mature next government
Thailand is facing a deep political crisis as Pita loses key vote and top court takes up complaints
Plan is to rally parliament behind the people's will to elect Pita Limjaroenrat as Prime Minister
Move Forward leader says Pita will be PM despite the rumour mill and some vociferous senators on the right
Pheu Thai may face a terrible dilemma as outgoing government parties still aim for power in PM vote
Wan Noor elected unopposed as House Speaker, Move Forward Party nominee for deputy wins vote
King and Queen open parliament amid uncertainty as to Tuesday's vote on the Speaker of the House
Breakthrough deal could see either Pita or Srettha take job as Thailand's 30th PM on July 13th
PM's soothing words for frayed nerves as he says he will continue his role up to the next cabinet
Baht falls to 7-month low as unease grows over chances of Pita Limjaroenrat being elected as PM
New PM in July a turning point for the Thai economy in 2023 which could still see 4% GDP growth recorded
Pita's election as PM and political certainty would be a green light for new jobs and investment
79 new MPs face scrutiny as Election Commission says only 321 to be declared elected on June 21st
Way cleared for Pita's election as PM but seeds sown for political conflict with criminal probe under poll law
Dangerous political flux in the aftermath of the General Election is growing and poses a threat
Pita shares cast a pall over historic May 14th Election, fears that the results may be nullified by a court
Compromise mooted between Pheu Thai and Move Forward on House Speaker job before key meeting
Kooky Palang Pracharat reports rejected on Tuesday by Prawit as Pheu Thai stands by Pita for PM
Move Forward's 'Government of Hope' coalition delivers a programme promising a new charter
Jatuporn warns Pheu Thai may be turned as he predicts a political impasse. Should wait for 2024
Election vote for Move Forward may have been a cry for help from voters mired in short-term debt
Pita, Move Forward and eight other parties meet in Bangkok and come out smiling, ready to govern
Pita plots a new coalition government with Pheu Thai but open conflict has already raised its head in the Senate
Move Forward Party's good election result leaves uncertainty as to who will form the government