It appears that the men with the political aces who can open the door for the Pheu Thai Party are both deputy prime ministers in the outgoing government. They can supply the MPs needed for a majority in parliament and a clear passage through the Senate. They are Deputy Prime Minister Prawit Wongsuwan and Anutin Charnvirakul of the Palang Pracharat and Bhumjaithai parties respectively. The two parties which only polled 4% between them in the party list national vote on May 14th now find themselves as indispensable power brokers to an eight-party coalition that achieved 75% of the votes in the same poll.
Bhumjaithai Party leader Anutin Charnvirakul has revealed that the Pheu Thai Party has yet to approach him about joining their coalition to elect Srettha Thavisin as Prime Minister on July 27th next but has made it clear that his party will not do business with the Move Forward Party because of its controversial policy on lèse-majesté. Deputy Prime Minister Anutin, in a speech last weekend, blamed the Move Forward Party for importing divisive identity politics into Thailand and called for a more balanced and centred government.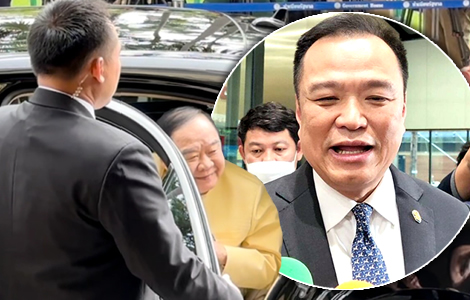 In the aftermath of Wednesday's double blow to the ambitions of Mr Pita Limjaroenrat to become Thailand's 30th Prime Minister, the political future of the country appears to be in the hands of Deputy Prime Minister Prawit Wongsuwan, the leader of the Palang Pracharat Party and Bhumjaithai Party leader Mr Anutin Charnvirakul.
The reason for this is the distortion of power in parliament brought about by the involvement of the unelected Senate of 250 members in the vote for Prime Minister under the controversial Section 272 provision of the 2017 Constitution which has effectively blocked the eight-party coalition's efforts to elect the next Prime Minister.
Both parties as well as the Chart Thai Pattana Party and the current coalition excluding the Move Forward Party would give a new government 282 MPs in the House of Representatives and an open door from the Senate.
Both government parties made up of MPs elected with strong constituency bases defying national trends
Both current government parties control just over 20% of seats in the House of Representatives and won 27% of constituency-level seats in the May 14th General Election despite polling only 4% in the separate party list ballot, a separate national poll and a result consistent with major opinion polls before the election.
In contrast, the eight-party coalition with Move Forward and the Pheu Thai parties achieved 75% of the votes nationally.
The reason for this anomaly may well be the fact that the MPs in both parties have their own strong constituency bases which help the party defy national trends.
It is understood that the Pheu Thai Party is now contemplating bringing these parties into its coalition to support Mr Srettha Thavisin's nomination as Prime Minister on July 27th next which will effectively mean having to jettison its alliance with the Move Forward Party which has been in place since after the May 14th election results came in. 
Pheu Thai sources since Tuesday have been briefing that it must lose the Move Forward Party to find a viable path to power under current conditions
Sources within the party have been briefing the media on this while oblique statements by key Pheu Thai leaders also confirm this political reality which will leave the Pheu Thai Party dangerously exposed.
Deputy Prime Minister Anutin, on Thursday, was quick to point out that his party has not yet been approached by Pheu Thai about forming a coalition and when asked by reporters, Anutin repeatedly stated that his party's position regarding the Move Forward Party was clear, meaning implacable.
That appears to be associated with the radical and more progressive party's principled commitment to its plans to reform Article 112 of the Criminal Code relating to lèse-majesté.
In spite of this, on Tuesday and Wednesday, there were some interesting glimpses as to what is exactly going on in both government parties and key players, all believed close to Deputy Prime Minister Prawit Wongsuwan, who is known to wield a strong influence over the Senate, many who are known to the senior figure who commands respect at the higher echelons of government.
Anutin's speech to Rotary meeting in Bangkok last weekend called for a balanced government and a new era for politics in Thailand of the centre ground
Deputy Prime Minister Anutin gave a speech last weekend where he made his political views clear by suggesting that what Thailand needs right now is a balanced and nuanced government representing the centre ground.
In his speech to businessmen in Bangkok, Mr Anutin appeared to decry the modern identity politics being imported into Thailand by the Move Forward Party, which is seen by traditional Thai politicians as beyond the pale and the stance on Article 112 as brazen leaving it, justifiably, open dissolution.
On July 13th, in Parliament, on the day Mr Pita's nomination was rejected by a joint session of parliament, Bhumjaithai Party MPs were to the fore in defending Article 112 on lèse-majesté, most notably, Uthai Thani MP Chada Thaiseth who made a striking contribution in which he suggested that a new law be introduced in the country to allow people to shoot those who defame the monarchy without any fear of being prosecuted or going to jail. 
Colourful Bhumjaithai Party MP from Uthai Thani called for Article 112 offenders on lèse-majesté to be shot and an immunity law for those taking action
In the aftermath of his colourful parliamentary speech, Mr Chada has become a celebrated and feted figure in conservative circles for his robust contribution to the debate while information from the National Anti-Corruption Commission (NACC) has revealed that the MP is quite a wealthy man with total assets of ฿147 million.
On Saturday last, Deputy Prime Minister and leader of the Bhumjaithai Party Mr Anutin, gave further insight into his party's position at this time in Thai politics. 
He was speaking at an event in Bangkok.
The Bhumjaithai Party, he pointed out to his audience, increased the number of MPs returned to the House of Representatives in the May 14th General Election, and now commands the support of 71 MPs.
Mr Anutin was speaking at a banquet held in the Lumpini area of Bangkok for the Rotary Club of Bangkok South.
Anutin said identity politics pits the young generation against the older generation and this is wrong
He appeared to take issue with the politics being peddled by the Move Forward Party which he described as identity politics which pitted the older generation against the new generation and was also, according to Mr Anutin, causing conflict within Thai families.
He blamed the rise of the Move Forward Party for recent controversies in schools where disputes have arisen between teachers and students, particularly concerning Thailand's strict uniform dress code, with some students in recent weeks refusing to abide by the requirements from schools and consequently being locked out. 
'In the last election, the Bhumjaithai Party succeeded in gaining 40% more seats than before. Most of them were our former party MPs. However, we realised from the voices of the people in this election that they wanted to see change. Today's political context has new conflicts arising from the conflicts of colour. It has now developed into a conflict between the people and the military dictatorship. This has continued with the liberal and conservative dichotomy and most recently, new approaches have been introduced in a campaign which has created identity politics in Thailand to divide people into groups,' explained Deputy Prime Minister Anutin.
Country is at a turning point and must find a balance, Deputy Prime Minister Anutin told his audience
He said that Thai politics was at a turning point and that at this current time what it needed was to find a balance.
Concerning the current political stalemate, he ruled out the possibility of a minority government being formed without the support of a majority of MPs in the House of Representatives.
This has been a common refrain from parties of the establishment during the week including pronouncements from the Palang Pracharat Party led by Deputy Prime Minister Prawit Wongsuwan who has been rumoured as a potential prime ministerial candidate in the weeks ahead.
Controversial former junior Minister of Agriculture Captain Thamanat Prompow hints at what is happening and appears supportive of Srettha Thavisin
Speaking to reporters on Tuesday, his close political associate, Captain Thamanat Prompow, denied news reports that General Prawit will be nominated as prime minister imminently, saying that the time may not be right yet for such a move.
The wily political operator did appear to give a warmer response to the possibility of the Palang Pracharat Party supporting Pheu Thai ministerial nominee Srettha Thavisin for the role, saying that the Palang Pracharat Party was committed to transcending conflict politics in Thailand.
Again, Captain Thamanat denied that the Palang Pracharat Party would either propose or support any proposal which may result in a minority government.
He reiterated this point several times as he refused to be drawn on the political future of General Prawit, who appears to be in buoyant spirits as he left the cabinet on Tuesday.
Now is a time for political manners
Captain Thamanat told reporters that now is a time for political manners and that his party would act when the time was right.
He said this was the proper way to approach such situations.
The wealthy Phayao MP with an asset listing just released at over ฿1 billion who is being tipped to become Chairman of the Palang Pracharat Party, also, significantly, suggested that the political stalemate in the kingdom will be broken in the next week.
Reporters then questioned Captain Thamanat on the possibility of political chaos that may follow the removal of Mr Pita from Thai politics saying that Thai people have in the past shown a capacity to come back to love each other.
He said from his political experience he believes that this is so.
Further reading:
Pheu Thai to install Srettha as Prime Minister by forming a coalition pact with government parties
Pita suspended as an MP and loses renomination attempt in parliament as Senate blocks his path
Tide going out in parliament for Move Forward as it faces being axed or sidelined from real power
US expresses concern about the democratic 'will of the people' as tension mounts over legal case
Senators to the fore as tide favours a conservative fix to install a more mature next government
Thailand is facing a deep political crisis as Pita loses key vote and top court takes up complaints
Plan is to rally parliament behind the people's will to elect Pita Limjaroenrat as Prime Minister
Move Forward leader says Pita will be PM despite the rumour mill and some vociferous senators on the right
Pheu Thai may face a terrible dilemma as outgoing government parties still aim for power in PM vote
Wan Noor elected unopposed as House Speaker, Move Forward Party nominee for deputy wins vote
King and Queen open parliament amid uncertainty as to Tuesday's vote on the Speaker of the House
Breakthrough deal could see either Pita or Srettha take job as Thailand's 30th PM on July 13th
PM's soothing words for frayed nerves as he says he will continue his role up to the next cabinet
Baht falls to 7-month low as unease grows over chances of Pita Limjaroenrat being elected as PM
New PM in July a turning point for the Thai economy in 2023 which could still see 4% GDP growth recorded
Pita's election as PM and political certainty would be a green light for new jobs and investment
79 new MPs face scrutiny as Election Commission says only 321 to be declared elected on June 21st
Way cleared for Pita's election as PM but seeds sown for political conflict with criminal probe under poll law
Dangerous political flux in the aftermath of the General Election is growing and poses a threat
Pita shares cast a pall over historic May 14th Election, fears that the results may be nullified by a court
Compromise mooted between Pheu Thai and Move Forward on House Speaker job before key meeting
Kooky Palang Pracharat reports rejected on Tuesday by Prawit as Pheu Thai stands by Pita for PM
Move Forward's 'Government of Hope' coalition delivers a programme promising a new charter
Jatuporn warns Pheu Thai may be turned as he predicts a political impasse. Should wait for 2024
Election vote for Move Forward may have been a cry for help from voters mired in short-term debt
Pita, Move Forward and eight other parties meet in Bangkok and come out smiling, ready to govern
Pita plots a new coalition government with Pheu Thai but open conflict has already raised its head in the Senate
Move Forward Party's good election result leaves uncertainty as to who will form the government