Key hurdle to forming the next government is the ability of eight party coalition and its supporters in parliament to find 376 seats in a July 13th vote by a combined sitting of both houses in a joint session. However, the inability of the two key coalition partners, the Move Forward and Pheu Thai parties to agree on the next House of Representatives Speaker is becoming an equally disturbing factor to external observers.
Prime Minister Prayut Chan Ocha has confirmed he will stay on as caretaker in the role as long as required while a new government is being formed and until a new cabinet is sworn in. The PM told reporters that it was not possible to know if the process of forming the next administration would be completed in line with a schedule set out in the last week or not because the process was a political one. He urged the public and the country at large to stay calm and positive, warning that a political crisis was something Thailand can ill afford.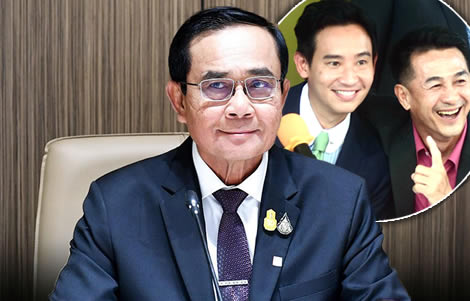 On Thursday, Acting Prime Minister Prayut Chan ocha told reporters that it was difficult, at this point, to predict whether the formation of the next government will be a slow or fast process.
He told reporters that the process was a political one and that, in the meantime, the caretaker government led by himself would perform its duty.
Business sees a smooth transition to a new government as critical to presenting Thailand as a stable democracy as instability threatens the economy
It comes as the business community, political leaders and the public at large grow anxious about the challenges and hurdles being raised to electing the next prime minister and cabinet under the current constitutional and legal provisions.
The PM urged everyone involved to look at things positively and thanked all concerned for the election on May 14th and the ongoing process leading to the opening of parliament and negotiations towards finding a new government.
General Prayut said that he will remain as acting Prime Minister until the day the new Cabinet is sworn in.
Under the current timetable laid out by Deputy Prime Minister Wissanu Krea-ngam, the outgoing government's key legal advisor, the election for Prime Minister will take place on July 13th with an election scheduled in the House of Representatives for the day after Parliament opens on Saturday next July 4th, to elect its new Speaker.
Conflict between Move Forward and Pheu Thai parties over the House Speaker is drawing out and proving to be more intractable than observers had thought
This is currently a source of conflict which is being discussed between the two main political parties to the proposed new coalition government, the Move Forward and Pheu Thai Party groupings who have, as of yet, failed to reach a compromise on the issue. 
At the end of May, a compromise was being talked about but it appears that both significant parties to the eight-party coalition have dug their heels in on the issue.
Outgoing PM urges calm and less pressure
On Thursday, General Prayut urged the nation to be calm at this time and said he was pleased with the way the democratic process is unfolding despite the tensions.
He said that the goal of avoiding a political crisis was an important one right now.
'I congratulate everyone and every party asking for help to make the country peaceful, orderly and safe while adhering to the three main institutions, the nation, religion and monarchy. Because we are Thailand. There are many things that are different from other countries. I must review things on an ongoing basis. I don't want any problems. I don't want to delay it for too long and have a negative effect. We have a chance. Don't cause a crisis because there will be no benefit whatsoever. Please consult and discuss well, get a good government,' urged General Prayut.
According to the current projected schedule, a new cabinet should be sworn in on July 21st.
Caretaker government will remain in place until a new cabinet is appointed by a newly elected Prime Minister which will require 376 votes in parliament
This is all of course conditional on a joint sitting of the House of Representatives and Senate which must elect a new prime minister with more than 376 votes when it meets mid-month with the Move Forward Party's Mr Pita Limjaroenrat the most likely figure to emerge as government leader. 
Former United Front for Democracy against Dictatorship leader Jatuporn Prompan, in the aftermath of the General Election, urged the coalition to wait until May 2024 when the upper house of Senate will lose its right to vote in parliament on Thailand's next Prime Minister under the 2017 Constitution.
However, subsequently, Deputy Prime Minister Wissanu Krea-ngam warned that such a gambit may not be practical and is likely to be challenged legally.
On Thursday, General Prayut made it clear that no matter how long it took he would remain in situ as the acting Prime Minister.
The PM, who was asked by reporters if he would be nominated by the United Thai Nation (Ruam Thai Sang Chart) Party as its Prime Ministerial nominee when Parliament meets on July 13th or if he would accept a nomination from the Senate, rejected both proposals saying that the votes were not there for such a move and that he now regarded himself as the outgoing Prime Minister leading a caretaker government.
Further reading:
Baht falls to 7-month low as unease grows over chances of Pita Limjaroenrat being elected as PM
New PM in July a turning point for the Thai economy in 2023 which could still see 4% GDP growth recorded
Pita's election as PM and political certainty would be a green light for new jobs and investment
79 new MPs face scrutiny as Election Commission says only 321 to be declared elected on June 21st
Way cleared for Pita's election as PM but seeds sown for political conflict with criminal probe under poll law
Dangerous political flux in the aftermath of the General Election is growing and poses a threat
Pita shares cast a pall over historic May 14th Election, fears that the results may be nullified by a court
Compromise mooted between Pheu Thai and Move Forward on House Speaker job before key meeting
Kooky Palang Pracharat reports rejected on Tuesday by Prawit as Pheu Thai stands by Pita for PM
Move Forward's 'Government of Hope' coalition delivers a programme promising a new charter
Jatuporn warns Pheu Thai may be turned as he predicts a political impasse. Should wait for 2024
Election vote for Move Forward may have been a cry for help from voters mired in short-term debt
Pita, Move Forward and eight other parties meet in Bangkok and come out smiling, ready to govern
Pita plots a new coalition government with Pheu Thai but open conflict has already raised its head in the Senate
Move Forward Party's good election result leaves uncertainty as to who will form the government
Move Forward leader denies claims he held shares in media company barring him as a Bangkok MP
Leader of PM's UTN tells rally a government led by his party will 'get tough' with nation haters