The accused told police she acted as a go-between, using the social media page to attract customers. She admitted she was the administrator of the X page while only charging ฿200 on each referral while operating herself as a sex worker catering to clients.
Thai police in Phichit this week closed down a sex-for-sale service being operated on the social network site X by a 19-year-old woman who was hiring out prostitutes, some under 18 years of age, while charging a ฿200 commission on each referral.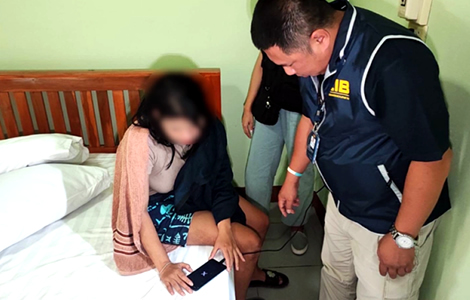 The Central Investigation Bureau on Sunday arrested a 19-year-old woman for operating a sex trafficking service on the social network Twitter, now known as X.
At length, the sex hire service operated within the environs of Phichit province in north central Thailand, approximately 330 kilometres north of Bangkok. 
A Central Investigation Bureau (CIB) police unit conducted an undercover sting operation which targeted the accused through her X social media page
This week, case details were given to reporters by the Human Trafficking Suppression Division of the Investigation Bureau headed by Police General Jiraphat Phuridet. 
Officers conducted a sting operation targeting the woman for arrest.
Further to this, undercover officers arranged an assignation with one of the sex workers available through the X social network page at a hotel resort in the Khlong Kachen Subdistrict of Mueang District in Phichit province. 
At the same time, the 19-year-old, identified by police officers as Ms Nong, arrived at the hotel room with a 17-year-old in hand who had been chosen by a police officer working undercover acting as a customer.
Accused sent customers online profiles and photos from which to choose with a charge of ฿1,200 before a rendezvous was arranged at a local resort hotel
Firstly, the page and account came to the attention of investigating officers, as it appeared to advertise a prostitution service where customers could make contact and be sent photographs of sex workers, many of them under 18 years of age, from which to choose.
This was confirmed in online communications between the police unit and the accused. 
The 19-year-old woman was arrested on charges of human trafficking through the illegal exploitation of others for prostitution, being in the 'business of procuring, buying, selling, distributing, bringing forth from any place, confine or arrange to receive a child over 15 years of age but under 18 years of age, to satisfy the desires of others.'
It is understood that the girl brought by the 19-year-old to the rendezvous at the hotel resort was 17 years of age.
She was taken into custody when police moved after the undercover police officer paid over ฿1,200, which was the agreed-upon price for the sexual assignation.
Girl under 18 years of age from Phitsanulok rescued from the scene of the arrest and handed over to social services, woman faces legal prosecution
Social Development and Security Ministry officials working in Phichit Province were at the scene with arresting officers. 
At length, it emerged that the young sex worker originated from Phitsanulok province in lower northern Thailand.
Afterwards, the 19-year-old service operator was taken into custody and interrogated by police.
She told investigators she was the sole operator of the X social network page offering sex for sale and acted as the administrator of the social network service. 
Accused was also a prostitute
She acted as a go-between between young women and clients seeking prostitution services in the local area.
At the same time, police have revealed that the arrested 19-year-old also works herself as a prostitute. 
Accordingly, she farmed out work to others registered with her service, telling investigating officers she charged only ฿200 on each transaction.
She was later handed over to the Crime Suppression Division of Police Region Division 4 for prosecution.
Further reading:
Biggest Sex for Sale website shut down by police unit in early morning raid targeting foreigners
Swiss man on the run abroad after underage sex ring and bar in Phuket is shut down in police raid
New 'Green' future for tourism in Phuket as officials crack down on prostitution on the island
Freak death of Kyrgyz woman in Pattaya linked to Chinese gang who forced her into prostitution
Child prostitution gang that ran a sex racket that terrorised children smashed by armed police
Calls to legalise prostitution in Thailand after Pattaya sex raid on Walking Street this week
Police probe high-end Thong Lor club prostitution links and may call in the owners for questioning
Record year for Thai tourism but not so good for Thailand's bar girls and luxury hotels as market has changed
Police raid on prostitution bar in Udon Thani linked with serving policeman and his Thai wife
Activist slams Air Asia ad campaign in Australia that she claimed promoted Thai sex tourism at Aussie blokes
Thai police raid a sex for sale hotel in Loei province staffed by Laotian women working as prostitutes