48 year old who, it now appears, was embarking on another career in crime, having served time for human trafficking in Taiwan, gave his life for the fake dollars and counterfeit supplies contained in the two safes early on Thursday morning.
On Monday, at Bang Na Police Station, investigators working on the murder of Taiwanese national Mr Chu Chiang Chen discovered that the victim in the case may well have been involved in international counterfeiting, having previously been convicted of human trafficking and serving time in prison in Taiwan. The revelation came after police opened two safes kept in the man's hotel bedroom which he clearly did not allow to be opened by his attackers early on Thursday morning last, something that may have cost him his life as he appears to have been later beaten to death.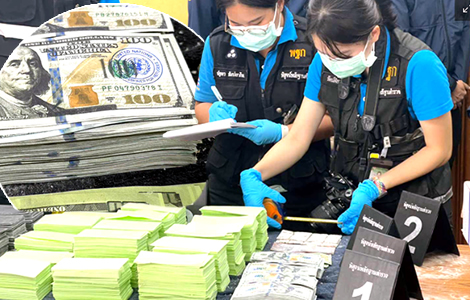 Thai police working on the murder investigation of 48-year-old Taiwanese national Mr Chu Chiang Chen, on Monday, made a startling discovery when thousands of counterfeit dollar bills and equipment were found in two safes located within the deceased's hotel accommodation.
Previously, Mr Chu died after being the subject of a beating and physical abuse following a hotel room invasion in the early hours of Thursday morning.
He arrived in Thailand at Suvarnabhumi Airport on Tuesday, November 14th and checked into the hotel in the Bang Na area of Bangkok.
Two safes removed to Bang Na Police Station on Monday from the hotel on Udomsuk Road and opened by investigators including senior commanders
In short, officers leading the investigation removed two safes which were found in the ransacked hotel room of the victim on Thursday evening after police discovered the murdered man bound and badly beaten, leading to an intensive investigation.
This has already seen two suspects arrested and two others being sought by police, an Iranian and Vanuatu citizen who is believed to have fled the country and a 34-year-old Thai woman, Ms Naphatsarada Ekapathiran who is still the subject of a police manhunt. 
Earlier, police reports over the weekend suggested nothing had been found in the safe deposit boxes but it appears they had not been opened by investigators until they were taken to Bang Na Police Station which is where the murder investigation is being directed from.
The safes, with combination locks, were present in the room early on Thursday morning last when the 48-year-old was beaten to death by his tormentors seeking access to cash.
Case now takes on another dimension as police get ready to track down any potential counterfeiting network linked with Mr Chu's activities in Thailand
On Monday, however, the discovery of the contents of the two safes meant that this case took on a new dimension for the Royal Thai Police.
Detectives working on the case on Saturday reported that Mr Chu is understood to have retrieved the safes sometime on Wednesday from contacts or friends in Nonthaburi province before his hotel bedroom was invaded by a gang including one member hired by 34-year-old Ms Naphatsarada, the relationship partner of the Iranian national who is believed to have been the main perpetrator of the attack on Mr. Chu.
This Iranian citizen has been identified as Mr Mohakeki Hamrez who left Thailand aboard a flight on Thursday afternoon, hours after the murder took place at the Narin Grand National Hotel on the Udomsuk Road in the Bangna District in Bangkok.
Two men held in Bangkok Remand Prison on 'intentional murder' charges while police hunt a 34-year-old woman and her boyfriend through Interpol
The attack involved Mr Hamrez and a 21-year-old Myanmar suspect Mr Saewo Ling Preay and later, 40-year-old Mr John Abon, a Cameroonian teacher known to both the Iranian and the Taiwanese man.
Later, the African claimed to be innocent of participating in the attack and told police he was only acting as a dispute broker between the Iranian and the Taiwanese victim.
Nevertheless, he was also arrested on Friday after a warrant was issued by the Phra Khanong Criminal Court for intentional murder.
Police are still searching for Ms Naphatsarada, a native of Ratchaburi in Thailand while going through Interpol to secure the arrest and extradition of Mr Mohakeki Hamrez.
Safes contained fake 1,312 $100 bills stamped by the United Nations as well as stationery and equipment for counterfeiting American currency
On Monday, the two safes removed from Room 618 on the sixth floor of the hotel were brought to Bang Na Police Station and opened in the presence of leading police officers involved in the case including Police Major General Theeradet Thamsuthee, the Investigative Chief of Metropolitan Police in Bangkok and the Metropolitan Police Division 5 Commander Police Major General Withawat Shinkham in addition to Police Colonel Surapong Sukyam, the Chief of Bang Na Police Station. 
Inside the safe, police found 1,302 fake US $100 bills, together with 1,821 pieces of black paper used in counterfeiting as well as 8,790 green pieces of paper capable of being transformed into counterfeit US dollar bills.
As a result of Monday's discovery, police are re-examining the Taiwanese man's network of contacts in Bangkok and the source of the safes to pursue what could be linked to an international counterfeiting operation. 
Police will be looking carefully at the Taiwanese man's excursion to Nonthaburi on Wednesday last where he is believed to have picked up the safes.
Criminal history including human trafficking
Last week, police revealed that Mr Chu had a criminal history including being involved in human trafficking and had returned to Thailand regularly in recent times having served a prison sentence in Taiwan. 
It is understood that the attack on his room and brutal physical interrogation allegedly at the hands of the Iranian national early on Thursday morning resulted from the Iranian man losing a significant amount of money related to a proposed hotel development in the Bang Na area near the Udomsuk Road, near where last Thursday's murder took place.
As well as the counterfeit dollar bills and stationery, police also retrieved production equipment used to counterfeit currency.
The $100 bills found in the discovery appeared to be stamped by the United Nations Refugee Programme to make the dollar bills look like they had a legitimate source of origin.
Further reading:
34-year-old Thai woman sought by police linked to Thursday's hotel murder of a Taiwanese man
Bangkok Police seek arrest of white Westerner linked to the hotel murder of a Taiwanese man
Japanese man tells Chiang Mai police his 25-year-old girlfriend strangled herself with a cable in hotel room
Arrest of Iranian Dr Passport master forger a boost for EU security chiefs
Spanish chef murdered gay lover on Ko Phangan, cut him into 14 pieces and left him as garbage
Killer Spaniard surprised naked Chilean man at his home on Ko Phangan and knifed him to death
Prachinburi police launch murder investigation as German teacher found stabbed in bed at his home
Pattaya police release grainy CCTV of UK man picking up the woman he later brutally murdered at home
Four Chinese men arrested after hideous murder of a Chinese tourist and his wife last Monday night
Murderer who stole not only a foreigner's life but his wife is finally arrested by CSD police in Phrae