Three Irish students received shock last week when Thai immigration officials told them that their seven day visa over stay in Thailand meant that they were facing  jail time when it transpired they did not have the 10,500 baht required to pay the fine.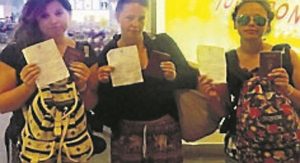 The Irish trio were returning to Bangkok via Surat Thani airport and were panning to travel onwards to Malaysia when they were informed that a seven day overstay menat they ahd to pay 10,500 baht or else be taken off to a Thai jail. The three students Sorcha Cotter, Maeve Nevin Maguire and Nicole Yap pleaded with Thai Immigration officials but were told that they ahd to find the money or else surrender themselves into custody. The trio had earlier arrived in Thailand with a 30 day visa but had traveled to Cambodia and when they reentered they were only given a 15 day stamp.
A frantic serious of communications meant that they had the money placed into their bank account but then they fpound that the maximum they could withdraw was 500 baht short of the  amount required. luckily for the Irish girls there was an  Irish couple passing through the airport who gave them the cash that they needed.
Their story has been extensively covered in Irish media during the week and indicates the pitfalls of a casual attitude towards immigration issues for foreigners visting Thailand. The students returned the money to the Irish couple John O'Brien and Julianne Ni Laoire in Ireland but they were quite reluctant. 'We heard one of the girls shouting 'Maeve' so we knew they were Irish. They looked really, really upset and we were wondering what was wrong,' said Julianne ina an interview this week with an Irish newspaper. 'Then one of them happened to sit down next to us. We asked her if she was OK and she just burst out crying. She completely broke down.'