Irish girls had to scramble at the last minute to find cash after running up a visa overstay bill in Thailand. The three students were left with a streak choice, cough up the cash or face jail time.
Three Irish students received a shock last week when Thai immigration officials told them that their seven-day visa overstay in Thailand meant that they were facing jail time when it transpired they did not have the 10,500 baht required to pay the fine.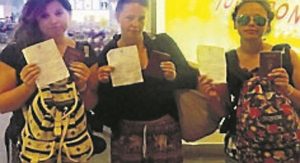 The Irish trio were returning to Bangkok via Surat Thani airport and were planning to travel onwards to Malaysia when they were informed that a seven-day overstay meant they had to pay 10,500 baht or else be taken off to a Thai jail.
The three students Sorcha Cotter, Maeve Nevin Maguire and Nicole Yap pleaded with Thai Immigration officials but were told that they had to find the money or else surrender themselves into custody.
The trio had earlier arrived in Thailand with a 30-day visa but had travelled to Cambodia and when they reentered they were only given a 15-day stamp.
A frantic serious of communications meant that they had the money placed into their bank account but then they found that the maximum they could withdraw was 500 baht short of the amount required. Luckily for the Irish girls, there was an Irish couple passing through the airport who gave them the cash that they needed.
Their story has been extensively covered in Irish media during the week and indicates the pitfalls of a casual attitude towards immigration issues for foreigners visting Thailand.
The students returned the money to the Irish couple John O'Brien and Julianne Ni Laoire in Ireland but they were quite reluctant.
'We heard one of the girls shouting 'Maeve' so we knew they were Irish. They looked really, really upset and we were wondering what was wrong,' said Julianne in an interview this week with an Irish newspaper. 'Then one of them happened to sit down next to us. We asked her if she was OK and she just burst out crying. She completely broke down.'
Further reading:
UK man arrested on a Sisaket road for 75-day visa overstay faces Bangkok jail and eventual deportation
Visa amnesty finally ending but the new regime is pragmatic and may allow for further renewals
Visa amnesty to be retrospectively extended to October 31st says top Immigration Bureau officer
Time up for some long-stay business owners as immigration warns of arrests after Saturday's deadline
Visa amnesty to end with 30-day extensions on application as the focus moves to long-stay visa holders
American and Thai wife arrested for operating an illegal visa business in Bangkok using fake official stamps
Broken-hearted Swede fears history will repeat itself as shock parting left him stranded in Laos for 4 months
Two Immigration Bureau officers in Nonthaburi suspended after video appears to show bribe request
Stranded foreigners must get embassy letter, new visa or leave Thailand to avoid arrest by police
US Embassy in Bangkok – guidance on the visa amnesty expiry
UK Embassy in Bangkok – letters for visa extensions
PM signs order granting visa extensions to all valid visa holders until April 30th to cull queues
Officials find a visa solution for up to 500,000 foreigners riding out the coronavirus crisis here in Thailand
Smart cars highlighted by the Immigration Bureau as it seeks out foreigners hiding from the law
Immigration boss warns that a new crackdown on foreigners flouting Thai laws has begun
It's a hard station for Thai police and foreigners should understand better the job they do to keep order
Expats launch website to campaign for easier immigration reporting rules for visa holders
Elderly Hungarian arrested at Suvarnabhumi for a visa overstay offence found dead in a holding cell
Canadian arrested at the border but a lifeline for foreigners seeking marriage and retirement visas
Australian business woman deported to Sydney on charges of illegal overstay after being arrested
Thailand's top immigration cop wants genuine foreigners to come forward – new visa regime is forever