Investigating panel set up to investigate the incident at the airport. 60-year-old  Laszlo Balogh was found on Sunday morning having been dead for 8 hours.
A Hungarian man booked aboard a flight home to Europe at noon on Friday last was found dead on Sunday morning at an immigration holding cell in Suvarnabhumi Airport after being arrested for overstaying his visa in Thailand.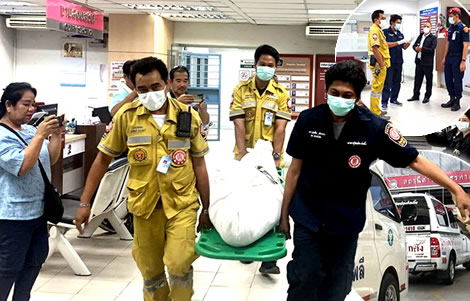 An autopsy has been ordered into the death of a Hungarian citizen early on Sunday morning while he was being held at an immigration holding cell at Suvarnabhumi Airport.
It is reported that the eastern European man was lodged in the immigration holding cells on Saturday evening after being detained on Friday.
Due to fly home at noon on Friday
It is understood that 60-year-old Laszlo Balogh was due to fly out of Suvarabvhumni headed for Hungary on Friday at noon.
However, he was instead arrested for overstaying his visa.
On Saturday night, he was observed alive by officers on duty in the holding cell where he was being detained with other offenders arrested for immigration offences.
Authorities say the man appeared to be behaving normally on Saturday after he was incarcerated.
Elderly man found dead on Sunday morning
Police report that on Sunday morning he was found to have passed away after officers discovered his inert and cold body lying on the sleeping bunks provided for detainees.
No sign of external injuries on the body
Police Colonel Nathapol Komintarachart, the Chief of Police at Suvarnabhumi Airport, briefed the media on the tragic incident.
He said that that the body did not show any signs of external injuries or appear to have been the subject of aggressive acts.
It is being reported that an investigative panel has been set up to examine the death and the role played by officers assigned to the facility.
Hungarian's body examined at the scene by medics and police forensics team on Sunday
Mr Balogh's body was examined at the scene by police forensic investigators and medical staff from Bang Phli hospital. Airport police state the man had expired 8 hours before being discovered early on Sunday morning.
Authorities have asked the Hungarian embassy to notify the man's family in Hungary of his death.
His body was removed by rescue services to Rama Bang Phli Hospital where an autopsy is to be carried out.
Further reading:
Visa amnesty finally ending but the new regime is pragmatic and may allow for further renewals
Irish couple warn foreigners about the perils of Immigration and Visa fraud in Thailand
UK Instagram star spends 24 hours in a Thai airport holding cell, thinks it's the Bangkok Hilton
Visa amnesty to be retrospectively extended to October 31st says top Immigration Bureau officer
Time up for some long-stay business owners as immigration warns of arrests after Saturday's deadline
Visa amnesty to end with 30-day extensions on application as the focus moves to long-stay visa holders
American and Thai wife arrested for operating an illegal visa business in Bangkok using fake official stamps
Broken-hearted Swede fears history will repeat itself as shock parting left him stranded in Laos for 4 months
Two Immigration Bureau officers in Nonthaburi suspended after video appears to show bribe request
Stranded foreigners must get embassy letter, new visa or leave Thailand to avoid arrest by police
US Embassy in Bangkok – guidance on the visa amnesty expiry
UK Embassy in Bangkok – letters for visa extensions
PM signs order granting visa extensions to all valid visa holders until April 30th to cull queues
Officials find a visa solution for up to 500,000 foreigners riding out the coronavirus crisis here in Thailand
Smart cars highlighted by the Immigration Bureau as it seeks out foreigners hiding from the law
Immigration boss warns that a new crackdown on foreigners flouting Thai laws has begun
It's a hard station for Thai police and foreigners should understand better the job they do to keep order
Expats launch website to campaign for easier immigration reporting rules for visa holders
Elderly Hungarian arrested at Suvarnabhumi for a visa overstay offence found dead in a holding cell
Canadian arrested at the border but a lifeline for foreigners seeking marriage and retirement visas
Australian business woman deported to Sydney on charges of illegal overstay after being arrested
Thailand's top immigration cop wants genuine foreigners to come forward – new visa regime is forever