'My Immigration Department will send her to Australia. She leaves tonight.' – Immigration chief Surachate Hapkarn confirmed earlier. Lucky Australian woman deported from Thailand after her visa overstay of 111 days. She could have faced time in a Thai prison and prosecution if she had stayed in Thailand any longer and had been detected by Thai Immigration police. She was instead held at a Bangkok Airport Immigration detention centre following her arrest, as she tried to board a flight home on January 8th.
A 46 year old Australian woman, named as Claire Amelia Johnson, residing in Gold Coast, a metropolitan region south of Brisbane on Australia's east coast, was deported from Thailand on charges of overstaying for visa in Thailand by 111 days without official permission. She flew out on a Qantas Airways flight bound for Sydney on Thursday. The woman was detained by Thai authorities, over 1 week ago, as she attempted to board a flight home on January 8th 2019.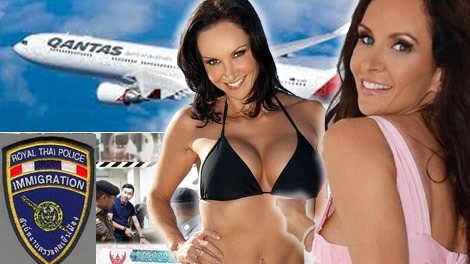 Official sources in Bangkok have let it be known that the Australian woman had breached Thailand's immigration laws and overstayed her visa by a whopping 111 days. Even after all that, the business woman was treated leniently by Thai immigration police and held at a detention centre at the airport.
Many other foreigners, although perhaps involved in criminal transgressions or longer overstays, have been committed to Thailand's prison system for similar breaches.
Australian woman held as she attempted to board flight home to Australia over 1 week ago
It is reported that the woman was held at an immigration detention centre at Bangkok's Suvarnabhumi Airport after she was not allowed to board a flight on January 8th.
That is when immigration officials discovered that she had seriously overstayed her visa in Thailand. It has perhaps fortunate that the woman, when she was detained, had not extended her stay very far beyond 90 days as this is a critical cut-off point for Thai authorities in determining how they treat visa overstayers.
Thai immigration officers assured her that the detention centre was not as bad as Thai prison
Ms Johnson's messages, after her detention, were quite hyper, to say the least, and showed that she was clearly disturbed by the turn of events.
Being arrested in Thailand can be a shocking experience for any western person. At one point, she compared her life to a TV hit show series, suggesting that fate had written a dramatic alteration in 'season 5' of her life. She observed that all life's adventures ended with a 'big bang' as she introduced her situation online.
She made dramatic calls to her friends, through social media, to come to her assistance. She asked them to contact the media and the Australian embassy without delay. The messages were sent as she was being led off to the detention centre.
She did mention, however, that Thai immigration officers had assured her that being held at an airport detention centre was nothing like being committed to a Thai prison.
They did not lie as many other, less fortunate, westerners can attest to. Even so, Ms Johnson found it very trying. 'They are taking my phone, have to go,' she told her social media friends as he was led away. 'They said the detention centre is not like a jail. I am praying he is right,' she said.
Her friends told the media that the Australian woman had informed them that she needed money for a blanket and a pillow in her confinement as none was provided in the spartan communal cell with hard bunks, a luxurious situation compared with Thai prison accommodation.
'She said something about wanting to buy a blanket in the jail, you must have to buy a pillow and a blanket,' one reported. 'Now I know what it feels like to be a prisoner. They won't even let me go to the toilet by myself,' the Australian woman was later reported as telling her friends.
At the time of her arrest at Suvarnabhumi Airport, Colonel Thatchapong Sarawanangkul, the Royal Immigration police chief who was in charge of her case, said that Ms Johnson had been detained, rather than simply fined because the period she had overstayed her visa had exceeded 90 days.
According to Thai law, tourists who overstay in Thailand will have to pay a daily fine of ฿500 for every extra day beyond the visa expiry date, before they are allowed to leave the country.
Seeks help online from Australian social media friends while being held in Thai detention
After sending several text messages to a friend of hers, Juliet Potter, seeking help and pointing out that she was being detained and her phone would be confiscated, she eventually drew the attention of the western media which are always interested in stories of western foreigners, particularly a beautiful woman, who end up on the wrong side of the law in Thailand.
It then emerged that Ms Johnson had, in fact, illegally stayed in Thailand for 110 days beyond her visa limit.
Her friend, Ms Potter, told the Daily Mail Online from Australia that her friend needed help, 'She apparently has to pay somebody,' she said. 'She said something about wanting to buy a blanket in the jail; you must have to buy a pillow and a blanket, she added.
Australian put on an outbound flight to Sydney on Thursday ending her detention ordeal
Thai police confirmed on Thursday,  that the Australian woman had departed Bangkok on an Australian Qantas  Airways flight which was supposed to arrive in Sydney on Friday.
'Although most tourists who don't abide by visa rules in Thailand are just hit with a fine, it is believed Ms Johnson's deportation was due to the length of her overstay,' police said. She was supposed to go back to Australia more than a week ago, but on Monday evening, she sent a message to Ms Potter urging her that she was in an immigration detention centre in Bangkok and begged her to help her.
Her deportation as earlier confirmed by Thailand's high profile and decisive Head of Immigration, Surachate Hapkarn, who told the press: 'My Immigration Department will send her to Australia. She leaves tonight.'
Department of foreign affairs in Australia assisted the woman in her dealings with officials
The Department of Foreign Affairs and Trade would only say that it was only providing consular assistance to an Australian woman, named Claire Amelia Johnson, detained in Thailand, in accordance with the consular services charter.
In November, Ms Johnson posted on Instagram a picture of an emergency passport she had obtained through the Australian embassy in Thailand. These are issued after an original passport is lost when an Australian citizen is overseas.
However Thai immigration maintains its own database of foreigners who enter and leave the country and in the last two years has robustly tightened up the regime.
Records are kept of all foreigners entering and leaving the kingdom. There is now a zero policy towards foreigners overstaying their visas in Thailand and Ms Johnson is very fortunate that her overstay did not go much further beyond 90 days when she was apprehended on January 8th.
Running a cosmetic medical tourism business in Thailand requires a work permit and Thai nationals
Ms Johnson is reported to have been running a medical tourism business called Cosmetic Holidays International that provided cosmetic packages in Phuket, one of Thailand's most popular urban centres for western foreigners and most especially Australians, on the Andaman Sea. It has some of Thailand's most popular beaches, mostly situated along the clear waters of the western shore.
It is not clear whether the Australian woman had a work visa or the relevant licences to operate such a business in Thailand. The medical industry in Thailand is highly regulated as authorities seek to bolster confidence in what is becoming a major industry for Thailand drawing tens of thousands of visitors and patients each year.
Thailand also has very strict work permit requirements for any foreigner working in the country. The medical industry in Thailand is tightly restricted to Thai nationals or juristic persons only.
Even then, there are regulations involving Thai staff levels and medical licences if any foreigner is involved. It is strictly illegal and indeed an offence in itself, for tourists in Thailand to engage in work affairs or commerce that is based in Thailand without a work permit or valid licence.
Deported Australian woman's cosmetic business was previously registered in Australia
According to investigations, the Australian woman's business was deregistered by the Australian Securities Commission in May 2017; however, her social media accounts continued to operate and promote her cosmetic surgery tourism operations.
She described herself on social media as the founder of Cosmetic Holidays International, 'a medical tourism agency that offers cosmetic packages in Phuket,' she said. Surachate Hakparn, Thailand's immigration chief, told Australia's Fairfax Media that Ms Johnson had been arrested and fined and so would be deported. Her tourist visa overstay was confirmed to be more than 100 days.
However, there was limited media coverage of Claire's case in the Thai media. Where there was, it is the same as many other such stories. Some Facebook messages on the matter, from people who have knowledge and experience of the issue, suggested that Claire may have overstayed her visa for an extended period. This turned out to be true.
Thailand's crackdown on visa overstayers with strict immigration law enforcement
Normally, under Thai law, tourists who overstay their visas in Thailand will pay a small fine before being allowed to leave the country. The critical point is that any overstay must be less than 90 days.
Tourists can easily pay the fine at the immigration checkpoint and then leave the country; such an occurrence will not cause any issues for visitors returning to Thailand in the future.
Such an overstay fine does not involve Thailand's blacklist system unveiled in 2016.
However, visitors can still be arrested if they fail to pay the fine on the spot.
Strict visa regime in Thailand has zero-tolerance any over stayers or breaches of Thai law
Thailand's new immigration crackdown, led by the new Immigration boss  Major General Surachate Hapkarn, has established an altogether new state of affairs in the country where long-stay visa overstays are simply no longer tolerated and all but eliminated.
There are regular overnight sweeps with reports suggesting the arrest of hundreds of foreigners found ignoring the law at a time. The new limit for visa overstayers in Thailand is zero.
Thailand, like many other countries, holds any refugees seeking asylum in detention. The policy is popular with Thai people and many report illegal foreign nationals staying in apartments, houses or condominiums.
Thailand's leadership, at the highest level, views this approach as essential for Thailand's internal security.
Moves are underway to deploy the most sophisticated technology, including iris scans, to record all people entering and leaving the kingdom.
An earlier Thai Immigration boss coined the term: 'Good guys in, bad guys out,' to mean that while Thailand immigration officials seek to welcome visitors to Thailand and ensure their safety and convenience, they also want to root out people who think they can abuse Thai visa laws.
It has been shown that such individuals usually infringe on Thailand's laws in other ways also.
The policy is working. It appears Ms Johnson was very fortunate to have left Thailand when she did. It has not yet been confirmed whether she is blacklisted or not for up to 1 year.
What is a visa overstay? It is a serious matter in Thailand and no foreigner should ignore it
A visa overstay is when someone settles in Thailand for a period that exceeds the period of time they are permitted to be in the country or stays beyond the visa expiry date.
However, Thai Immigration officials realize that sometimes visitors' plans can change.
For instance, with a few hours of overstay, the overstay fine is often annulled as the overstay tourists are exempted from paying it.
In other situations, visitors can attend a Thai immigration office and they will be offered advice. Thailand's immigration authorities have recently urged 'good' foreigners or visitors to avail of this service.
Visa overstay even beyond one day in Thailand is not advisable and visitors must be cautious
However, if it is a matter of days, the overstayer must pay a fine of ฿500 per day.
Failure to pay this fee will result in the traveller being detained, missing their flight and perhaps ending up in more serious difficulty as the clock keeps ticking.
The maximum fine however is ฿20,000 but it must be paid. There are some western foreigners who have been jailed in Thailand or even had prison sentences for immigration offences extended because they could not pay this sum of money which is the equivalent of $620.
This happened to a UK national who was injured on his way to the airport in a car accident. He ended up in a Thai hospital for an extended stay and was later detained on his second attempt to leave the country by Thai immigration police for overstaying and not being able to pay the fine.
The threat of this was brought home to a group of travellers from Cork in Ireland in 2015 when they ran out of funds and could not pay a visa overstay fine.
They had to frantically arrange to have money sent to a regional airport in Thailand as they were about to be taken into detention and miss their connecting flight in Bangkok.
Matters may get very serious if the period is 90 days or over.
In this situation, not only does a charge of ฿20,000 apply but also the traveller is placed on a blacklist and may face criminal charges. Many western foreigners, in this situation, who cannot afford to pay the fines and face prosecution are transferred to a Thai prison.
This is not a pleasant experience and can lead to further complications, all the while leaving the traveller blacklisted from Thailand for at least 1 year or longer depending on the overstay period.
Further reading:
Visa amnesty finally ending but the new regime is pragmatic and may allow for further renewals
Visa amnesty to be retrospectively extended to October 31st says top Immigration Bureau officer
Time up for some long-stay business owners as immigration warns of arrests after Saturday's deadline
Visa amnesty to end with 30-day extensions on application as the focus moves to long-stay visa holders
American and Thai wife arrested for operating an illegal visa business in Bangkok using fake official stamps
Broken-hearted Swede fears history will repeat itself as shock parting left him stranded in Laos for 4 months
Two Immigration Bureau officers in Nonthaburi suspended after video appears to show bribe request
Stranded foreigners must get embassy letter, new visa or leave Thailand to avoid arrest by police
US Embassy in Bangkok – guidance on the visa amnesty expiry
UK Embassy in Bangkok – letters for visa extensions
PM signs order granting visa extensions to all valid visa holders until April 30th to cull queues
Officials find a visa solution for up to 500,000 foreigners riding out the coronavirus crisis here in Thailand
Smart cars highlighted by the Immigration Bureau as it seeks out foreigners hiding from the law
Immigration boss warns that a new crackdown on foreigners flouting Thai laws has begun
It's a hard station for Thai police and foreigners should understand better the job they do to keep order
Expats launch website to campaign for easier immigration reporting rules for visa holders
Elderly Hungarian arrested at Suvarnabhumi for a visa overstay offence found dead in a holding cell
Canadian arrested at the border but a lifeline for foreigners seeking marriage and retirement visas
Australian business woman deported to Sydney on charges of illegal overstay after being arrested
Thailand's top immigration cop wants genuine foreigners to come forward – new visa regime is forever