28 year old Sell Tornberg and his American companion, 24 year old Nicola Gollan, were in a sober mood this week following their shock arrest this week by tourist police in Pattaya. It followed an extensive, urban graffiti spree in the early hours of May  29th last in Bangkok's Chinatown area which saw properties and vehicles defaced with anarchist graffiti, babble. The young man is obviously highly intelligent. The couple warned other young foreigners off coming to Thailand to engage in such acts of vandalism against the private properties of others. The couple apparently acted with another foreigner who has already departed the kingdom escaping the clutches of Thai law. The duo explained that one of the reasons for their outwardly senseless act was that they were grieving for a friend who had passed away while also being drunk. 'We painted our friends name,' Mr Tornberg explained. However, video footage of the May 29th graffiti attack in downtown Bangkok shows an altogether different picture. It shows three Americans, kitted out with knapsacks and operating in coordination almost like a military unit. This was a griffiti act of protest by anarchistic and probably left wing young Americans.
Two young Americans received a reality check in Pattaya last Wednesday night when Thai tourist police placed them under arrest. The Americans, 28 year old Sell Tornberg and 24 year old Nicola Gollan, had been tracked down by Thai police after they were involved in a graffiti spree in Bangkok's Chinatown in the early hours May 29th. Now the couple have appeared in a local TV interview and issued a warning to any young foreigners contemplating committing acts of vandalism in Thailand. 'Don't do it,' they urge and have declared their statement a 'warning' for young foreigners. The couple had been charged with criminal damage which carried a penalty of up to 3 years in prison but reached out and apologised to the Bangkok property owners and paid damages. It has now been confirmed by Thai Immigration Police boss Sompong Chingduang, that the Americans have been  fined ฿5,000 each. The two paid ฿10,000 in compensation to four Thai property owners.  They are now in custody and will deported from Thailand in 24 to 48 hours and be blacklisted from the kingdom.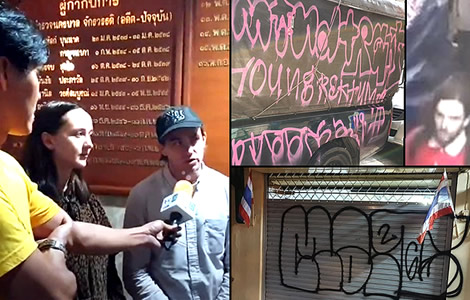 Two American tourists had a warning for other young foreigners coming to Thailand who may be contemplating a vandalism here in the conservative South East Asian Kingdom. 'It's not in your best interests,' said 28 year old Sell Ternberg this week in an interview with the Thai media. He had no hesitation in branding his message a warning to foreigners. 'Yes, this is my warning ,' he told the TV interviewers when asked to clarify this.
Thai police tracked down the American graffiti couple and arrested them on Wednesday night in Pattaya much to their consternation
It comes after Thai Tourist police in Pattaya tracked down and arrested the 28 year old and his friend 24 year old Nicole Gollan a week after they indulged themselves in a night of graffiti painting in Bangkok's Chinatown. The duo were accompanied by another man who is reported to have already left Thailand. Police are still looking for the man however. The two young Americans faced serious facing criminal charges in Thailand in relation to criminal damage and could have faced up to three years in prison if brought before the courts and convicted. However, this prospect diminished swiftly as the couple took steps this week to address their position including agreeing to pay compensation and offering a sincere apologies as well as a warning to other foreigners.
They were then handed over for deportation by immigration police and blacklisted from Thailand.
Respect for private property is something that is taken seriously in Thailand and the law enforced
Respect for private property is of paramount importance in Thai society. Even a minor infringement can quickly become a criminal matter. Thai people also have a very conservative attitude towards graffiti. It is viewed as alien, anarchistic and destructive.
Mr Tornberg told reporters that they had indulged in the graffiti excursion in the early hours of May 29th last because they were very drunk. He further explained that the Americans were grieving for a friend who had passed away. 'We painted our friend's name that passed away,' he said. 'It was childish and stupid.'
Americans reached out to Bangkok property owners to apologise for the 'childish and stupid' stunt
Residents and vehicle owners in Bangkok's Chinatown awoke on the 29th May last to find a vehicle covered in ugly graffiti as well shop fronts and doorways. It was the sort of urban graffiti associated with large western urban areas. The young Americans are reported to have quickly reached out to the owners of all the properties in the area of making a financial settlement.This is believed to have influenced the decision of Thailand's prosecuting authorities in relation to the criminal charges initially brought and their resolution.
Thai public outraged by such incidents
One of the aspects of the case believed to have been taken into account is the public interest.
There have been a number of cases like this in the last year that have outraged the Thai public. 
In November last year, a Liverpool man, 23 year old Lee Furlong and a Canadian friend, 23 year Brittney Scheider were spared jail on more serious charges of defacing a public monument in Chiang Mai.
Young Americans under no illusion this week about the serious situation they were facing
The American couple seemed to be under no illusion about just how serious the situation was this week. Sell Tornberg admitted that after the graffiti spree, the Thai police were determined to track down the culprits. 'This is clearly a big deal,' he told the Thai media. For foreigners in western countries, it may come as surprise just how adamant Thai authorities are in prosecuting even the lightest infringements of personal property rights that in many western countries have become accepted now as a way of life. Thailand has zero tolerance for such behavior.
'Don't come to Thailand and vandalise anyone's property' – sage advice from young American
Mr Tornberg highlighted this to any foreigners thinking of coming to Thailand and playing loose with the law on personal property. 'Tell all foreigners that see this. Don't come to Thailand and vandalise anyone's property. It's not in your best interests,' he said.
Americans shocked to find themselves arrested and taken in custody on Wednesday night in Pattaya
The two Americans were shocked to find themselves under arrest on Wednesday night after Thai police tracked them down from CCTV footage from events the week before to the seaside resort of Pattaya, about 90 km from Bangkok.
American group seemed active and busy in early hours of May 29th with spray cans in Bangkok
CCTV video footage clearly shows the three Americans, two men and a woman, busy spraying graffiti on doors, shopfronts and the sides of vehicles. In one segment, 24 year old Nicole Gollan is seen spraying graffiti while one of the men takes photos. One local resident's pickup truck had the phrase 'Mind the gent Youngrektum 2019' sprayed on its side.
The three Americans began their graffiti spree or vandalism at 1 am in the morning on May 29th. The groups were seen climbing steel gates and using many cans of the graffiti paint.
Duo have publicly apologised to the Thai people for their actions on May 29th in Bangkok
In his media interview, the American revealed this week that the couple had personally apologised to all the people whose property they had damaged. It is also reported that damages were paid in the amount of over ฿10,000. The couple have also apologised to the people of Thailand for their actions.
Strikingly different scenes from apology narrative to videos of the graffiti attack in action
The two young American painted a contrite picture in the public apology issued to the media in Pattaya. What's striking is the intelligence of the young 28 year old man Sell Tornberg displays. He anticipates the questions and provides all the right answers. Beside him, Nicole Gollan, in darker hair from the May 29th video and less provocatively dressed, nods often in agreement letting the young American do the talking.
Their story is that they were drunk or even as Mr Tornberg says 'grieving' for a friend
However, video footage shows the three Americans on the night or early morning of May 29th in a very different guise. This was a deliberate and contrived act. The three were outfitted with knapsacks and the young American woman seems to take the lead at one stage moving behind a vehicle and peeing up the road as if on guard. The group clearly knew what they were doing was wrong and illegal. The three Americans do not appear drunk and their actions seemed very deliberate, almost like a military exercise. This appears like a protest act and not a mindless foray by three Americans out of their mind with alcohol.
Video footage of the third man who escaped Thailand before Thai police could arrest him, shows a long haired and bearded individual wearing a red top. He is also seen assisting the young American woman to climb on to properties including a gate. At one point he gazes at security camera
Decision of prosecutorial authorities gave two Americans a break after they paid damages
The couple were fined for criminal damage instead of facing the full force of the law. Authorities in Thailand have a certain degree of discretion under Thai law. If a prosecution was followed through and the couple had been found guilty, they could have faced a prison sentence of up three years in prison. However, they adapted the right course of action engaging in efforts mitigate their situation. 
The couple are now in custody of the Thai immigration police and will be quickly deported after their visas are revoked. They will then be blacklisted from Thailand. 
Story up and coming on American Graffiti attack in Bangkok on May 29th as two Americans arrested in Pattaya last Wednesday face charges and claim they were drunk and grieving for a friend. The video evidence however seems to suggest otherwise. James Morris reports from Bangkok and Pattaya.

Posted by ThaiExaminer.com on Saturday, June 8, 2019