The story of Earl Woods and Kultida Punsawad is an inspiring one and must be a key factor in the making of the golfing legend. Kultida, Tiger's mom, comes from Kanchanaburi province which is 80 km west of Bangkok. She met Tiger's dad, Earl, while working in the Office of the US Army in Bangkok in 1966. Earl was a US army officer who served in the US Special Armed Forces and rose to be a Lieutenant Colonel. The American man married his Thai wife in 1969 and the marriage endured until Earl passed away in 2006.
Tiger Woods was in Bangkok this week in the company of his two children, Sam and Charlie as well as his girlfriend Erica Herman. It comes as the legendary American Thai golfer is ranked 5th in the world following his win at the US Masters in April. Woods was awarded the US Medal of Freedom by US President Donald Trump in May. It is not known whether his Thai mother, Kultida, is accompanying him on the trip but the occasion is a good time to look at Tiger's rich Thai background and the formidable Thai woman who has given us for one of the world's greatest sports men.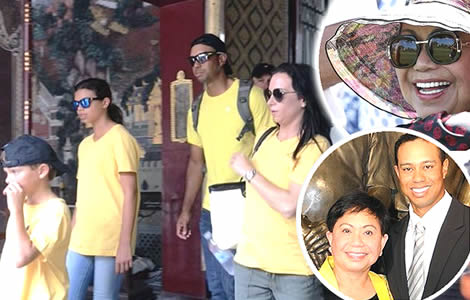 Golf legend 'Tiger' Woods is currently enjoying a holiday in Thailand with his family including his two children Sam and Charlie accompanied by his new girlfriend Erica Herman from Florida. The American, whose mother is Thai, won his 81st tournament and 15th major in April when he scooped the US Masters, his first major in eleven years since winning the US Open in 2008. The US golfer is now only one win away from the legendary golfer Sam Snead's record tally of 82 PGA tournament wins. However, Snead who passed away in 2002, never won the US Open and only won 7 major tournaments.
Tiger Woods family spotted in Bangkok
In Bangkok this Tuesday, the family party were spotted wearing yellow T shirts with Woods wearing sunglasses and his peaked cap on back to front. The sports star, one the highest earning stars in sport, looked very much at ease. It is understood that Tiger, the famous son of an American Thai couple, plans to focus on his two children over the Summer as they are off school.
Only this weekend at Pebble Beach, the US golfer hinted at his plans to get away for awhile. On Sunday, he told reporters: 'I think I'm going to take a little bit of time off and enjoy some family time.'
Golfing legend's mother hails from Kanchanaburi province, 80 km west of Bangkok
It is not known if Tiger's mother, Kultida Woods, formerly Kultida Punsawad, is accompanying him on his trip to the kingdom. Kultida is 75 years of age and hails for Thailand's Kanchanaburi province, about 80 km west of Bangkok and on the Myanmar border. Ms Kultida is known to be a devout Buddhist. The Thai woman is thought to have passed on many Thai traditional principles to her famous and well loved son. She is also highly respected in Thailand where she financially supports schools and homes for children. Tiger's mom is known as Tida to those who know her.
Tida worked at the US Army Office in Bangkok and met Earl Woods there in 1966
Tida is reported to have a varied ancestry of Thai, Chinese and even Dutch blood. She met Tiger's US father in 1966 while he was serving with the US military in the kingdom. Earl is reported to have met Kultida at the United States Army office in Bangkok where she worked. Tiger's father was a highly educated and decorated army officer, rising to the rank of Lieutenant Colonel. The African American also served in the US Special Armed Forces. In fact, Tiger Woods whose real name is Eldrick, is named after a friendship formed by Earl with an officer in the Southern Vietnamese Army that lost the Vietnam war in April 1975 with the fall of Saigon. Lieutenant Colonel Vuong Dang Phong's nickname was 'Tiger' fought in the Army of the Republic of Vietnam that lost nearly 1.5 million men against the communists.
American Thai coupled married in 1969
The US Thai couple are reported to have married in 1969 in Brooklyn New York, one year after the Thai woman emigrated with her US fiancé, to the United States. Tida worked for a time at a bank in Brooklyn when she first arrived in America. Tiger was born in a Los Angeles suburb at the end of 1975.
15th Major win at the US Masters appears to be turning point for the American Thai star
The Major win for Tiger Woods in April is thought by many sports followers and Tiger Woods fans, to have exorcised the doubts and demons that appeared to have formerly haunted the golf star following his dramatic divorce in 2009 from Erin Nordegren, the ex Swedish model who is the mother of his two children. The dramatic ending of the marriage on Thanksgiving in 2009, the evening in which Tiger crashed his SUV began a torrent of sensational media coverage targeting the golfer which extended to his affairs and dalliances with prostitutes. The once unstoppable golfer was vilified by the US and international media and it seemed to bring a shuddering halt to the juggernaut of his once unstoppable golfing career.
The night the golf star's life came crashing down to the US Medal of Freedom in May
It is even reported that Tida, Tiger's Thai mum, was in the house that night. It is also clear that his mother was one of his fiercest critics after the US press published revelation after revelation. Since then, Tiger has emerged after battling chronic health issues, to make it back to the top league in golf. It is an epic and perhaps his finest achievement. Back at the top tier of world rankings, there are many in the golfing world who welcome his return. Not least, US President Donald Trump who presented the golfer with the US Medal of Freedom at the White House in May.
A child of an American Thai relationship
It is a media story that has never been raised overtly in the United States but Tiger Woods is the product of an American Thai relationship. Even in the 1970s and in liberal state like California, interracial marriage was far from widely accepted. It is debatable whether American Thai marriages are even fully accepted today, ironically, with a backlash now coming from liberals in society. Tiger's mom was a Thai wife.
Tiger's mom is the epitome of a strong Thai woman
There is even a report of a rock being thrown through a window in the family's home when the Woods moved to a predominantly white neighbourhood in California. It must also be said that although the world has come a long way since then, that  American Thai couples of today are also discriminated against through false stereotypical perceptions of Thai women even though the American Thai community in the United States is thriving. Anyone who knows Thai women will now how false that stereotype is. Tida, Tiger's mom, is the epitome of a strong and capable Thai woman. For some reason or perhaps because of this, the Asian community and particularly Thai community today is moving to the conservative side of the US political spectrum.
Tiger's links with Thailand are strong
Tiger's links with Thailand, through his mother, are strong. As a boy, his mother Tida brought him on regular trips to Thailand to introduce him to Thai culture and tradition. Tida's mother also lived in the family home in California in his earlier years.
An American Thai marriage that endured
Tida's marriage to Earl's Woods endured until his death in May 2006. The US media has often highlighted the unique bond that Tiger had with his father but comparatively little has been said of Tiger's Thai mother. Yet, she was just as ardent a follower of her son's golfing career and was present at many events quietly watching her son's play. She was at the US Masters in Augusta in April when her son won his 15th Major. A sweet victory and thrilling comeback.
'I am a loner, and so is Tiger. We don't waste time with people we don't like'
In a profile on Tiger Woods published by sports channel ESPN.com, Jaime Diaz, a golf correspondent records a telling comment about the quietly spoken America Thai golfer made by his Thai mother. 'I am a loner, and so is Tiger. We don't waste time with people we don't like. I don't have many close friends. Never have. I am independent and strong willed. That way, you survive,' she said.
Supportive Thai mother who thought her son good thinking and traditional values
Tida, like nearly all Thai mothers, has always been very supportive of her son. She ferried the young Tiger to golf tournaments at the beginning of his golfing odyssey but she is also reported to have instilled the right values and thinking in her son. This is the way among good families in Thailand. Friends of Tida describe her as a formidable woman. It is reported that this Thai lady can also be quite robust on occasion.
Why Tiger wears red on the last round
One telling Thai influence that many people might not have noticed. The golfer wears red in the final rounds. This comes from his mother. Thai people are quite superstitious and red is considered a colour that is a harbinger of good fortune.
Golfer's latest partner reported to be General Manager of his Florida restaurant, The Woods Jupiter
Tiger's new partner is American woman Erica Herman. She is reported to be the General Manager of Wood's restaurant in Florida called the The Woods Jupiter. It was opened in 2015. TMZ, the US celebrity and entertainment media outlet, reports that she has not worked at the restaurant since February this year.