Junior minister and key government point man insists he is 'serious' about issuing up to 100 sets of legal proceedings against individuals and foreign media involved in the plot to destroy his good name and damage the credibility of the current ministry.
Embattled Deputy Agricultural Minister Thammanat Prompow on Saturday claimed that damaging information which emerged this week starting with an article published on Monday in the Sydney Morning Herald newspaper is part of a coordinated attack by a 'network' which aims to undermine the government by targeting him. He said that Thai intelligence officers were aware of the threat and know who is behind it.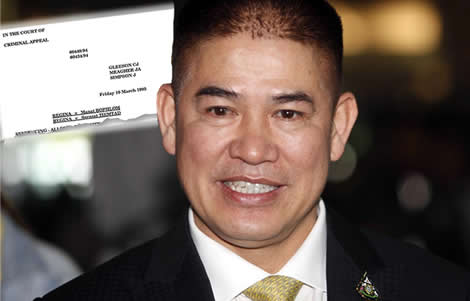 Deputy Agriculture Minister Thammanat Prompow claimed on Saturday after a week of raging controversy that the reports that emerged in foreign media and social network outlets about him relating to an alleged drug conviction in 1994 for heroin smuggling and questions raised about his PhD degree are all part of a campaign designed to topple the current Thai government.
Target because he brought the coalition together
He described himself as a key target since he was the point man that had helped bring the coalition together and was necessary to keep it functioning smoothly although he revealed on Saturday that he is taking steps to remedy this vulnerability so that the government is not dependent on one 'artery' or person.
There is some merit in that the minister's assertion of his own key role in the current coalition as before the controversy over Mr Thmmanat's past which first erupted in July this year, it was speculated in political circles that he would be rewarded with the position of Minister for Labour. At that time, it was suggested that the prime minister was impressed at the 53-year-old politician's energy and capacity to get things done.
Used military term – village 'bombarded with bullets'
On Saturday, he described the attacks on him through the media in military terms but made it clear that he feels that the ultimate reason for the ongoing attack is to get at the current administration. 'Their ultimate goal is to overthrow the government, General Prayut and General Prawit Wongsuwan,' he told reporters. He compared himself to an outlying village 'bombarded with bullets' and insisted that he was defending himself against a group or network working behind the scenes.
Told parliament that he spent time in a detention facility while his case was cleared up until 1997
Addressing the Thai parliament this week, Minister Thammanat again insisted that the case involving him with drugs in Australia never went to court. He told the Thai parliament that he spent time living at what he described as a detention facility but was free to go during the day and was subsequently released when authorities cleared him after a full investigation. 'I was sent to take care of some younger detainees. After this work, I would return to sleep in the place the officials had prepared for me.' 
However, on this occasion, the minister seemed to indicate that it took four years to clear his name as opposed to eight months. He did not specify whether this means he was detained for four years or eight months which is the period he had said previously indicated he was held for before going on to work successfully in sales in the private sector in Australia until April 1997 when he was deported back to Thailand.
Documents from the New South Wales Court of Criminal Appeal from March 1995 published this week
His explanation may be countered however by alleged photo images of court documents published in the Sydney Morning Herald later in the week which included official case references and official identification numbers as well as the judge's names. The document purports to detail a judgment of the New South Wales Court of Criminal Appeal dated the 10th March 1995 in relation to a joint appeal by ones Manat Bophlom and Soarsat Timtad against a conviction and jail sentence for the importation of heroin into Australia in commercial quantities.
The court subsequently upheld both convictions and sentences. The Court of Appeals judgement clarifies most aspects of the controversy. 
This is an official court record in Australia which can be accessed or requested by citizens, journalists or the public. In fact, the National Archives of Australia has a reproduction service where official court documents including this one, can be ordered online. Of course, this is all on the proviso that Manat Bophlom which is the name that Captain Thammanat used at that time, named as one of the criminal defendants is, in fact, the minister and his half brother from twenty-four years ago. It is reported that Captain Thammanat has changed his name several times since.
Intelligence officers know who is involved
On Saturday, the minister said that Thai intelligence officials were aware of who was behind the campaign to unseat him and in so doing, get at the government. He said that he had received strong support from both sides of the aisle in parliament including the prime minister and deputy prime minister Prawit Wongsuwan. It should be noted that Minster Thammanat is also a former Pheu Thai MP. 
Seri Ruam party leader and MP says the Australian media already had the information
Minster Thamanat's earlier claims this week that the Australian newspaper article was the work of the opposition in Thailand was somewhat vindicated when one of his most vocal critics in parliament in recent times, Seri Ruam Thai party-list MP Police Lieutenant Wisanun Moungpraesri alluded to being in contact with the Australian media. 
Asked to comment on reports that he may have been behind the Australian newspaper report, the MP said this: 'I don't want to say that I was the person who tipped the foreign media. After all, the Australian media already had some information. When the government will not do anything, I as the opposition must find an indirect way to check this. If you want to scold anyone for this, just scold me.'
Admits raising the issue with the – 'I cannot stand by'
The MP did, however, admit that he raised the matter with the Australian media but stressed that he did not pay anyone to do so or exercise undue influence. 'I admit to raising this point with the Australian media. I cannot stand by to see the government supporting this person as a minister,'  the MP said.
The Seri Ruam Thai MP also criticised those justifying the minster's appointment on the basis that he had never been convicted by a Thai court which while it may the law in the kingdom did not impress him very much. 'You can't argue that this is a matter under a court procedure from outside the country. Those involved in drug trafficking are all bad,' he said.
Anti-corruption committee will delve into the matter as former coalition party calls for probe
Meanwhile, the Thai Civilised Party leader Mongkolkit Suksintharanon whose party withdrew from the coalition in August and which has 4 seats in the house has called for Minster Tammanat to be investigated while two political activists Ekkachai Hongkangwan and Chokchai Paiboonratchata visited the Election Commission on Wednesday to detail their concerns. 
On Friday, Sereepisuth Temeeyaves who is the Chairman of the Anti-Corruption Committee in the House of Representatives said the controversy surrounding Captain Thammanant would be delved into further by his panel.
Minster has threatened up to 100 sets of legal proceedings against 'network' targeting him
On Friday and Saturday however, the minister said he was ready to issue up to 100 sets of legal proceedings against those tarnishing and damaging his reputation including foreign media and individuals associated with what he calls a network that has been dissenting false information about him for some time.
Further reading:
Minister in Australian newspaper exposé claims the story was written in Thailand and is false
Shock as Minister reported in an Aussie newspaper as a convicted and jailed drug trafficker down under
From sinister to minister: politician's drug trafficking jail time revealed
Debate sees opposition hit the government on lack of economic detail and plans for more taxes