It is expected that US man Derrick Keller will be deported and fly home to the US on Monday following his 13 month ordeal in a Thai maximum security prison since his arrest in August when he arrived with his family as a tourist and found himself facing serious fraud charges linked to a Ponzi scheme in which he featured as an actor in a corporate video.
44-year-old US man and former servicemen Derrick Keller found himself back in detention over the weekend after being released from Klong Prem prison in Bangkok on Monday and spending his first night in a real bed. He was detained by immigration police as he attempted to fly out of the country for overstaying his visa.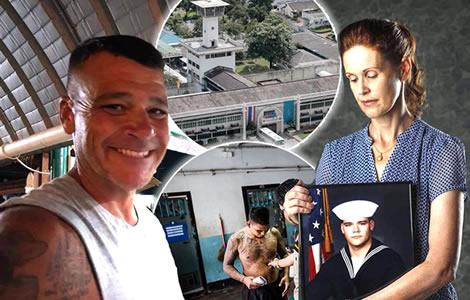 The nightmare for the former US Navy serviceman began when he was arrested in Thailand last August after arriving in the kingdom for a holiday, was drawing to a close over the weekend after he was found not guilty by a court in Bangkok on Monday, September 30th.
Problems with immigration and paperwork
However, it was not all plain sailing for the US man as he soon discovered that it was impossible for him to fly out of Thailand as the paperwork was not completed between his lawyer and the Thai embassy. This was, in addition to issues with Mr Keller's immigration status.
Derrick's wife Tanya on Facebook during a roller coaster of developments in the last few days after the acquitted man was stopped at the airport, has revealed that the family had been told by the US embassy that it was not a refuge and that Mr Keller's family feared he would be re-arrested. The family, not least Mr Keller himself, have clearly been traumatised by the experience they have been through since August
On another occasion, it was suggested that embassy officials were unclear on the paperwork requirements as it as highly unusual for an American jailed and facing serious charges to be acquitted by the court.
Family told that 95% of foreigners tried in serious cases in Thailand found guilty, prepared for the worst
This had been the worst fear of the family as they have been told that 95% of foreigners tried for serious crime by Thai courts are found guilty. The family have also been highly critical of the support they have received for their plight both from US politicians and the embassy in Bangkok.
Before his acquittal, they had requested that US consular officials attend the trial on key dates but the trial itself was halted abruptly at the end of August when the September 30th judgement date was indicated. The family were prepared for the worst.
Facing an immigration overstay charge – no valid visa after tourist visa expired
After his release from prison following his acquittal on Monday the 30th, he was later informed that he was facing immigration charges for being in Thailand without a visa. 
This new problem arose as Derrick went to the airport to fly home on Tuesday. His lawyer could not accompany him through immigration and at the checkpoint, he was stopped and detained because of his visa status.
Mr Keller was taken into immigration detention and remains there after being told that he could not pay a fine and be deported back home until Monday the 7th October at the earliest.
On Monday Derrick spent his first night in a real bed in 13 months after a meal with beer
The 44-year old American had spent Monday night in a friend's home in Bangkok and slept in a real bed for the first time in 13 months. He also ate a slap-up meal and some beer.
Mr Keller had imposed a resolution on himself and his family not to communicate with them while in prison.
When released on Monday, his loved ones were able to hear his voice for the first time.
Family worked tirelessly on his behalf
Derrick Keller's family, however, led by his wife Tanya had been working assiduously to secure his release and very quickly despaired of the assistance and support received from US officials and those in political circles. 'They just won't listen, and I don't understand,' the US man's wife told the media in August as she tried to galvanise support at his trial. 'I do not understand why.'
The family even reached out to US President Donald Trump but received no public response.
In the aftermath of Mr Keller's release, however, it has been suggested by some US politicians and officials that there were efforts on Mr Keller's behalf but that there had to be sensitivity and respect for Thailand's legal process.
Media campaign brought the story to the attention of the public in the United States and Thailand
A media campaign supported by TV station KHOU in Houston, CBS affiliate, together with media coverage and social media activism brought the shocking story to the public.
The US man had moved to China in 2015 to support his wife's career and while working in a variety of jobs including being a basketball coach, he was approached by a company to work as an actor which had always been a childhood dream.
Hired as an actor in a corporate video
Keller participated in a series of corporate videos for the Eagle Gates Group which turned out to be an advertisement for a fraudulent company that perpetrated a bogus investment scheme that saw thousands of people in Thailand and other Asian countries defrauded out of hundreds of millions of baht.
Mr Keller knew nothing about this until he was blindsided by his arrest in August last year when he arrived in the kingdom at Phuket Airport with his family for a holiday. For an extended period after his arrest, the US man was convinced it was a matter that could be cleared up as a misunderstanding.
American on fraud charges in Thailand claims he was duped into acting as the scam's 'western face'
Family in Texas confident latest immigration problem will be overcome so he can fly home
It is being reported in Texas that Derrick's father Dana and the rest of the Keller family are still upbeat over the weekend that the family's ordeal is drawing to a close. They expect to see their much-loved son home to the United States to another's hero's welcome.
Found innocent of the charges on Monday
A judge found the US man innocent of the charges against him on Monday. His family have explained the whole story openly – this was an innocent man who has been through the Thai legal process on serious criminal charges and thankfully came through the trial ending with an acquittal and his release.
However, he has spent 13 months in a hellish existence at Thailand's maximum-security Klong Prem prison while in pre-trial detention as he was refused bail. There, many inmates had emphasised to him how difficult it was to get back on the outside after being charged with such a serious offence.
The only consolation for Mr Keller has been to see the commitment and support for his family in action and the fact that he has lost 70 pounds in weight.
Further reading:
American on fraud charges in Thailand claims he was duped into acting as the scam's 'western face'